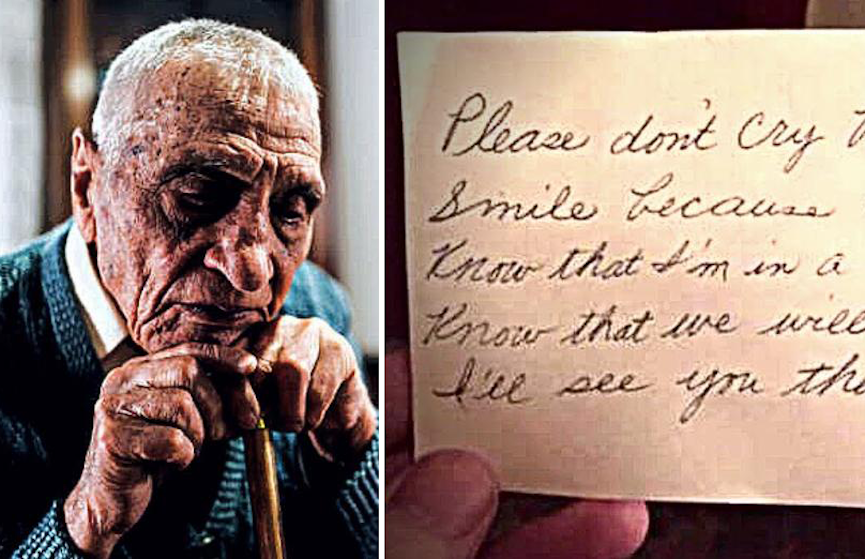 Many decades ago, Jimmy and Billie were married. They got to experience all of life's beautiful and difficult moments and over the years as their family grew to include several children and grandchildren. But after 60 loving years together Billie was the first to go. Day in and day out, Jimmy sat at his beloved's side at the hospital. Until one day, when Billie went to sleep for good.
Two days later, Jimmy found a handwritten note in her purse – and what he read filled his eyes with tears. Throughout their long marriage, Billie had always had the habit of writing small to-do notes for herself – so when Jimmy found the little folded piece of paper, he assumed it was one such note.  But as soon as he opened it, he realized that was not the case this time.
The note was instead a loving message (SEE PHOTO) – directed to him. It read: "Please, don't cry because I died! Smile because I lived! Know that I'm in a happy place! Know that we will meet again! I'll see you there!" The family is unsure when Billie wrote the note – but it was clear that she had hidden it so that Jimmy would find it after she'd passed away.
The simple but powerful message gave Jimmy tremendous consolation, despite his immense sorrow for losing his beloved wife. "It perfectly sums up the hope and comfort that comes with knowing you'll meet again in eternity," the couple's grandson Cliff reportedly said.
Featured Image – Representative
Related posts