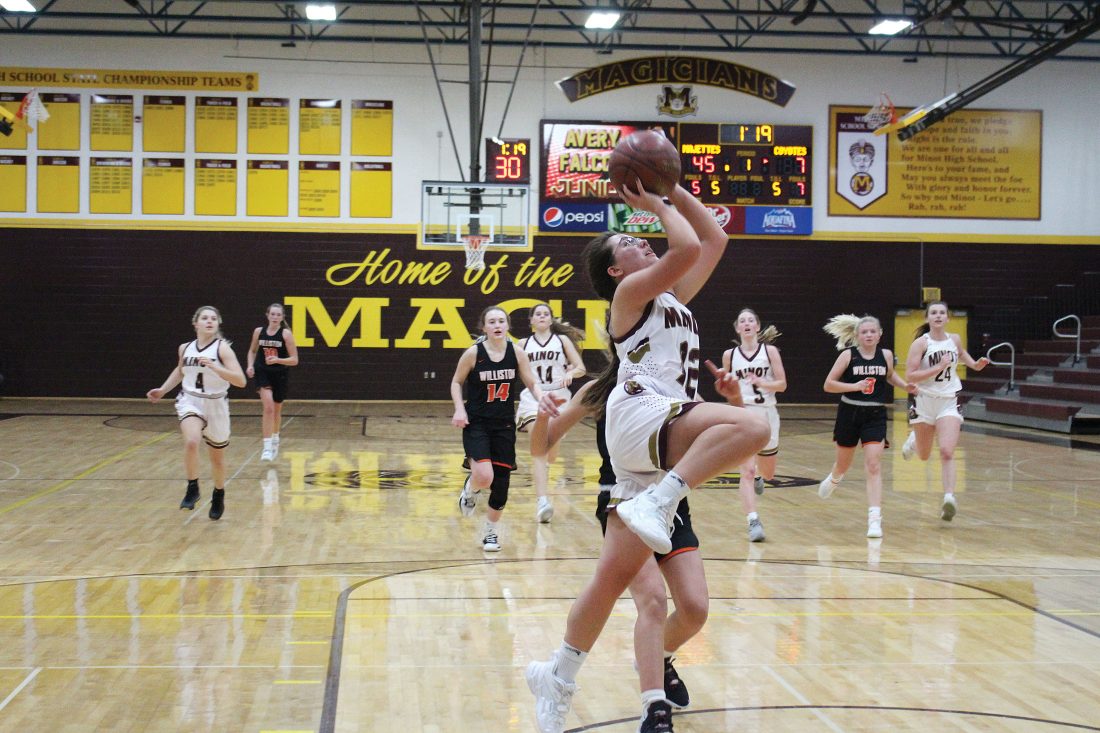 MINOT, N.D. – There was a host of local season opening varsity basketball games which took place on Monday evening.
In one of those matchups, Minot thrashed visiting Williston to the tune of 99-33. Mariah Evenson of MHS led all scorers with 21 points, and fellow Majette Avery Lunde also enjoyed a stellar evening with 18 points. Two other Minot players also reached double figure scoring totals as Maggie Fricke notched 13 and Presley Bennett added 11.
The Our Redeemer's Christian School girls basketball squad also found themselves on the winning end of things as they defeated Rolette 52-33. After the game was tied up at 21-21 by intermission, it was Our Redeemer's who dominated the second half, outscoring Rolette 31-12 in the next two periods.
Maya Vibeto led all scorers with 15 points on the night. For Rolette, Hailey Peltier also reached double figures with 10 points. Aubrey Griedl of Our Redeemer's accounted for the game's next highest total with nine, and Sierra Heinz posted eight points for Rollete in defeat.
In other girls action Monday, Killdeer defended their home court and topped Stanley, 52-46. Liza Stahl notched a game-high 13 points in a winning effort for Killdeer. Meanwhile, teammate Maddy Mills collected 11 points, and Kelly Bang added nine. For Stanley, Rebecca Bohrer led the Bluejays in scoring with 12, Clancy Hornberger chipped in with 10 and three other players collected six points apiece. Velva also notched a victory over Central McLean 52-34.
In boys basketball, Berthold went on the road to defeat Ray, 66-43. Meanwhile, Our Redeemer's defeated Central McLean at home, 73-57. Also on Monday, the Nedrose Cardinals hosted Kenmare and beat the Honkers, 57-43.
Related posts