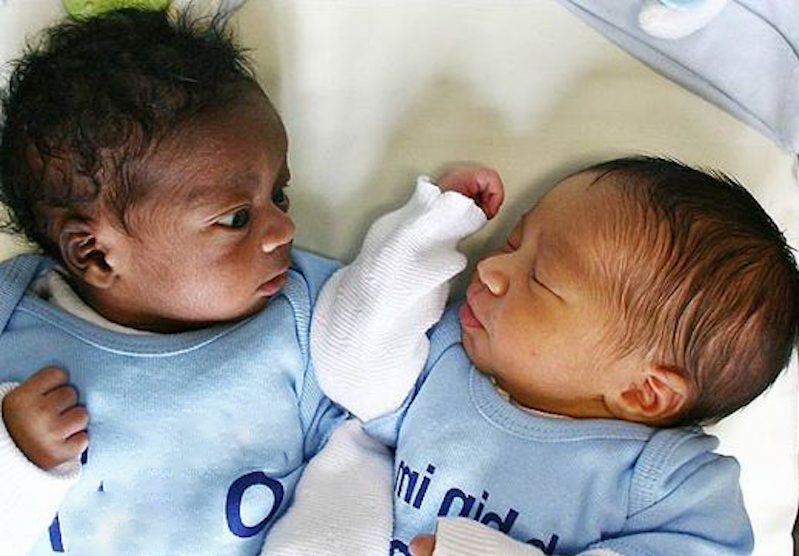 New baby is the most precious gift every parent can have. The little bundle of joy brings happiness to the family. Nothing can make the couples feel complete than having their own babies. There is nothing quite as exciting as waiting for the arrival of a new baby. As the due date gets closer and closer, you'll look for every way to announce, pamper and welcome this new boy or girl into your community. But, welcoming new twins into the world is always a momentous event. 
When brothers Ryan and Leo arrived they had an extra surprise for their parents, they were born with different coloured skin. For one twin to be black and one to be white is so rare that it is thought by medical experts to be a one in a million occurrence, the Daily Mail reported. Both parents, Stephan and Florence, were over-joyed by the new additions to their family, which includes 18-year-old brother Randy.
The then-40-year-old father from Germany, Stephan, said that although the couple were surprised by the children's different colourings the most important  thing was that the babies were healthy. The infants caused a sensation at the local hospital, where they were born, with guests crowding around to greet the new arrivals. And it is not only their skin colours that are different – the twins are already revealing opposing personalities.
According to the parents, the light-skinned twin, Ryan, is described as a 'spirited' baby, while laidback brother Leo is a lot calmer. Senior doctor Birgit, who helped deliver the tots by ceasarean section, said that in 20 years of practice this was the first time she had seen differently coloured twins.
Related posts