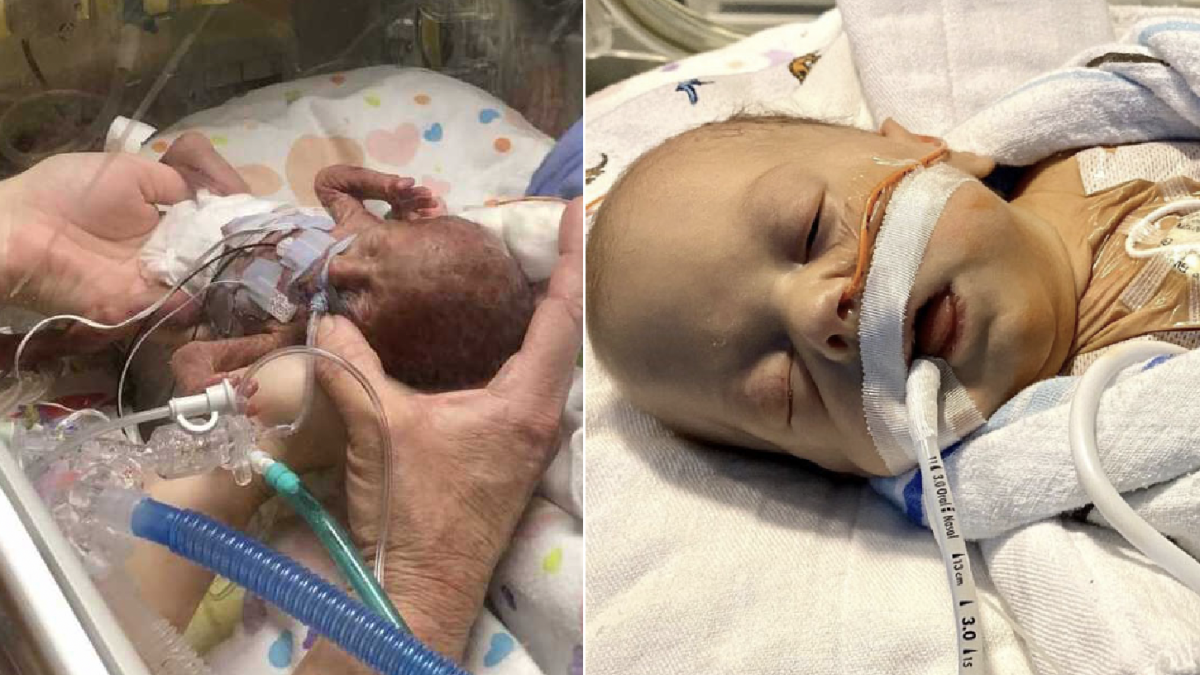 Premature births can be incredibly traumatizing for both the mother and the child. In a lot of cases, babies born much too early can have a hard time surviving or growing up to live a normal life.  But little Wyatt was a fighter and he fought against all odds, to be where he is today! When Wyatt was born, he weighed only one pound eight ounces. When he was born, he suffered from a myriad of issues due to his early birth. He suffered from internal bleeding, an abscess in his stomach, along with a perforated intestine.
Because of all of these issues, he was immediately transported to the NICU for surgery. The NICU was an hour away from where he was born. Wyatt spend almost 113 days in the NICU recovering from all the issues that accompanied his birth and growing stronger before he was able to go home with his family.
His mom Jessica told Love What Matters about the entire ordeal, saying, "My husband was back and forth and taking care of the house/dogs to being at the hospital with Wyatt & I. I left the hospital as little as possible. It was the biggest blessing to be at St. Francis because it was the best of the best NICU team." She added, "From the security guards at the front desk to the janitorial staff, cafeteria, respiratory therapists, speciality staff of surgeons, GI teams, and (saving the best for last) the nurses and neonatologists, it was all God. It was isolating at times but also like we were living in a whole different world with primary nurses and medical teams that became family." 
The family shared how the entire community rallied behind them with support to help them get over the ordeal they were going through. She mentioned people and organizations stepping up to help house them, and feed them, and just give them emotional support.
"The Ronald McDonald House will forever be one of our greatest blessings; they provided a bedroom with a bathroom and shower and a community kitchen and living area. It was a home away from home in the scariest season of our lives," Jessica says. "We also had friends step up and take care of our dogs and home. We had financial gifts for bills and food while in the hospital. We had prayer warriors daily praying for Wyatt," she told Love What Matters.
Wyatt was released just before the Covid-19-related lockdowns started getting placed in the United States. His mother is grateful the family was able to go home and grow there, instead of having to prolong their son's stay in the NICU. Jessica posted an Instagram video of the time the family spent in the hospital, saying she is unable to believe that they spent so much time after Wyatt's birth at the hospital.
While Wyatt still has some issues he needs to overcome because of being born premature, he is now a happy and smiling little toddler! "Wyatt is walking and talking. He goes to a 3-year-old program at a local Christian school and is learning new things every day! He goes to physical therapy and occupational therapy weekly and will start speech therapy back again soon!" Jessica told Love What Matters. 
"He is joy and sunshine! He is the happiest boy; he doesn't meet a stranger and will wave at everyone. He loves people and has a smile that could break the hardest shell of a person! God has big plans for this boy," she added.
Related posts