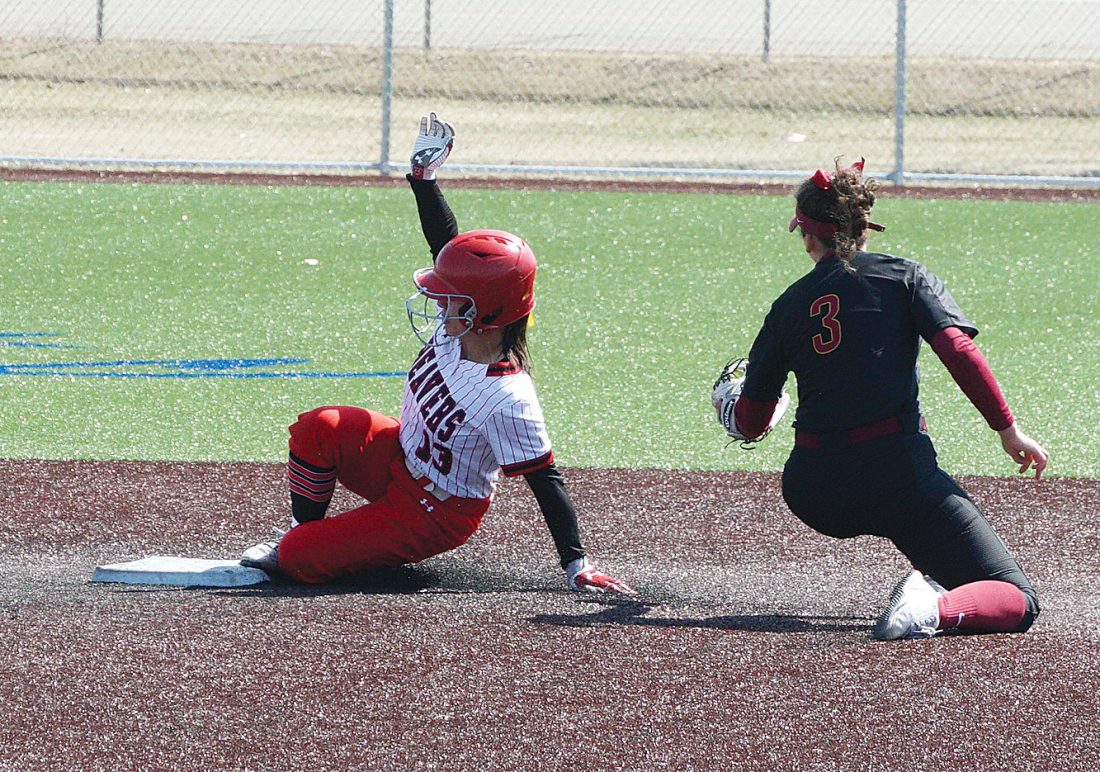 MINOT, N.D. – The Minot State Beavers softball team was peaking at the right time. After a recent rough stretch at the tail-end of April that saw the team win just one of six games April 21-May 1, the looming conference tournament kicked the Beavers into high gear.
They split their May 1 doubleheader against a dominant Winona State team en route to wins in six of seven games to close out the regular season. Head coach Nat Wagner noted at a recent press conference how crucial the positive momentum was in performing well when it matters most.
Despite its impressive play leading into the tournament, Minot State's stay in the conference tournament was not lengthy. Miscues in the field were the Beavers' Achilles' heel on both ends of their double-dip against the University of Sioux Falls and Winona State University.
Following a 10-2 defeat against Sioux Falls, their second contest was much more competitive. However, Minot State's hardships in the field remained. While the Beavers avoided allowing a crooked number, five more errors paved the way for a 6-5 loss to the Warriors that slammed the door shut on Minot State's NCAA tournament hopes.
"I wish I had a better answer," Wagner said of his team's defensive performance. "Nerves with things that we've practiced constantly. I think the kids are a little mystified too. I think they look at it and say, 'Okay, we're making mistakes on things we put an incredible amount of repetition on,' and I think that's incredibly frustrating to them."
Defense is the one facet of the game in baseball and softball that is most under the control of the players. "The one great controllable," as Wagner put it. Offensively, once someone hits the ball, they have no influence over what happens to it after it leaves the bat.
In the circle or on the mound, pitchers do all they can to harness the most effective command of their pitches, but after the ball leaves their hand, they become a spectator. But playing defense is one area where fielders can control most of what happens.
Where the ball is thrown and how often routine plays are made, in addition to the ones that make the highlight reel, are vital to the team's success. Wagner did not absolve himself and his coaching staff of responsibility for his team's challenges in the field.
"If it hasn't been learned it hasn't been taught," he said. "In the game as a whole, defense is the most predictable and controllable element. So that's what's really disappointing, and I think it starts with us as coaches. I think we have to take a hard look at that in the offseason and make sure we're putting our kids in a better position to get to the postseason next year."
Even with the disappointing ending to the season, Wagner still pointed to areas of success and promise for the future of his program. Baserunning was at the forefront of his mind in that respect, and for good reason.
Minot State ran wild on the bases this season, and its 113 total stolen bases almost doubled the previous school record of 71 set in 2016 and again matched in the pandemic-shortened 2020 season. Their 113 thefts came in 138 tries, good for an 82 percent success rate, and led all Division II schools. The next-highest total was the University of Illinois-Springfield's total of 119.
"We lost two outfielders on one play in the fifth game of the season," Wagner said, pointing to Minot State's 10-5 Feb. 19 victory over the University of Mary that saw Kiera Shwaluk and Rianna Aasen both leave the game in the second inning.
"To basically double your school record in stolen bases and lead the country in stolen bases without Shwaluk in the lineup, that was a surprise," he continued. "I give a lot of credit to our kids who are fast but not absolute burners. Kids like Lenora Watson and Jamie Odlum stealing double digit bases, that's really where that came from. So I was really happy with our baserunning."
The Beavers will look to build upon areas of success that surfaced during the 2021 campaign while simultaneously doing everything in their power to exorcise their demons in the field. The losses of Haley Hernandez, Julia Suchan and Isis Cabral to graduation will complicate matters initially, but Wagner is excited to see his younger players take another step forward in their development with more playing time and increased roles.
Next season's goal of qualifying for the NCAA tournament remains, and Wagner cannot wait for 2022 to arrive to embark on a new journey toward making that goal a reality.
"We know where we want to go, that hasn't changed one iota," he said. "I'm optimistic, I think we're going to be more competitive next year. At the end of the day it's about us, it's about developing our culture and raising those standards and expectations, and I feel really good about the ongoing conversation we're having right now in that regard."
Related posts