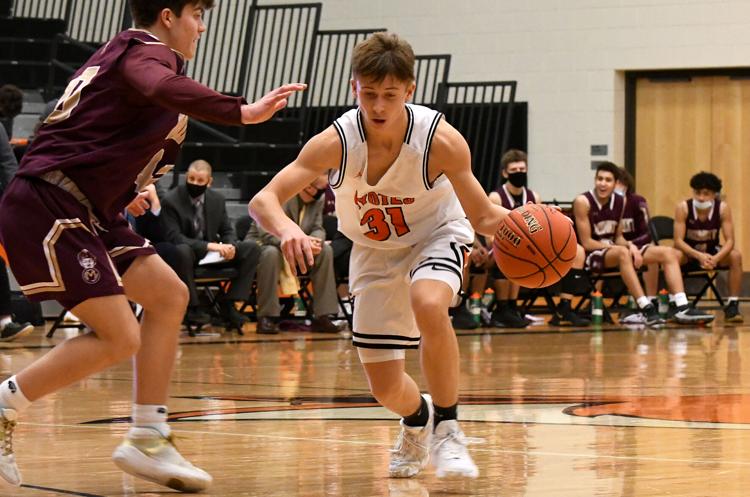 MINOT, N.D. – Just two days after getting their first win of the season, the Williston High School boy's basketball team could not get momentum going and lost its eighth game of the season.
The Coyotes lost a home game against Minot on Thursday, Jan. 21 by a final score of 94-52, after coming off a 58-54 win over Watford City.
Minot used a big first half to propel themselves ahead of Williston and get such a big lead that the Coyotes would have had trouble getting back into the game.
In the first half, Minot scored 57 points, compared to Williston's 26.
Williston didn't shoot the ball poorly, and as a team, the Coyotes rivaled Minot in a lot of statistical categories. The issue was, though, that there were a few key areas where Williston either got hurt or hurt themselves in the game.
Mainly, turnovers were an issue for Williston.
The Coyotes had 24 turnovers in the loss, compared to the Magicians' 16. In tune with turnovers, Minot recorded 10 steals and eight deflections, to go along with 33 points off turnovers.
So while Williston was able to get good looks and opportunities to score, Minot's defense and transition game gave the Coyotes trouble.
Minot also had an advantage on the boards, grabbing 10 more total rebounds than Williston, and Minot's 15 offensive rebounds helped the Magicians score 13 second chance points.
But going beyond second chance points, Minot simply had a good offensive output.
The Magicians shot 49.3 percent from the field, including 35.7 percent from three-point range. Minot also recorded 23 assists in the game.
Williston showed some good things offensively, nearly matching Minot in a few categories. The Coyotes shot 30.8 percent from three-point range, and they scored 28 points in the paint, compared to Minot's 36.
While individually, each player did not score a lot, Williston did have nine players score. Edens Dumervil led the team with 10 points and 15 rebounds, and Jake Wilt and Ethan Moe each had seven points to help out.
Minot had a good variety of scoring, as 11 different players scored. Minot's Deonte' Martinez led everyone with 28 points, and Eric Wentz (18 points) and Darik Dissette (16 points) each also poured in some baskets for Minot.
Related posts