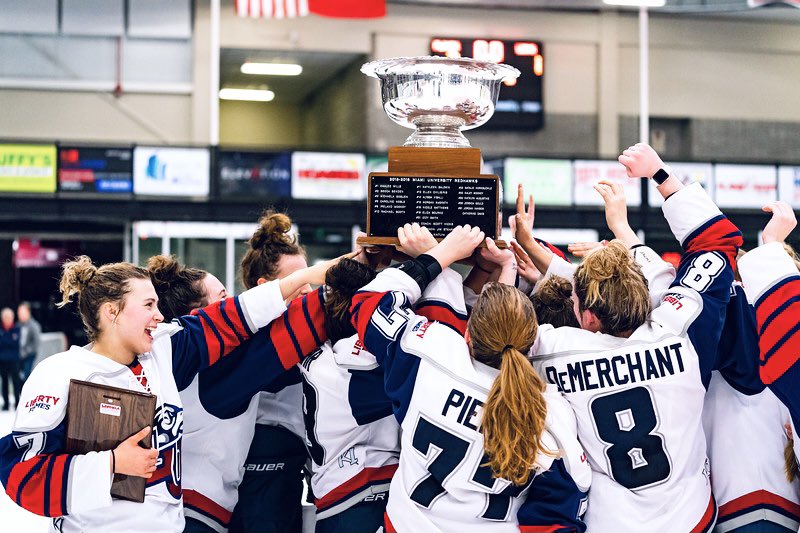 MINOT, N.D. – The Liberty Flames women's hockey team won their third straight ACHA Women's Division I National Championship on Monday night at Maysa Arena in Minot, North Dakota. In Monday's title game, the Lady Flames defeated the Lindenwood Lions, 3-1.
The Lady Flames scored the first three goals, including two from Valeriia Manchak. Alexandra Smibert had the final goal and assisted on one of Manchak's goals. Lindenwood's Kennedy Frank denied Liberty goaltender Kylie Mebs a shutout in the championship game by scoring with just 1:26 left in the third period.
After seeing the 2020 Nationals cancelled amid the COVID pandemic, Liberty has now won three straight women's ACHA Division I National Championships dating back to 2018. The Lady Flames were a favorite to win last year before their trip to Frisco, Texas was canceled.
This past weekend, after a shortened season which was played mostly in the spring semester, the top-ranked women descended upon Minot where Liberty joins Lindenwood University as the second ACHA Division I team tow in three straight national championships. This is the fourth title overall for the Lady Flames who won their first crown in 2015.
Lindenwood is the only ACHA team to beat Liberty over the past two seasons, having done so three times including handing the Lady Flames their only loss earlier this season. Liberty finishes the season with an overall record of 19-1 and have posted a 49-3-1 record over the past two seasons and a 115-7-4 mark since 2017-18 when Liberty captured their second ever crown in head coach Chris Lowes' first season at the helm.
Related posts