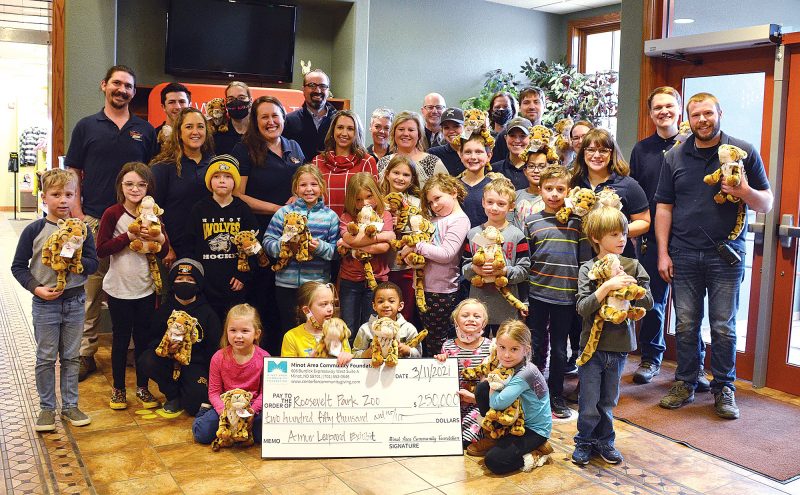 MINOT, N.D. – On Thursday, the zoo received a $250,000 grant from the Minot Area Community Foundation. Foundation President Jason Zimmerman made the presentation to Ron Merritt, Minot Parks executive director.
The grant from the Foundation is made possible by The Mike and Dorothy Dolan Fund and The Arnold I. Besserud Fund. It will go toward the east and west Leopard Mountains, a feature in the full Amur leopard habitat to be constructed.
On behalf of the Minot Park Board, Merritt thanked the Foundation for its "generous support" of the Amur leopard exhibit. "We're making progress for the fundraising goal that's set for this project. We're not quite there yet but this gives us a significant jump toward the end goal," he said.
The projected cost of the leopard exhibit is $2.8 million, according to zoo information. The campaign fund still needs $1.280 million. The Minot Park District has provided a cash reserve match of $800,000.
During the grant award presentation, Merritt said Roosevelt Park Zoo is "a gem" in the community. "We all believe making a significant investment in the zoo not only affects the quality of life here in Minot but also makes a financial impact on our community," he said.
He said Amur leopards are extremely endangered. "Finishing this construction project here will allow the Roosevelt Park Zoo to make a significant impact on the conservation program for Amur leopards around the world where they are native to," he said. He said it will also help the zoo participate in an Amur leopard breeding program.
"We're very proud of that," he continued. "Projects like this don't happen without community partners."
Zimmerman said founders of the Minot Area Community Foundation, "generous donors of that time, current donors and future donors have enabled us to make this gift to Roosevelt Park Zoo."
"The gift also enables the Minot Area Community Foundation the opportunity to continue in our mission and enhance the quality of life in Minot and the surrounding community," Zimmerman said.
Jennifer Kleen, executive director of the Greater Minot Zoological Society, said this is the second time the Minot Area Community Foundation has donated to the Centennial Capital Campaign. The Foundation also donated funds for the new Amur tiger exhibit.
Following the presentation, children attending zoo day camp each received a stuffed Amur leopard handed out by zoo staff. The children also took part in photos with zoo staff and representatives of the Minot Area Community Foundation, Minot Park District and Greater Minot Zoological Society.
Currently, Roosevelt Park Zoo has one Amur leopard. The new leopard habitat project is part of the zoo's centennial celebration this year but construction of the habitat will be done in 2022, Kleen said.
Two other zoo capital campaign projects, the $2.8 million Severson Ahart African Lion Savanna and $3.4 million Amur Tiger River Valley opened in 2019 and 2020, respectively.
Related posts