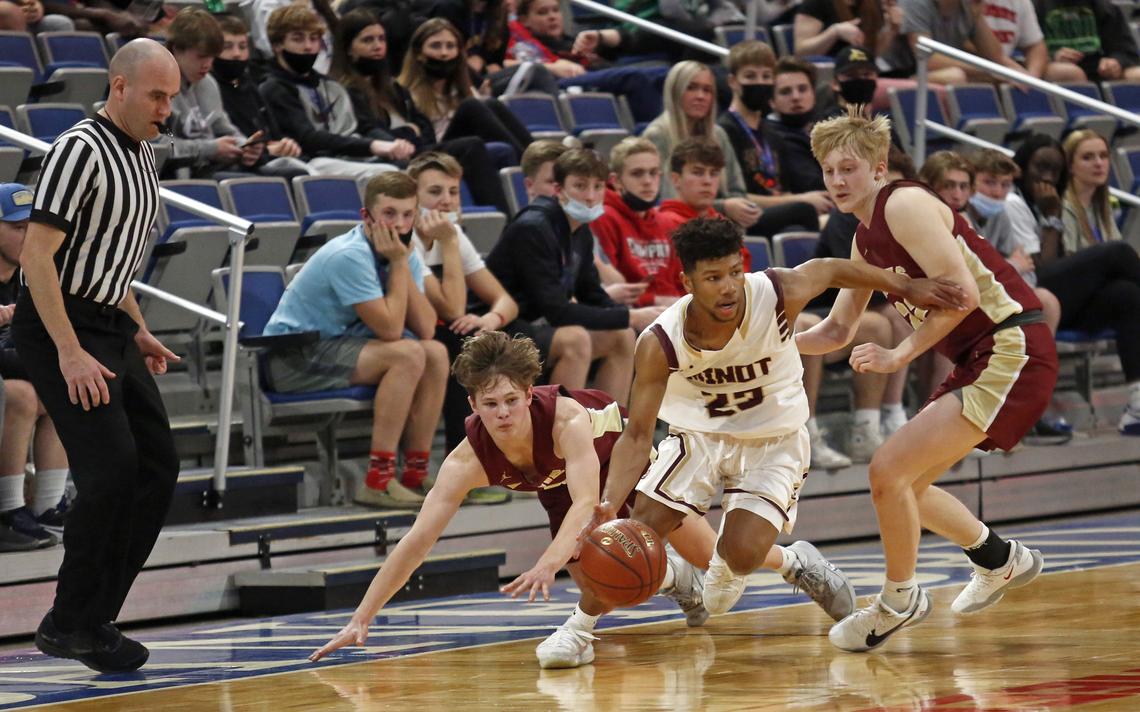 MINOT, N.D. — Deonte' Martinez willed Minot to a come-from-behind state semifinal victory.
The Magicians trailed by double digits for much of the second half before the 5-foot-8 senior guard took over in crunch time. Minot pulled within a point with 1 minute, 43 seconds to go and Martinez closed it out with seven straight points for his team.
Minot defeated Fargo Davies 71-68 in the North Dakota Class A state boys basketball tournament semifinals on Saturday.
"I like to have the ball in my hands at the end of games," Martinez said. "I feel like I can not just make the best shot, but I feel like I make the best play for the team, whether that is getting a good shot or passing the ball to an open player, and I know my teammates will hit that shot."
The Magicians (23-1) play West Fargo in the state championship at 3:30 p.m. Sunday. They ride a 17-game winning streak into the state championship game.
Davies senior Owen Hektner came off a screen and hit a deep 3 with 7.5 seconds to go to make it a one-point game at 69-68. Martinez used his short-area burst to open himself up for the inbound pass and was immediately fouled and made both free throws to make it 71-68.
The Eagles had 5 seconds to get the ball up the court to try a game-tying 3. They tried a long pass and Minot's RaShawn Wilcox intercepted it to seal the game.
"As soon as he got that steal, I was really happy," Martinez said. "I started running around the court. That was a great feeling."
Martinez started the second half slow, going the first 5 minutes, 30 seconds out of the break without a basket. But he made up for it in the final 12:30. He scored 18 of his game-high 28 points after the break. He was 10-for-19 from the floor, 1-for-3 from 3 and 7-for-8 from the free throw line.
"Coach did a great job to try to get us going with some sets," Martinez said. "Shots just weren't falling for a little bit, but eventually they have to fall and they did. We stepped up at the right time. We knew we didn't want this to be our last basketball game."
The Eagles rode a 17-2 run through the end of the first half and the beginning of the second half. They led 40-33 in the first minute of the second half and extended their lead to 11 points 59-48 midway throughout the second.
Martinez made a couple of baskets to spark a Minot run and they took their first lead of the second half 64-63 after a 3-point make by Wilcox with two minutes to go.
"Our coach told us all year that we have to have grit and perseverance," Martinez said. "We're going to get down at times in games and we've got to keep fighting. We did that today."
Brady Sauvageau shined on both ends of the floor for the Eagles. He had the unenviable task of defending Martinez man-to-man and challenged him for much of the game. Sauvageau had three steals and a block to go along with a team-high 20 points.
Hektner played all 36 minutes for the Eagles and scored 18 points with eight rebounds and two steals. Jacob Prudhomme scored 10 points with seven rebounds.
Half: Minot 71, Fargo Davies 68
FD: Motschenbacher 8, Davis 6, Brown 6, Hektner 18, Sauvageau 20, Prudhomme 10.
M: Ross 13, Wilcox 10, Wentz 20, Martinez 28.
Related posts