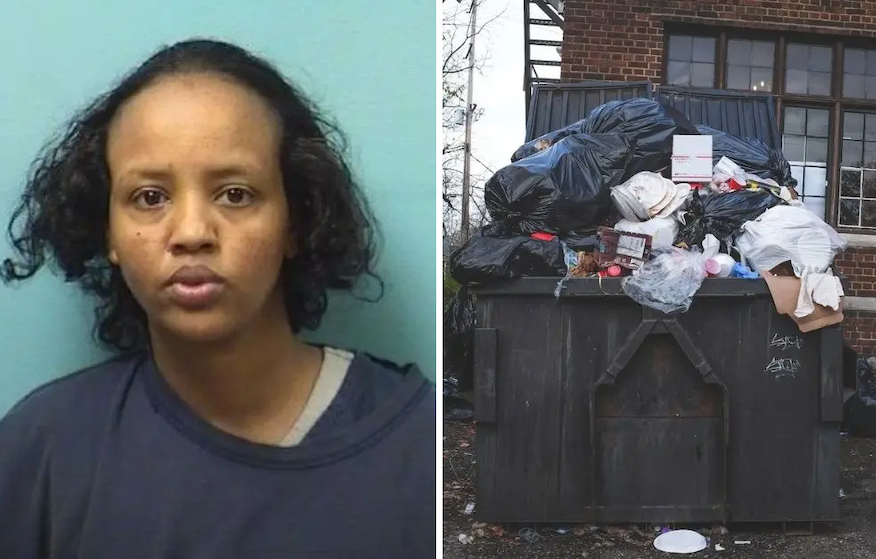 According to the court documents, the 28-year-old defendant, Fardousa, reportedly took a knife from the kitchen and slit the thr0at of her 3-month-old baby before stuffing the infant's body in a garbage but and throwing it into a dumpster outside of her apartment building. She pleaded guilty to second-degree murder, court records say. Initially, the mother was charged with first-degree murder, but she reached a deal with the Attorney's Office and pleaded guilty to the lesser charge in exchange for prosecutors dropping the first-degree murder count. She faces a maximum sentence of 30 years in prison.
Prosecutors said that the mother was taken into custody after someone called 911 and told the dispatcher that Fardousa's baby was dead. The 911 caller reportedly said that the infant was dead and the baby's mother reportedly told him that she had thrown the baby in the dumpster. The man who called 911 and others went to look for the baby but could not locate him. Shortly after, they went to help and found the mother crying and alone in her apartment. The mother repeatedly stated that she had killed her baby and thrown him away.
The mother lived alone with the 3-month-old baby in the apartment, court records say. The responding officers made contact with the mother and asked her where is her baby. The mother reportedly told them that the baby was in the dumpster behind the building. As officers were searching the dumpster, the defendant stated that she stabbed the baby and put him in a black plastic garbage bag before putting him in the dumpster. At the same time, officers located the deceased body of the baby within the dumpster. The defendant was placed under arrest and the scene was preserved.
During an interview with investigators, the mother reportedly said that she started suffering from headaches and feelings of worry and fear after the birth of the baby. According to Fardousa, the baby's father was also denying that the baby was his, she said. The defendant admitted she stabbed her infant with a knife from the kitchen. The defendant stated her baby was crying prior to her stabbing him. The defendant demonstrated that she cut her baby across the throat. The defendant stated she put her baby into a black bag with baby clothes and put the bag into a trash bin in her apartment. The defendant stated she brought the bag out to the dumpster about five minutes after she stabbed the child. The defendant stated she called her mom about twenty minutes later and told her mom what she had done.
Related posts