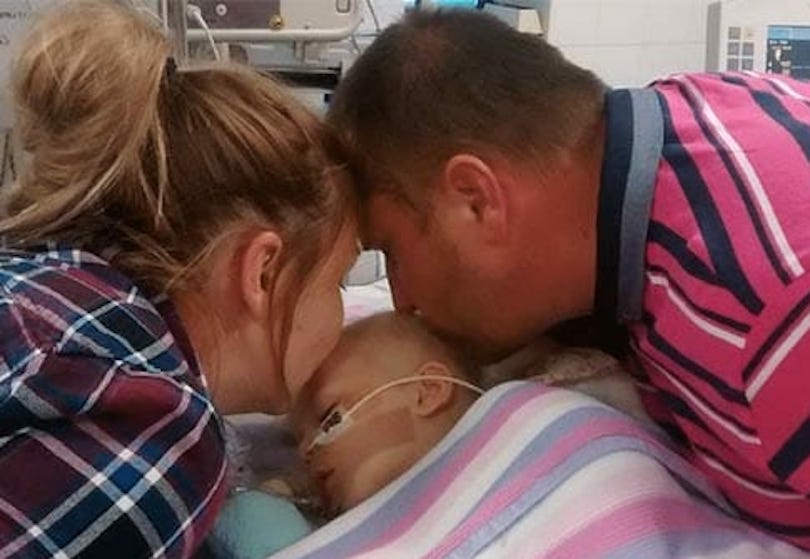 Whether you believe in miracles or not, the story of baby Bella is certainly a beautiful example. At just 14 months old Bella became very sick and after a number of tests was put on a ventilator and doctors told the family to say goodbye to their precious bundle. But, just when they thought all hope was lost, Bella did something amazing. Lee and Francescawere a happy couple and after Francesca gave birth to their second child Bella, they felt their family was complete.
But at 14 months old Bella started losing clumps of her hair. Doctors suspected asthma and she was given an inhaler. Three months later Bella took a turn for the worse while on a family vacation in Spain. They were forced to return home to get answers. Doctors told the family Bella had Mitochondrial disease which kills the cells in your body and leads to organ failure. It's progressive and there is no cure. Bella's condition was so critical that she was placed on a ventilator. The couple were told that the hospital had a similar case years ago where the child had Biotinidase deficiency and that they would start injecting her with Biotin which is Vitamin H. It affects just one in every 60,000 births.
They tried Bella off the ventilator but she couldn't breathe for herself and on July 21 the family were told to say their last goodbyes. The whole family gathered in the hospital, took a last picture with their five-year-old son Bobby and kissed her goodbye. But just 30 minutes later the unimaginable happened. "I could feel her hand dropping and it went down but then she started gripping my finger. She started moving on her own and then her machine started going off," dad Lee Moore-Williams told The Telegraph.
Bella suddenly began to move and scream, doctors told them her oxygen levels were returning to normal. The parents were in shock. "The doctors changed their way of thinking and they went all the way to save her. In those 20 minutes I sat by and then realized she wasn't ready to let go," added dad Lee.  "When she says 'mama' it melts my heart," mom Francesca told The Telegraph.
Related posts