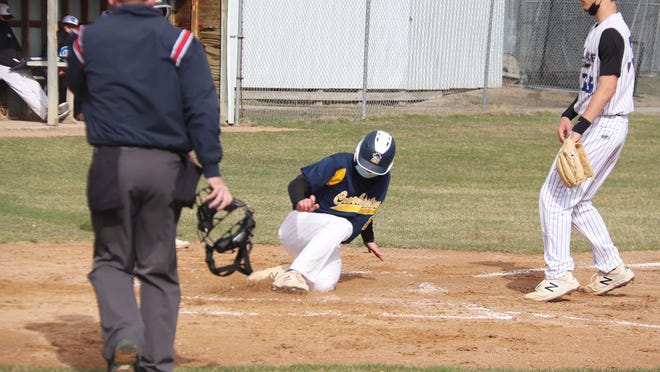 MINOT, N.D. — Jacob Miller strode into the on-deck circle, looked down to check his bat and realized, to his surprise, that he had forgotten his batting gloves. The senior right-hander sprinted back to the dugout to retrieve them.
It's understandable that Miller's mind slipped. He probably hadn't been expecting to make a second trip to the plate in the top of the first inning.
Batting around is rare enough, but Miller was hitting sixth in the Crookston order. When Miller stepped into the batter's box, the Pirates already held a 10-0 lead over Red Lake County.
Even more unusual than batting around, bringing 15 hitters to the plate or putting 10 runs on the board in a single inning? Doing so on just three base hits.
The Pirates took advantage of a slew of Rebel miscues instead, piling on all they would need and more in the initial frame. The big first inning highlighted a 14-1 run-rule victory over Red Lake County Friday afternoon at L.E. Drechsel Field in Crookston's first game in nearly two years.
Like every team in Minnesota, the Pirates hadn't taken the field since 2019. But perhaps they were a bit more anxious to get out there than most. They had been scheduled to open their season at Win-E-Mac last Thursday, but that game was postponed due to rain. Games against Thief River Falls and Park Rapids this week also went by the wayside due to weather.
Before the game began, Crookston coach Mitch Bakken reminded his team of this. No reason you shouldn't be exhausted afterwards, he told the Pirates, imploring them to bring energy and enthusiasm on the field and from the dugout.
"We have a pretty quiet team, but they were talking, that's what we wanna see," Bakken said. "They did things right, took advantage of the mistakes and just kept their foot on the gas."
Related posts