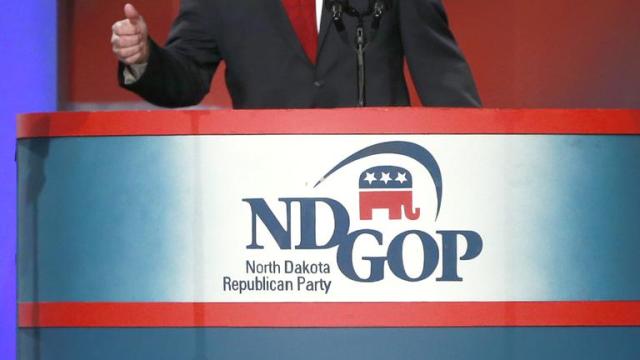 MINOT, N.D. — One evening this week, I got a phone call from a Republican friend who asked me how viable I thought a third party movement breaking off from the North Dakota Republican Party might be.
It was a surprise.
This person is a Republican whose name most of you would probably recognize immediately. A serious person is what I'm trying to tell you, not some back-bench meddler.
A person who, if they left the NDGOP, would take a not-insignificant amount of money and people with them.
Still, even in this overheated moment, as the cracks created by Donald Trump's boisterously divisive and entirely self-serving approach to politics proliferate across the GOP, it's hard to credit the idea of a third party.
The risks are enormous. Such a move would breed enormous resentment levels among rank-and-file Republicans and would likely be a disaster at the ballot box contributing to the Democratic-NPL making gains in the Legislature, and perhaps even statewide races, after a generation or two of being largely irrelevant.
Should Republicans who support conservative policymaking, even those upset by their party's current state, want to do something that would inevitably put more people in office who will, without a doubt, oppose conservatism?
North Dakota already has a somewhat active third party. The Libertarians consistently put candidates on the statewide ballot, and they're usually good for around 3 percent of the vote or so. A third party led by some high-profile North Dakota Republicans could likely do significantly better with some real money behind it, but what's the ceiling?
The NDGOP could probably lose a third of its voting base around the state and still hold onto a supermajority in state government. A diminished one, to be sure, but still an embarrassment of riches when it comes to governing power.
We had a conversation. There was a lot of talk about Theodore Roosevelt and his Bull Moose Party, ironically, since Trumpism probably has more in common with Teddy's version of progressivism than the Reagan-era conservatism of the pre-Trump NDGOP.
And that, I thought, was that.
Just some venting from someone, albeit a consequential someone, fed up with the Trump movement.
Then I got a second call. This one from a former lawmaker. More talk of a third party, and no, these two people hadn't been talking to each other. This second person says a few other people are talking third party as the Trump-aligned Bastiat Caucus pushes to control more legislative districts and, through them, control of the state party.
I'm convinced that the possibility of a split, or at least an attempt at one, is genuine.
It's still a slight possibility, and I'm not at all sure it's the right idea, but there are growing fractures in the party, and I'm certain Democrats are looking on with delight.
Related posts