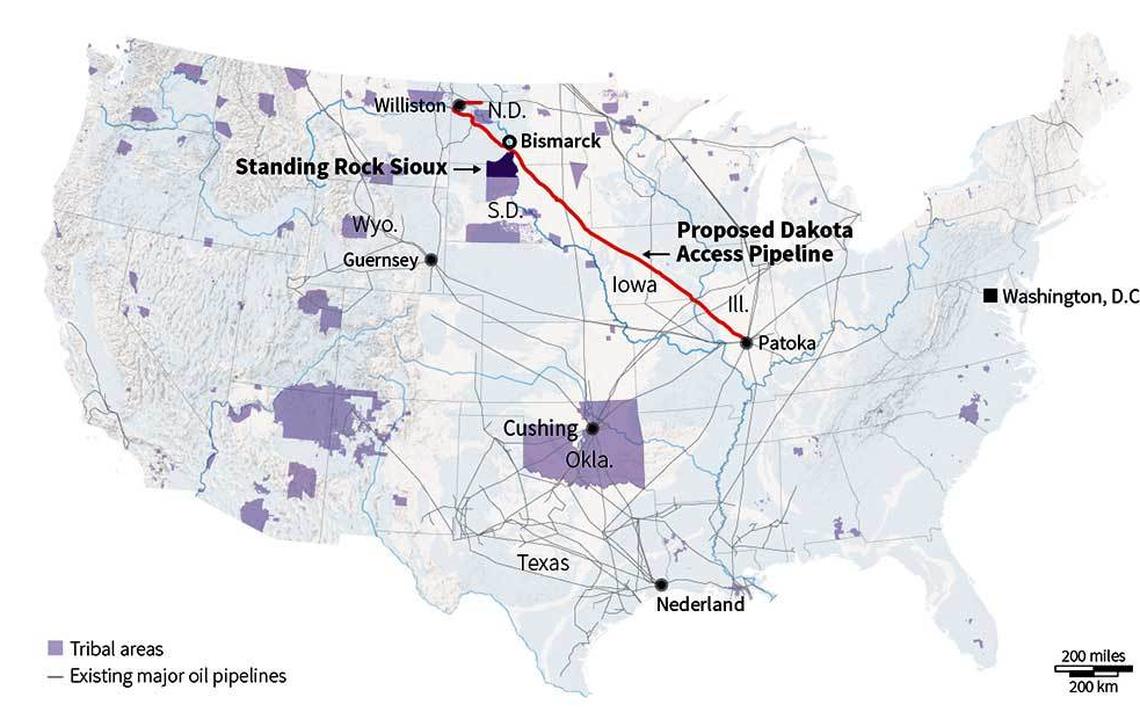 N.D. – Bridger Pipeline, a subsidiary of True Companies, is seeking to place a new transmission line in McKenzie County, which the company says in its permit application could be a "vital part of an alternate route out of North Dakota in the event of a shutdown of other pipelines leaving the Williston Basin."
The application does not mention any particular pipelines, but there will be a hearing on April 9 to discuss a potential shutdown of the Dakota Access pipeline, while further court-ordered environmental study of the pipeline is conducted.
Bridger's proposed 29.4-mile, 8-inch crude oil transmission line would take crude from Eighty Eight Oil company's existing Johnson's Corner Terminal in North Dakota to Bridger's existing Wilson station, about 7 miles south of Watford City. From there, the oil would travel to Wyoming, where it could access other markets and refineries in Utah and Colorado, as well as trading centers in Cushing, Oklahoma and Patoka, Illinois.
A public hearing for the proposed transmission line is set for 8 a.m. CST March 22 at Teddy's Residential Suites, 113 Ninth Avenue SE in Watford City.
In addition to in-person participation, individuals may also participate virtually at https://psc.nd.gov/public/meetings/live.php or telephonically by calling 888-585-9008. In either case, the room code is 259-316-322.
Written comments may also be sent to the Public Service Commission, 600 E. Boulevard Ave., Dept. 408, Bismarck, ND 58505-0480.
During the March 22 hearing, the Commission will consider whether Bridger's project minimizes adverse effects on the environment and the welfare of citizens in the state, as well as whether the project is compatible with the environmental preservation and efficient use of natural resources. The commission is also tasked with ensuring that construction, operation, and maintenance of the proposed project ensures system reliability and integrity, so that energy needs are met and fulfilled in an orderly and timely fashion.
The siting application for this project followed a request by the company in March for permission to let some oil from Four Bear's Pipeline flow into the existing Kermit to Wilson gathering line. That would give Bridger's system more capacity without disturbing any dirt or requiring any new construction.
The North Dakota Public Service Commission granted that request, but directed the company to file a siting application for converting the 27-mile Kermit to Wilson gathering line, constructed in 2018 to support growing production at Johnson's Corner.
The company decided it would add a 2.4 mile pipeline to the existing Kermit to Wilson line in the siting application. That makes the proposed transmission line 29.4 miles in total length, for an estimated cost of $21 million.
The completed transmission line will include an electronic monitoring device and alarm system that will keep track of flow and pressure for the system around-the-clock, as well as automatically warn operators if there are any leaks.
True Companies is also the parent company of Belle Fourche Pipelines, which was responsible for one of North Dakota's largest crude oil leaks affecting a water body. The company's Bicentennial leaked 12,615 barrels of crude oil into the nearby Ash Coulee Creek, a tributary of the Little Missouri River, just north of Medora in Billings County, when a hillside in the area slumped.
A hearing is set for 8 a.m. March 22. There are several ways to participate.
In person at Teddy's Residential Suites, 113 Ninth Ave. SE, in Watford City
Telephonically by calling 888-585-9008, with room code 259-316-322
In writing by sending comments to: Public Service Commission, 600 E. Boulevard Ave., Dept. 408, Bismarck, ND 58505-0480
Related posts