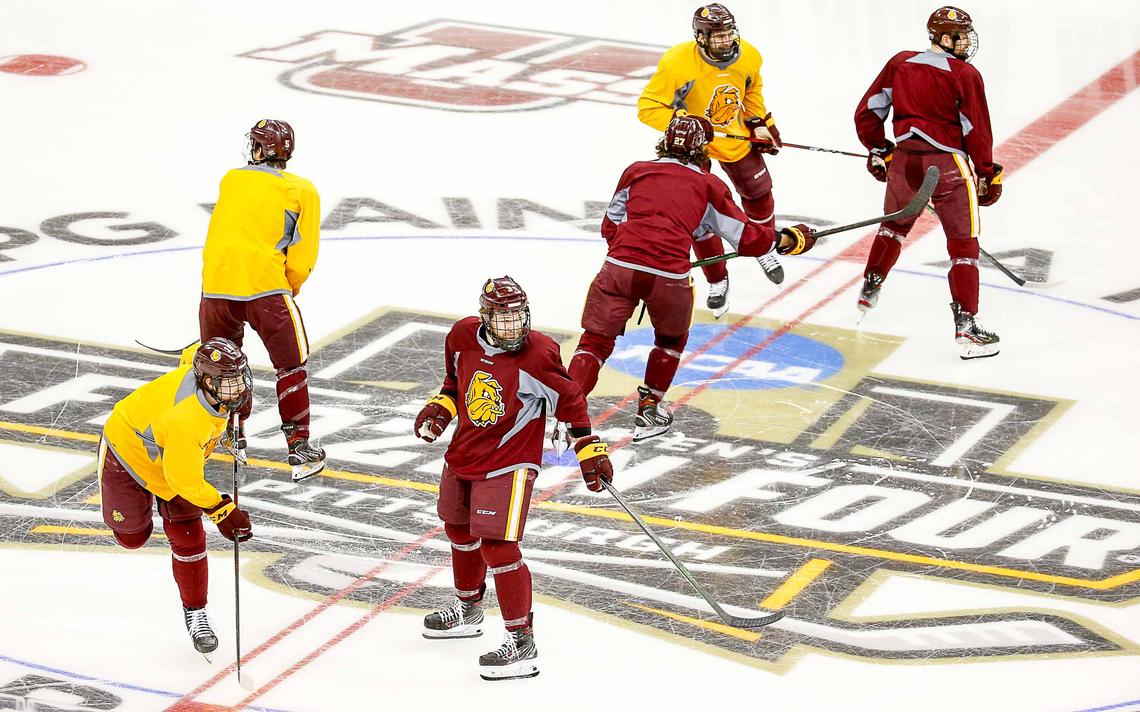 MINOT, N.D. – At 12:41 a.m. on Sunday, March 27 in Fargo, North Dakota, a pair of Minnesota Duluth freshman fourth-line wingers in Luke Mylymok and Blake Biondi went racing with the puck down the ice at Scheels Arena toward the opposing net.
Standing in their way were a pair of tired North Dakota Fighting Hawks, junior defenseman Jacob Bernard-Docker and junior forward Gavin Hain. Biondi was able to draw Hain in his direction as the Hermantown native booked it down the ice to try and catch up the Mylymok, who had broken out of the defensive zone with the puck and now was one-on-one with Bernard-Docker, the future Ottawa Senator.
The rest is history, as by 12:42 a.m. on March 27, Mylymok and Biondi were embracing, celebrating a fourth-straight Frozen Four for the Bulldogs. Both joined the News Tribune's Bulldog Insider Podcast this week to recall their experience in the 3-2 five-overtime victory for UMD over North Dakota in the NCAA regional final in Fargo, and to share their emotions heading into their first ever Frozen Four.
Below are edited excerpts from this week's episode of the Bulldog Insider Podcast, hosted by News Tribune college hockey writer Matt Wellens and the voice of Bulldog hockey on My9 Sports, Zach Schneider. Produced by award-winning News Tribune multimedia producer Samantha Erkkila, you can catch the full episode of this week's episode at DuluthNewsTribune.com, TheRinkLive.com and on Apple Podcasts, Spotify or wherever you listen to podcasts.
Luke, I know you've told this tale a million times already. It has got to be getting like a good fishing story at this point. Take us through your game-winner in Fargo.
Luke Mylymok: As you know, me, Biondi and Loheit were not getting a lot of ice time so we knew we were fresh. In between periods and on the bench, we knew it was a matter of time before coach put us in. We told each other, "We have fresh legs and we got to use that to our advantage. They're a tired team, they'll be fatigued." So, I saw a chance to get the puck off the wall and I was coming down on Bernard-Docker. I knew I was going to be pretty far out and Scheel is a great goaltender, so it'll be hard to beat him with just a plain shot. I knew I had to disguise it somewhat, so I just pulled it in and shot it and the puck went in. I looked over at (Biondi) and I was like, "Are you kidding me?" It was a pretty surreal moment.
How many times have you told that story?
LM: So many times.
You have it down pretty well now, don't you?
LM: The fish keeps getting bigger.
Blake, take us through your perspective on that play. You were hustling, booking it trying to catch up to Luke there.
BB: At first I couldn't really tell if it was going to be a two-on-one or not, so I just went as hard as I could to try and make it one. Then Hain cut me off and then the next thing I was like, "Alright, (Mylymok), I hope you just rip it and hopefully you score right away," and obviously he did. The second thing in my head was like, "Alright, well, I better be there for a rebound and try to get myself in the best spot," but luckily it went right in. He looked right at me and just flew into the boards. We celebrated after that. It was pretty awesome.
Blake, you were eight when the Bulldogs won their first national championship. What do you remember about the 2011 championship and what does it feel like to now be playing in a Frozen Four for the UMD program you grew up watching?
BB: It's unbelievable. … it doesn't even feel real quite yet. In 2011, I remember going down with my parents and Brett Hauer, who put my dad (Joe) here (at UMD) and going down to St. Paul, watching both games and winning it all. That was just one of the best times of my life and one of my best memories for sure. You're such a fan. I remember Jack Connolly afterwards that summer, for some reason he was skating at Hermantown a little bit, so I was lucky enough to be around him afterwards. He's, obviously, a great guy and he was a big part of that team. It's kind of surreal right now, and I will set in after, I bet.
Luke, you committed to UMD way back in 2016 before this run of consecutive Frozen Fours. What is it like for you to now be playing in one after watching what the program has accomplished ever since you committed?
LM: It's unreal. I remember when I first committed, I was actually in Duluth for a hockey tournament with my midget team, the Notre Dame Hounds (of Wilcox, Saskatchewan). I can't remember what tournament it was, though, when I was talking to (Scott Sandelin) and Jason Herter and Brett Larson. Sandy said when I sat down with him, "This program, we can win four national championship titles, but we will still be the underdog. No one will give us credit." And to me, that was just like, 'I love that.' I love that mentality of not caring about the odds. I'm a huge UFC guy, so I see guys that come in as the underdog, big underdogs, and they get the job done. I just love that mentality. Seeing those guys win those two in a row, while being committed here, is unreal, too. It's not often that a team wins two in a row. A program like this that still doesn't get the credit, which I really don't understand, is just unreal. Being committed for a while, and now I get to go there, it's just a surreal feeling. It's a dream come true, because right when I committed, that was my goal. I want to win a national championship.
Related posts