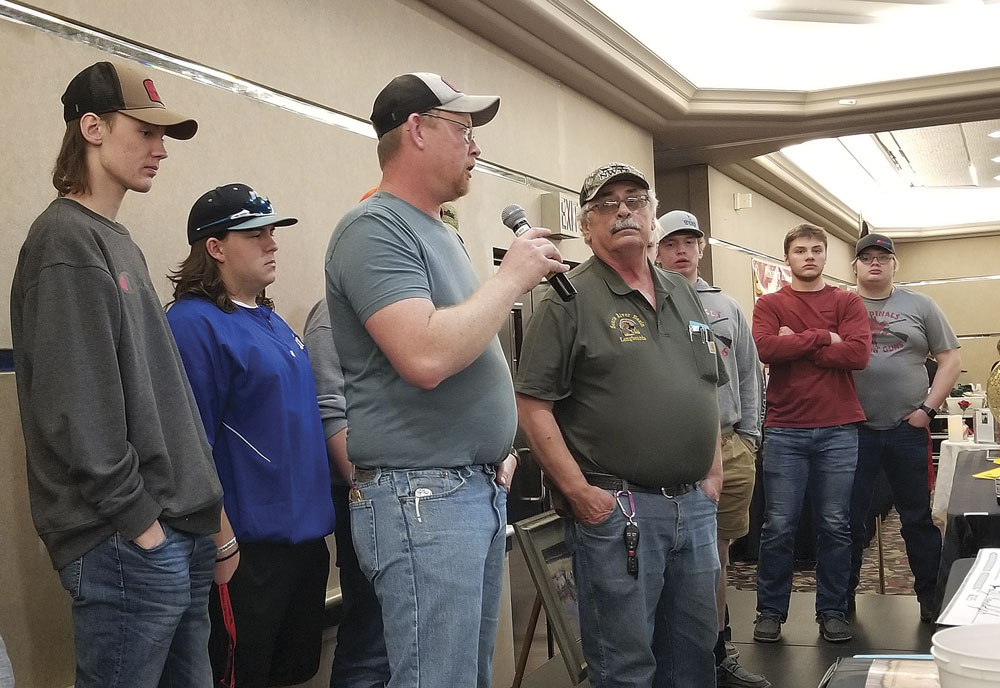 MINOT, N.D. – With the number of people receiving vaccinations increasing and COVID-19 cases decreasing, the Souris River Basin Longbeards made the decision to go ahead with their annual banquet and fundraiser last Saturday. Albeit delayed by several weeks, attendees were eager for the event.
"We were very hesitant, not sure whether or not to put on the banquet," said D.J. Randolph, Souris River Basin Longbeards. "We postponed it five weeks. Normally we hold it in early February."
The SRBL held their banquet in February, 2020, but that was one of the last sportsmen's-type events held in the city as coronavirus precautions led to social distancing and the shutting down of many gatherings. Since that time the SRBL have canceled two fishing derbies and a women's shooting event.
"Otherwise we've been able to make everything happen," said Randolph during a break from greeting banquet attendees at Minot's Grand Hotel. "It's an enthusiastic crowd, almost as big a banquet as we normally have, so, very pleased."
Percy Ottmar has been with the SRBL since their inception, overseeing many programs that have become signature happenings for the club. During Saturday night's banquet Ottmar presented a $300 check to the Granville FFA club for their participation in the SRBL annual tree give-away and another $500 to the Nedrose trapshooting team for helping out at the banquet.
"We've got another award for Kathy and Wayne Schatz too," said Ottmar. "They had the Hunter's Lodge in Butte and always helped kick off Turkey Hunters Care."
Wayne Schatz passed away from COVID so Kathy Schatz, with family members in attendance, received a plaque and an ovation from the large audience. Ottmar told the gathering that the Schatz's annual help was instrumental in a key fundraiser.
"Last year we gave away 874 frozen turkeys to the food pantry," stated Ottmar. "We wanted to say thank you to the Schatz's for all those good years."
The SRBL hope to hold their annual fishing derby on Lake Darling this year. It is scheduled for May 8. Ottmar said invitations will soon go out to those who have fished the tournament for several years before opening entries up to the general public.
Related posts