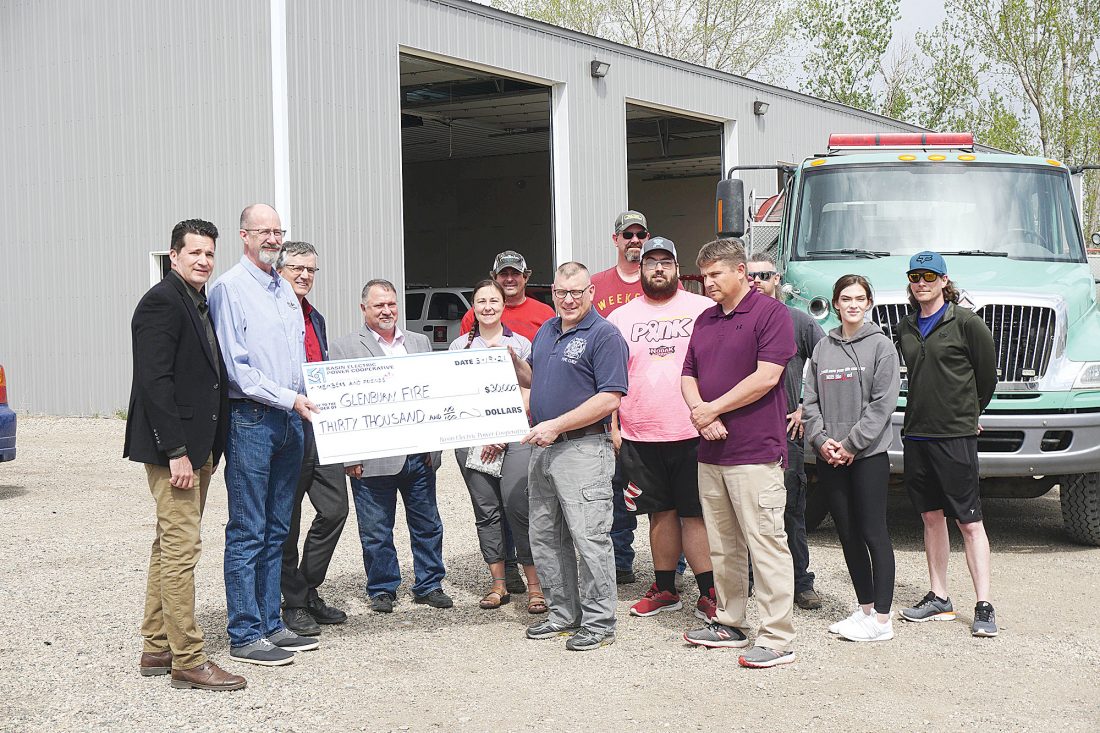 MINOT, N.D. – Six cooperatives joined forces to donate $30,000 on May 19 to help a rural fire department rebuild after a fire destroyed its station.
"I am absolutely impressed with how the electric cooperatives are doing this," said Glenburn Fire Chief Michael Overton. "I don't know that I can express how appreciative we are. Everyone on the fire department is appreciative."
Overton, a member of Verendrye Electric Cooperative who lives north of Minot, commands a department with 20 volunteers that covers 165 square miles in parts of four counties.
The fire district protects rural members of Verendrye Electric Cooperative and North Central Electric Cooperative. There are also six substations within a 10-mile radius of Glenburn owned by Central Power Electric Cooperative and several miles of power lines.
The unthinkable happened on March 6 when a fire destroyed their building and most of their vehicles and equipment. Since then they have been using a building owned by a construction company rent free and have received donated vehicles and equipment.
"Our job is public safety, and with losing everything in a fire, it's a real kick in the gut if we can't provide the services we need to keep our communities safe," Overton said.
North Central Electric Cooperative, Verendrye Electric Cooperative and Central Power Electric Cooperative provided donations that were matched by Basin Electric Power Cooperative and CoBank. Cooperative Finance Corp. also matched the donation made by Central Power.
"We're here in farm country, conditions are dry, fires can get out of control quickly and we need to have those fire departments," said Wayne Martian, manager of North Central Electric Cooperative.
Erin Laverdure, project coordinations representative with Basin Electric, a generation and transmission cooperative, said Basin was happy to help with matching funds.
"Basin Electric is a cooperative formed by cooperatives and we are here to support them. When they thrive, we thrive so it's a real natural connection," she said.
Randy Hauck, manager of Verendrye Electric Cooperative, said this donation demonstrated two of the seven cooperative principles – cooperation among cooperatives and concern for community.
"It makes me feel great how we were able to come together and provide the Glenburn Fire Department with $30,000 and do our part to help the community," Hauck said. "We all understand how necessary those services are to rural communities."
Related posts