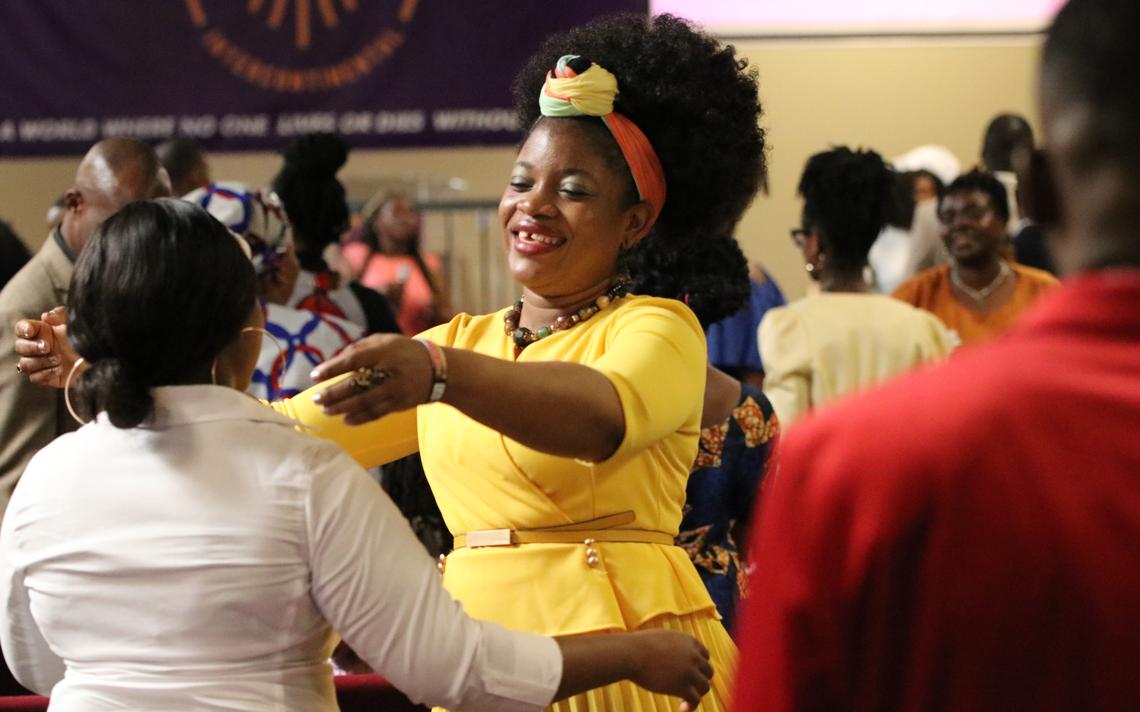 FARGO, N.D. — Inside Harvest Intercontinental Church, all masks were off.
Live drum music and a synthesizer pumped out a reggae tune, keeping nearly 100 people, many originally from Liberia and other African countries, singing and swaying in worship. Mothers, fathers, young and old danced away their pandemic worries.
They embraced each other with smiles and warmth on Sunday, April 11. A church deacon offered welcome, saying, "As people lie in the hospital struggling to breathe, I am blessed."
Despite the ongoing coronavirus pandemic, COVID-19 vaccines are not finding their way to much of the area's African American community. Misinformation and distrust are widespread. Some believe the shots are not safe, or they point to government-backed programs that hurt Black Americans in the past.
With these factors in the mix, the rate of Black North Dakotans receiving the COVID-19 vaccine is significantly lower than other groups. State figures show that 23.4% of Black residents had gotten one dose of the vaccine as of Friday, April 16, while 49.2% of white people, 40.7% of Native Americans, 37% of Asian Americans and 28.5% of Hispanic or Latino residents across the state had done so.
State health officials say they are working on messaging efforts aimed at communities of color to help inform people about COVID-19 and the vaccine. While some of the on-the-ground work is done, health officials recognize that additional efforts are needed to ensure all North Dakotans are vaccinated.
'The serious path'
From behind the pulpit, pastor Gabriel Barbly urged his congregation to get the vaccine.
"There are people who are in our midst who took the vaccine and are strong and well," Barbly said. "I just want to encourage everyone to take the vaccine. Amen?"
The congregation, which spent about seven months attending online services in 2020 and returned to in-person services in September, replied, "Amen."
"One of the things we found out even before the vaccine came, especially for the Africans, is that they don't trust it. It was too quick," Barbly said after the service. "They're not sure what to do, and they are afraid."
Barbly, who's scheduled for his first shot this week, said many in his congregation of mostly new Americans cannot navigate state department of health websites or vaccine portals. Some people need guidance or reassurance from health officials and community leaders.
"The serious path is just for someone to come to talk, just for two minutes and say the vaccine is OK, come here or here and get it. We aren't seeing anything from the state. It would be a good thing if they did that," Barbly said.
Receia Kollie, of Fargo, is a parishioner at Harvest Intercontinental Church and a nurse at a local hospital. She's already received both shots, and has made it her mission to try to correct misinformation in her community, telling them that the vaccine is safe.
She frequently hears people tell her they are worried that they'll be stuck with random needles, or have suspicions about the vaccine because of the unethical Tuskegee syphilis study done by the U.S. government between 1932 and 1972.
The Tuskegee study, which former President Bill Clinton apologized for in 1997, involved African American men who had syphilis and did not receive adequate treatment, causing needless pain, suffering and in some cases death.
"As a nurse, I tell them we don't stick people with any kind of needle, but people have notions, and they're worried about what has happened in the past. People are afraid of getting the wrong one, and there are people who just don't believe," Kollie said.
'Now they're convinced'
Deo Rai, originally from Nepal, is the leader of the Kirat Cultural Society of North Dakota, a nonprofit group that aims to preserve Kirat culture. His organization is trying to help about 1,500 or more local Nepalese and Bhutanese people get the COVID-19 vaccine.
"Initially, we had a large number of people who hesitated to get the vaccine, but now they're convinced, and sometimes we go door to door and talk to them to say it's better to have the vaccine because it's safe," Rai said.
Some people's vaccine paranoia comes from their homelands, such as rumors that many people died after receiving the vaccine.
Slowly, however, local new Americans in the Asian community are accepting the vaccine. Although Rai isn't sure exactly how many have received the shots so far, he said a "good many" people have signed up.
In the Muslim community, misinformation has also been rampant, and Dr. Mohamed Sanaullah and other leaders of the Islamic Society of Fargo-Moorhead are encouraging people to get the vaccine.
Rumors surrounding the vaccine spread quickly online and sometimes carry more weight than scientific data, Sanaullah said. "There are a lot of questions about this and misinformation floating out there, and we keep telling them this is false information and the vaccines are good," he said.
Spreading the message
All North Dakotans ages 16 and up became eligible for the COVID-19 vaccine on March 29.
State health officials have been employing on-the-ground education and messaging efforts focused on the vaccine, said Krissie Guerard, health equity director for the North Dakota Department of Health. But she noted that because the vaccine and its availability to the general public are still new, much of the work that needs to be done in communities of color remains in the works.
Health officials know vaccine hesitancy exists among certain populations, but they're working to understand the scope of the hesitancy and the most effective way to combat it by sending out surveys.
From what the health department has gathered so far, some hesitancy surrounding the vaccine originates from misinformation and myths about its effects. Guerard said myths in some communities could differ within others, so it's important that messaging about getting vaccinated is targeted specifically for each community. Health officials have been sharing COVID-19 information in multiple languages on KPPP-LP 88.1 FM, a Fargo area radio station.
Based on the data the North Dakota Department of Health plans to obtain, it will determine the best ways to tackle vaccine misinformation, whether that's increasing education, sending representatives into communities to encourage people to get vaccinated, or opening vaccine clinics in areas that are more accessible to people of color, Guerard said.
The Centers for Disease Control and Prevention announced this month that North Dakota would get $14.6 million to broaden access to the vaccine, especially among people of color. The federal funding is part of $3 billion being spent nationally on vaccination efforts.
Fowzia Adde, executive director of the Immigrant Development Center in Moorhead, is working to bring together community leaders and health officials to promote the vaccine.
Adde has heard many conspiracy theories among local residents, and her goal is to spread word through videos that the vaccine is safe. "There is a conspiracy theory that they're lying about the ingredients of the medicine. They also talk about how you can't have children anymore. Also, they said if you get this injection you will contract COVID even more," she said.
If funding comes through, Adde plans to recruit young people to go door to door asking residents if they've received the vaccine and sharing scientific data with those who have not.
"We will have a campaign where we won't leave behind one person, until we know our community is vaccinated," she said.
Related posts