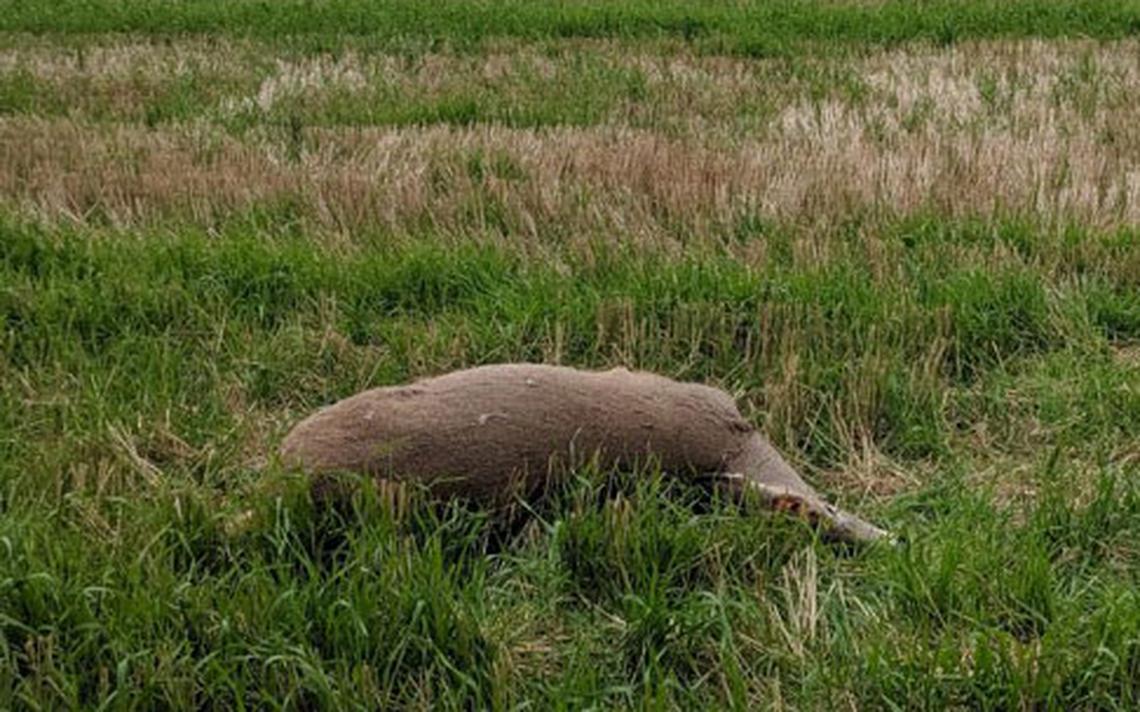 N.D. — In October 2019, a landowner found a dead whitetail deer near Valley City that had its antlers removed. Less than a week later, another deer without antlers was discovered nearby.
Hunters reported more deer carcasses in the following weeks. All had their antlers or heads removed. No meat was taken, and the bodies were left to rot.
A months-long investigation led game wardens to four men who were convicted of a long list of misdemeanors in recent months connected to poaching at least 10 deer, the North Dakota Game and Fish Department said this week.
"This investigation was highly complex and involved hundreds of warden hours to successfully complete," enforcement division chief Scott Winkelman said in an article released by the agency. "It really shows the excellent work our game wardens do on a daily basis."
A poaching case that drags on for several weeks and involves multiple bucks is uncommon, Mark Pollert, a warden supervisor in Jamestown, told The Forum in a phone interview. Most poaching incidents are isolated, he said.
Seven wardens from southeast North Dakota investigated the case, the Game and Fish Department said. Residents in the area also contributed bits and pieces to the investigation, Pollert said.
Most deer were found along the Sheyenne River between Lake Ashtabula and Kathryn, N.D.
The findings prompted game wardens to conduct a night flight in December 2019 in hopes of finding suspects. That same night, a warden chased down a vehicle suspected of illegally shining lights on wildlife, officials said.
The vehicle got stuck in snow, but game wardens found that the people in it were found not involved with the poaching activity.
But while searching the vehicle, investigators found a photo of a large whitetail buck that led them to the poachers, Hastings said. Pollert declined to discuss the significance of the photo, but it led to numerous interviews, warrants and, eventually, charges against Jakob Allen Ashline and Payne Tyler Drake, both of Valley City, and Calvin Thomas Bjornson and Ryan Edward Rudolph, both of Spiritwood.
Bjornson was first charged May 19, 2020, followed by the other three on Sept. 18.
Ashline was hit with 23 poaching-related charges, the most of the three men. An affidavit of probable cause against him described how he shot six deer without a license between Oct. 4 and Nov. 24, 2019, some of which he used a light to spot between 10 p.m. and 4 a.m. He admitted to throwing some deer heads into the river while taking the antlers, according to the affidavits.
Ashline said he started shooting the deer because he had been turned down for tags, according to court documents.
"(A)fter he shot the first one, the next one was bigger, and it spiraled out of control," the affidavit said. When asked why he didn't buy a bow tag, he said, "because I am stupid."
Drake reached out to wardens about five additional deer carcasses in a pit in northern Barnes County, according to an affidavit. Drake didn't admit to shooting any deer but said he helped Ashline take photos of the big game and drag deer to trees, the affidavit said.
He also helped Rudolph when the latter shot two deer, the affidavit said.
"Looking back, what we did was f—ed up," Drake said, according to court documents.
Prosecutors connected the men to 10 bucks, but it's possible more deer were taken illegally, Hastings said. However, some of the deer found died under unexplainable circumstances, so wardens could not say with certainty whether the four men poached them, Pollert said.
Bjornson shot a deer with a rifle when he had a bow tag, failed to tag a deer and aided in the concealment of big game that was taken illegally by allowing Rudolph to keep his deer on the Bjornson farm, court documents said.
Ashline pleaded guilty to all 23 charges on Feb. 3 and was sentenced to 52 days in jail. He also was ordered to pay $7,900 in fines, fees and restitution and lost his hunting, fishing and trapping privileges for 10 years.
Rudolph pleaded guilty on March 16 to six misdemeanors, was ordered to pay $2,635 and lost hunting, fishing and trapping privileges for two years. He also must complete 100 hours of community service.
Bjornson had to pay $4,750 after pleading guilty to three misdemeanor charges on Dec. 7. Drake was sentenced to 80 hours of community service, lost his hunting, fishing and trapping privileges for two years and must pay $850 after pleading guilty on Oct. 27 to nine charges.
Hunting is a valued tradition in North Dakota, Pollert said. Most people who hunt are law-abiding and want to do the right thing, he added.
"A lot of people who do live in North Dakota do partake in hunting," he said. "It is one of the activities that we have been doing for a long time."
Taking animals illegally takes away opportunities from hunters who follow the law, as well as those who like to observe wildlife, he said. It also erodes the image of lawful hunting, trapping and fishing, Doug Leier of North Dakota Game and Fish said.
"We need to do all we can to maintain that image," he said.
If a person suspects an animal has been poached, Leier said they should contact a local game warden or call state radio at 701-328-9921.
Related posts