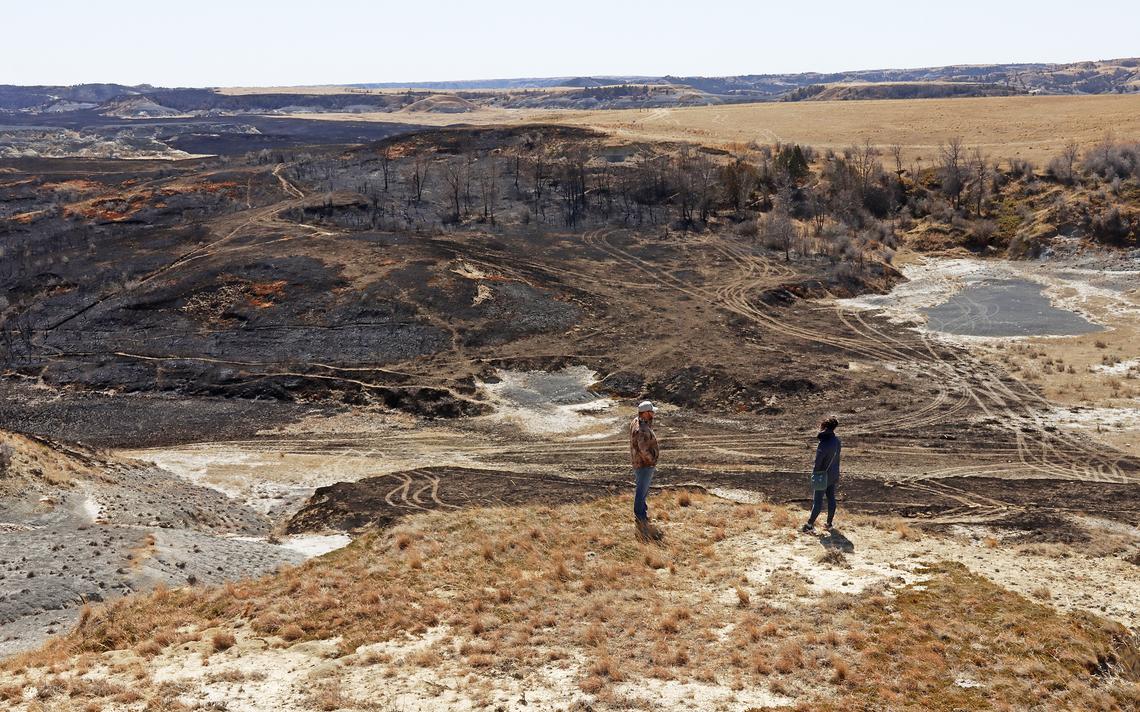 N.D. — Tim Transtrom's family has lived on ranchland just south of Watford City since 1906.
Covering their land is dry prairie grass that can easily fuel wildfires if conditions allow. Transtrom said he and many neighboring ranchers have faced numerous fires over the years and it's automatic for them to help each other if a blaze erupts on someone else's land.
"It doesn't matter — if you see smoke you just come in and help because your neighbors would do the same for you," Transtrom said.
This is what Transtrom and about 15 other ranchers did this month when land in and around the north unit of Theodore Roosevelt National Park in northwestern North Dakota caught fire and flames came dangerously close to their cattle grazing lands. Many filled water tanks hitched to trucks and doused the borders of the fire to protect their land and livelihoods.
As spring continues with little precipitation, the people who live near the park's north unit, along with residents across much of North Dakota, may need to alert one another to fires once again.
North Dakota is experiencing one of its worst droughts on record with nearly 76% of the state facing extreme drought, according to the U.S. Drought Monitor. A combination of little rainfall last summer and only a few inches of snow during the winter has caused the last eight months to be the driest on record since 1895, said state climatologist Adnan Akyuz.
The drought's effects are likely to linger for the foreseeable future because conditions are so extreme. A large amount of precipitation is needed to quench the dry soil, and weather predictions don't offer much hope.
The persistent drought brings with it a plethora of consequences, including disruptions to the state's agriculture industry and optimal conditions for wildfires like the one that recently struck the north unit of Theodore Roosevelt National Park and another that threatened the town of Medora.
'A creeping disaster'
On Easter Sunday, Transtrom was eating lunch at his brother's house with his family when they looked out the window and saw smoke in the distance.
"We said, 'We got to go — there's another fire,'" Transtrom recalled.
In the week after that, Transtrom estimates he and his neighbors tackled at least three fires on various properties. No land belonging to Transtrom or his family was torched.
The ranchers near the north unit of Theodore Roosevelt National Park worked together with local fire departments, with the trained firefighters tackling the brunt of the flames and ranchers protecting their property.
Transtrom said this fire was one of the biggest he's seen, and he knows it will probably not be the last given the state's extreme drought.
The wildfire in and around the north unit, which authorities are calling the Horse Pasture Fire, burned more than 5,000 acres and was almost entirely contained by Monday, April 12. Much of North Dakota received rain and snow earlier this week, and even though it helped firefighters keep the blaze from spreading, it is far from enough to prevent future fires.
Among the black ash and burned vegetation left behind by the Horse Pasture Fire, tufts of green prairie grass are already beginning to sprout, said J. Michael Johnson, a regional wildland fire spokesman for the National Park Service.
"A lot of these grasses are what is fanning the fire when we have these fast-moving fires," Johnson said. "It's because the grass fuels are much flashier — they tend to burn faster and carry fire quicker."
Throughout April and into early May, the northern Plains are expected to have an "above significant" fire potential, according to the National Interagency Fire Center. Johnson said that despite the brief period of moisture in North Dakota, it would only take a few days of warm temperatures and high winds to further exacerbate drought conditions.
North Dakota is forecast to have above normal temperatures for June, July and August and low precipitation levels as well, according to the National Weather Service.
On April 1, Gov. Doug Burgum signed an executive order declaring a statewide wildfire emergency. Under the order, agencies are to "maintain high readiness" and have fire emergency resources ready to respond to a blaze.
Droughts are not new to North Dakota. In 2017, a drought cost about $2.6 billion to the state's economy, Akyuz said. So far, records show the current drought is more extreme than in 2017, he said.
In 2017, "it's the longevity of the drought that devastated the location," Akyuz said. "As far as this year's, we've only just started …. It really is a long-term process. The drought is a creeping disaster."
Common sense
Humans cause at least 85% of wildfires in the United States, according to the National Park Service. Extreme conditions make it easier for people to accidentally ignite wildfires, Johnson said.
The cause of the Horse Pasture Fire is still under investigation, but the North Dakota Forest Service initially said it was likely human-caused. Transtrom said locals believe it was started by one or multiple people shooting at Tannerite, an explosive target sometimes used in shooting practice.
"I don't fault them, except that they should use common sense," he said.
Transtrom said he is grateful for all the responders who worked to get the Horse Pasture Fire under control. He and his neighbors remain on alert for smoke billowing up into the sky and flames rolling across the landscape.
"Mother Nature can change her mind so fast and things can get out of control," he said.
Related posts