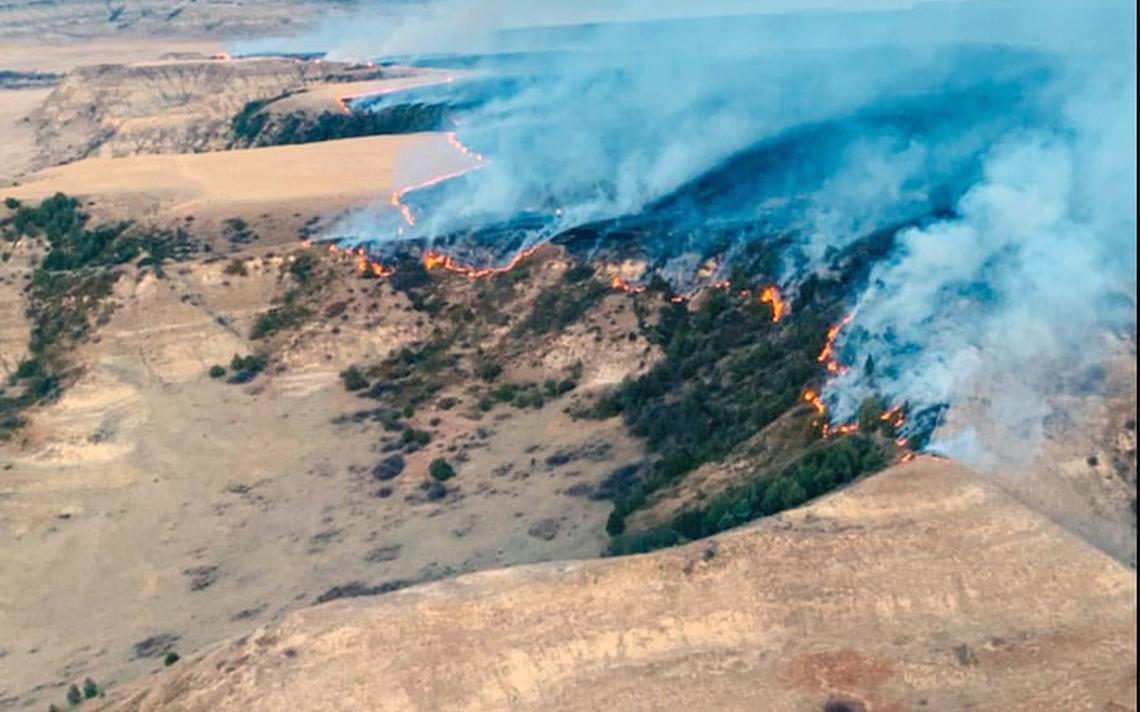 N.D. — At the beginning of April, North Dakota experienced one of its most poignant wildfire scares in years: A drought-fueled grass fire burned more than 2,000 acres in the Badlands and reached within a mile of the Old West tourist town of Medora.
The precise cause of the Medora-area fire is still under investigation by the U.S. Forest Service, but emergency responders were quick to blame a low-hanging power line southwest of town in the immediate wake of the event.
It was the highest profile outbreak in what's shaping up to be the worst wildfire season for North Dakota in recent memory. There have been hundreds more fires in 2021 than in all of last year, North Dakota Forest Service spokesperson Beth Hill said, and over 80,000 acres have already burned — nearly six times the land area burned in a typical year.
With extreme, widespread drought showing little sign of lifting, small catalysts — a lit cigarette, sparks from a rail car or a wind-damaged power line — could risk large fires through much of the summer and into the fall.
In the case of power line-sparked fires, the risks could be steep for North Dakota's electricity providers. In other Western states, power line-initiated fires have become a costly and deadly problem, putting big utilities on the losing end in landmark California lawsuits.
"Essentially, these utilities have been put on notice," said Yana Valachovic, a forest advisor at the University of California Agriculture and Natural Resources. Valachovic has observed the massive damages caused by power line-sparked fires in California, where the company Pacific Gas & Electric has settled for a total of more than $25 billion in fire deaths and damages over the last few years — an outcome that's precipitated drastic and often expensive changes in the operations of the state's utility companies.
In North Dakota, the power line catalyst seems to account for a limited number of the more than 800 wildfires this year, and overall the fires have caused no deaths, few injuries and little structural harm. Hill said that debris burning, equipment use and discarded smoking materials like cigarettes were the leading wildfire causes in 2020, and noted that the Forest Service sees a higher priority in educating North Dakotans on how to travel and spend time outdoors responsibly under these drought conditions.
But while utility-sparked wildfires haven't become a forced issue in North Dakota to this point, at least two recent fires that have prompted town evacuations have been linked to power lines, and one of the year's biggest outbreaks ignited near a transmission line on a windy day.
Dean Wyckoff, chief deputy in the Billings County Sheriff's Office, and Medora Fire Chief Doug Koester both said that early indications pointed to a power line as the cause of the Medora fire. A much smaller late April fire prompted the evacuation of about 150 people in Carpio, N.D., a blaze that Berthold Police Chief Al Schmidt attributed to a downed power line. And in the case of a 20,000-acre fire that broke out near the North Dakota-South Dakota border in January, authorities concluded that clashing transmission lines under high winds were one of a few possible causes.
Near Medora, Montana Dakota Utilities spokesman Mark Hanson told The Forum that the company has been investigating a low-hanging power line in possible connection to that fire, while Verendrye Electric, a small rural co-op serving the Minot area, said "it's highly likely" that one of their lines sparked the fire that prompted the evacuation of Carpio.
North Dakota power providers from the small rural electric co-ops to large investor-owned utilities have outlined rigorous steps to gird against these types of incidents.
MDU, Xcel Energy, Basin Electric and Verendrye each told The Forum that they perform regular inspections of their field equipment and transmission lines. Providers prune trees and undergrowth in accordance with national standards to prevent them from catching fire off of line sparks. Basin Electric reports that it conducts aerial evaluations at least three times yearly and on-the-ground checks twice a year. Xcel, which operates over a wide swath of the central United States, noted that it uses drones to inspect lines in high-risk areas and is testing new detectors to ensure that a broken line is immediately de-energized. And with drought persisting over much of the state, Hanson said that MDU sent additional patrols to the North Dakota Badlands in late April and early May to evaluate the conditions of more than 2,200 miles of transmission lines.
The legal liability of utility companies in wildfires can be tricky to pin down, especially in the case of extraordinary conditions. Members of the Public Service Commission, which regulates utilities, have noted that weather events like wind storms may be considered "force majeure" for power providers in North Dakota.
Still, fire experts say the problem has solutions.
"You can't be responsible for the wind, but you know that wind happens," Valachovic said.
In California and other fire-prone Western states, utilities have gone to great lengths to mitigate their risk, installing cameras on their poles to monitor any damages as well as weather monitoring systems to allow for a hyper-localized gauge of wind conditions.
These measures can be useful, though Valachovic noted that they can come at steep costs that may not be worth it in areas that don't have California-sized risk. In their most extreme and effective tactic, California utilities have begun to cut off the flow of electricity to high-risk portions of the grid, a step that can leave some areas without power for days.
That might seem like an excessive step in North Dakota, where the population is spread thin and the grassland geography is a less potent fuel source than the forests further west. But Michael Wara, an attorney and researcher at Stanford Law School who specializes in climate and energy policy, argued that a new standard is emerging for utility companies out of the aggressive fire response in California, where providers can be held liable more easily than in other states, and it may be setting a higher legal bar for utilities in other parts of the country.
"I do think the picture is really changing, and it's changing West-wide," he said. Though the specific responses may differ from region to region, Wara noted, a utility company can be putting itself on bad footing if it doesn't have a wildfire contingency plan in place. In particular, if that plan doesn't include an evaluation of when it's appropriate to shut off power, Wara said, "you're putting yourself in (legal) danger."
"The toolkit is not cheap in terms of its impact on customers and its impact on rates, but it's pretty clear what the toolkit is at this point," he said.
When it comes to such drastic measures in North Dakota, Hanson said that MDU, which provides electricity to much of the western part of the state, has not previously looked into cutting power in response to high fire risk, but added, "it's an option we would consider under the right circumstances."
Related posts