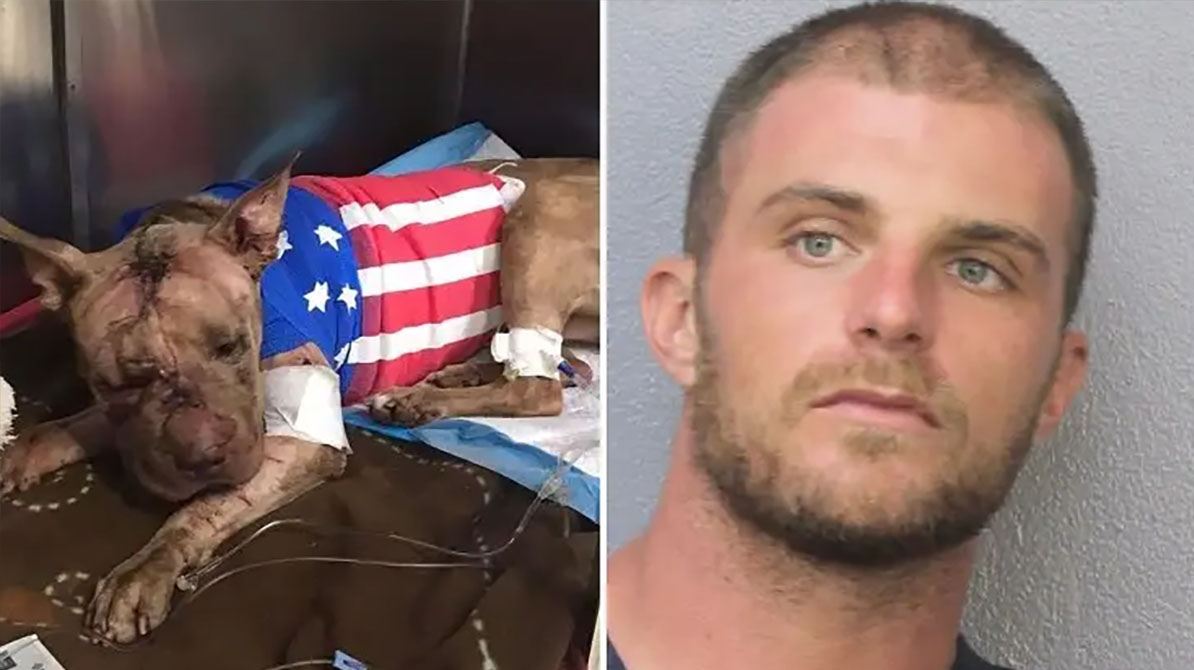 A Florida man who beat a pit bull puppy stabbing him 50 times and stuffing him in a suitcase has been jailed for 10 years. Brendan Evans pleaded guilty to the horrific act four years after committing it. The dog Ollie died two days after he was rescued.
The 35-year-old from Hollywood had been held in jail since his arrest four years ago. He was initially charged with 17 counts of animal cruelty but prosecutors dropped 15 in exchange for the guilty plea, his lawyer Michael Gottlieb said.
The attack on Ollie the pit bull caused an international outcry after the dog was discovered clinging to life in a suitcase down an alleyway.
A couple spotted the suitcase in October 2017 and upon closer inspection they saw a paw sticking out and cries from an animal in pain. Ollie was found breathing but barely alive.
Police were called and the dog, who had 50 stab wounds, was rushed to the nearest animal hospital. Officers were able to trace the suitcase back to Evans.
On a search of Evans' apartment officers found fur, blood, cat paws and remains of dead animals in the oven, refrigerator, and throughout his apartment.
Despite his horrific injuries, Ollie remained sweet, trusting and friendly during the two days he spent at the animal hospital, and his tail never stopped wagging, his caretakers said.
"When he died, there were tears everywhere," said Linda Ream, spokeswoman for the animal hospital. "It was silent in the building. Our doctors worked so hard to give Ollie that chance to stay with us."
A GoFundMe page set up by Grateful Paws Dog & Cat Rescue raised more than $40,000 to pay Ollie's vet bills which exceeded $15,000. The Fort Lauderdale-based rescue group said it would use the remaining money to help other animals in need.
Related posts