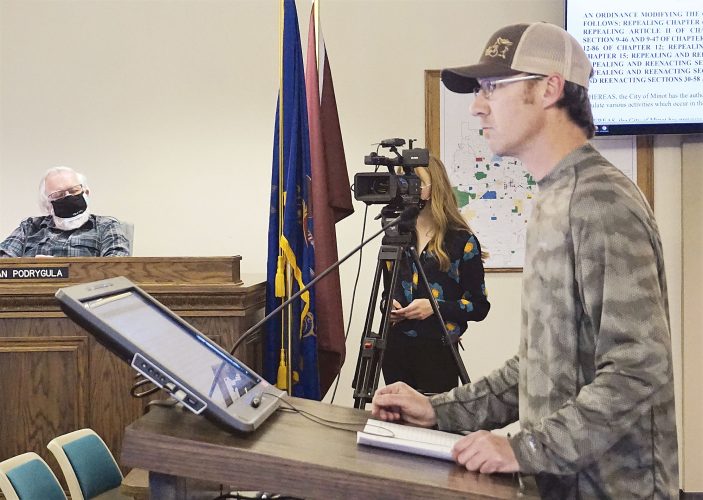 MINOT, N.D. – A proposed change in licensing brought charitable gaming operators to the Minot City Council Monday.
The council had passed an ordinance on first reading last month that limited to six the number of sites that a single charity can operate. After hearing from some gaming operators, the council increased the number to eight before approving the ordinance on second reading.
Council member Tom Ross, who moved to increase the limit to eight, suggested local organizations that have been reputable should have some leeway to expand.
"I don't want to penalize them in case they have other opportunities out there, but I do want a limit," Ross said.
Josh Ressler, gaming manager for the Magic City Lions' three sites, said there needs to be some limit. Unmanned site numbers previously had been unlimited.
"I'm in favor of going to six sites only for gaming, whether that's manned sites or unmanned sites," Ressler said. "I've talked to some of the other gaming managers in town – some of the bigger gaming organizations in town – I think they're in favor of that also."
The number of available sites is finite, and larger organizations could push out the smaller ones if not limited by the city, he said.
However, setting the limit too low can inhibit an organization's growth, said Jon Ries, representing Minot Junior Golf, Minot State University Beaver Boosters and MSU Alumni Association. Already at a limit of six, Minot Junior Golf could no longer expand, he said.
"Do I believe a number should be set in how many we can have? Absolutely. I don't know what that number is. I would maybe lean towards possibly eight total, manned or unmanned," he said.
Ries said the Junior Golf program has been invited by additional establishments to expand into their operations.
"I would just prefer not to tell people no or you'll have to wait until something opens up, or discontinue a long-standing partnership I already have," he said.
Robert Teets, gaming manager for Minot Hockey Boosters, said a limit is necessary because the margin with electronic pull-tabs is so favorable that entities are encouraged to come in and lock up multiple sites.
"Three organizations could just start out immediately and take 30 Minot sites," he said. "We've done the work through the years … for very little profit. Now with e-tabs, we're finally making money and everybody is jumping in on us, and it's just too easy."
Mayor Shaun Sipma said the original ordinance amendment that capped sites was a response to a significant number of gaming applications. The limit of six seemed a reasonable place to start based on discussions with gaming organizations and the city's experience with the number of sites operators typically have, he said. Other cities that have set caps vary in their numbers, he said.
Related posts