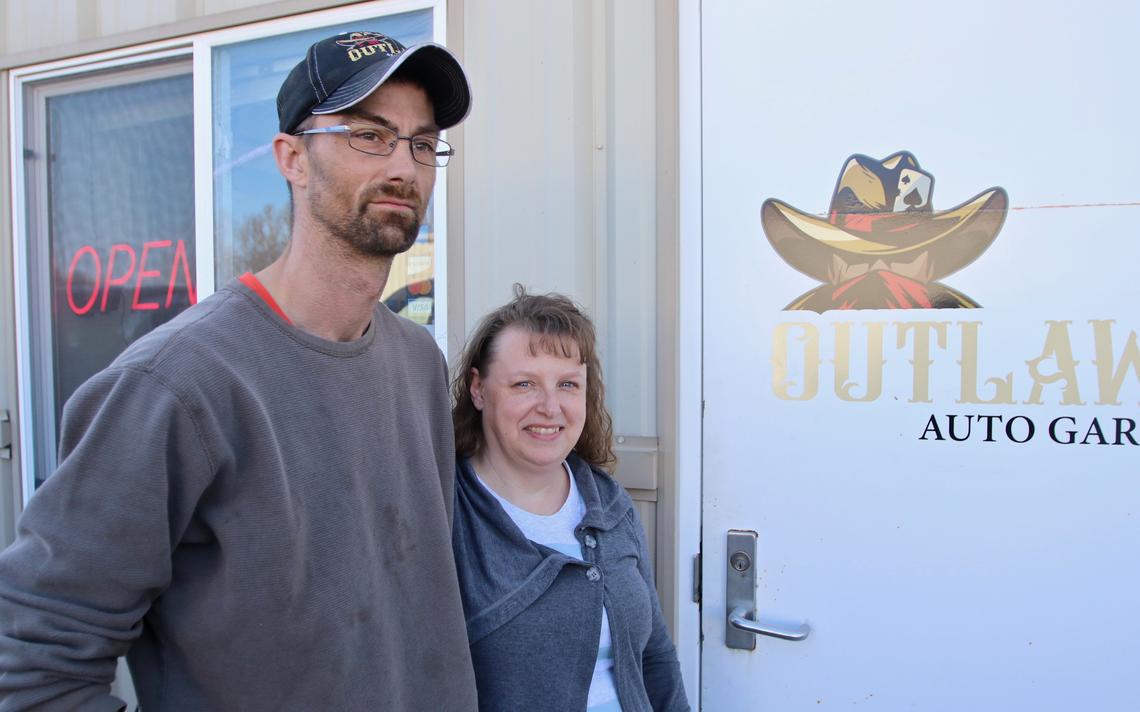 N.D. — Before the coronavirus pandemic hit, Travis Laube was settled comfortably in his mobile home at Brookwood Estates in West Fargo.
In his spare time away from his repair shop, Laube worked hard with the North Dakota Manufactured Home Owners Association toward the goal of bringing mobile home owners from across the state together to better negotiate with what they call predatory landlords.
In December, he was evicted from his lot at Brookwood Estates after being threatening to management, according to Havenpark Capital Partners, the property owner. Laube said in court and testified before state legislators that he never made threats but was standing up for himself and neighbors, who own their mobile homes and rent the lots on which they sit.
The series of events began in 2019 when Havenpark started purchasing mobile home parks around North Dakota. The Utah-based real estate firm has spent at least $38.7 million to buy roughly 1,800 mobile home lots, according to assessor's offices in Cass County and Bismarck. In 2019, Havenpark also invested another $4.3 million into their North Dakota properties, and they plan to invest $1.5 million more.
But when the company began investing, they also changed rules at the mobile home parks and raised the rent, which angered some tenants, but made others happy that their parks were getting cleaned up.
Since Havenpark came in, however, some tenants have been working with officials like Sen. Dick Dever, R-Bismarck, and Rep. Andrew Marschall, R-Fargo, and Kent French, the legislative committee chair for the North Dakota Manufactured Housing Association, to seek better laws for tenants.
On April 19, Gov. Doug Burgum signed a tenant rights bill into law, and mobile home residents in Bismarck and Fargo view the legislation, Senate Bill 2159, as a stepping stone.
In some of the mobile home parks, the roads are better now. Signs are new. Trees are trimmed. Snow is speedily removed. Playgrounds and sports courts are being built, according to Robison Pratt, president and CEO of Havenpark.
But the makeover in the parks is only skin deep, Laube said.
"It seems to me that because it's a company that says they are bettering these properties it's OK for them to use these means to get rich," Laube said. "There are a lot of residents that would like to speak out, but feel intimidated and scared of retaliation. I took a stand. Any time there was something going on, I would confront them about it."
Havenpark spokesman Josh Weiss said the company stands behind their claims against Laube.
"The judge considered all the facts and ruled in our favor, directing the eviction of Mr. Laube for the safety of staff and other residents of the community," Weiss said, adding that all accusations of intimidation tactics by Havenpark are "simply not based in reality."
Havenpark has a history of buying mobile home parks in several states and has received overcharging complaints from residents in Michigan, Indiana, Ohio and Iowa, according to news reports.
Havenpark, the only mobile home park operator that testified against Senate Bill 2159, originally opposed the legislation but now remains neutral on the newer version, Weiss said.
The new law states:
Mobile home park owners must obtain annual licenses.
Ownership must guarantee decision-making personnel and working telephone numbers are available 8 a.m. to 5 p.m. on weekdays.
Management cannot force tenants to sell or transfer ownership of their homes in lieu of rent, and must provide a five-day warning after a change of ownership.
Management must give three months warning before evicting tenants who fail to comply with regulations.
A park operator cannot increase monthly rents for six months under certain conditions, and cannot charge utility costs that exceed real costs except to include an administrative fee of no more than $3. Violations could lead to a civil penalty not exceeding $1,000.
The bill as originally proposed would have strengthened tenant rights more by providing six months warning before an eviction, a 30-day notice before a change of ownership, and would not have allowed management into residents' properties without consent or advanced notice, among other protections.
The new law isn't what Brookwood Estates resident Mark Akers wanted.
"We had a pretty strong bill, and they gutted it," Akers said. "But it's a start for us because that way we always have something to build on."
Laura Baier, a longtime resident of Colonial Estates in Bismarck, agreed that the protections for mobile home residents aren't enough. "When I finished reading it the other day, I just sat there and thought, we got a $3 service fee and we got three months," Baier said.
Because the new law won't take effect until later this year, Baier worries about what she calls reprisals. In Pratt's testimony to the state Legislature, he said the law may result in Havenpark raising rent.
"They implied that if we continue to fight, we will get evicted," Baier said. "Raise my rent any more and I will be in a world of hurt."
Keri Sease, a Colonial Estates resident, said her rent has risen from $385, to $425 to now $445.25. Although her mobile home park has received a facelift, she said the atmosphere feels more restrictive.
"The saddest part since they've taken over is we have more empty lots than I've ever seen. No one is going to put trailers in here because of their practices. If their goal is to pay $600 rent, who can afford that on Social Security?" Sease said.
'We all live in fear'
Forty-four people testified for and against Senate Bill 2159 in March. This included Pratt, who said the legislation followed a smear campaign of misinformation that threatened to devastate the "quiet enjoyment of our residents, and has sewed, fostered and perpetuated fear among our valued residents."
Mindy Teske, a Colonial Estates resident, testified that in August 2019, when Havenpark purchased the park, her world was turned upside down. "We all live in fear that one month of missed rent could cost us our home," Teske said.
Kimberly Morrell, who lives in a Havenpark property, testified that, "Many of us now have to choose between eating, paying our utility bills and buying our medications, or paying our rent so we have a home and not be kicked out onto the streets with our homes and everything taken from us."
Many residents who testified in favor of the bill did so anonymously or used only a first name because they feared retribution.
'A safe and clean place'
Mobile home owners and Havenpark employees who testified against the bill said the parks have been cleaned up and drug-related problems have diminished. Although rents have increased, the parks are now "a safe and clean place to raise a family," according to Kendra Stein, a resident of Hay Creek mobile home park in Bismarck, another Havenpark property.
Pratt said the bill, as initially proposed, was an encroachment on privacy and "insulting to rule-abiding responsible residents," and that it would lead to "eyesore trailer parks where rules can't be enforced in a timely manner."
Attorney Breezy Schmidt says the most pressing issue today in landlord-tenant relationships is not substandard conditions, but inadequate income and excessive costs.
"It's the worst time in 36 years to be a renter in America," Schmidt wrote in "North Dakota Case Study: The Eviction Mill's Fast Track to Homelessness," a law review article published in 2017. "The average cost of rental housing continues to increase. On the other hand, the average tenant household income has decreased."
These days, Laube lives in a West Fargo apartment and misses the freedom homeownership brings.
"Where we're at isn't the worst place on earth, but it's not the choice we'd want to have again. Not having your own home, garden, yard, or having the feeling of being a homeowner," he said.
Even though he's no longer in a mobile home, Laube has no intention of quitting his work with the North Dakota Manufactured Home Owners Association, championing the rights of mobile home park residents.
"This fight isn't over," he said.
Related posts