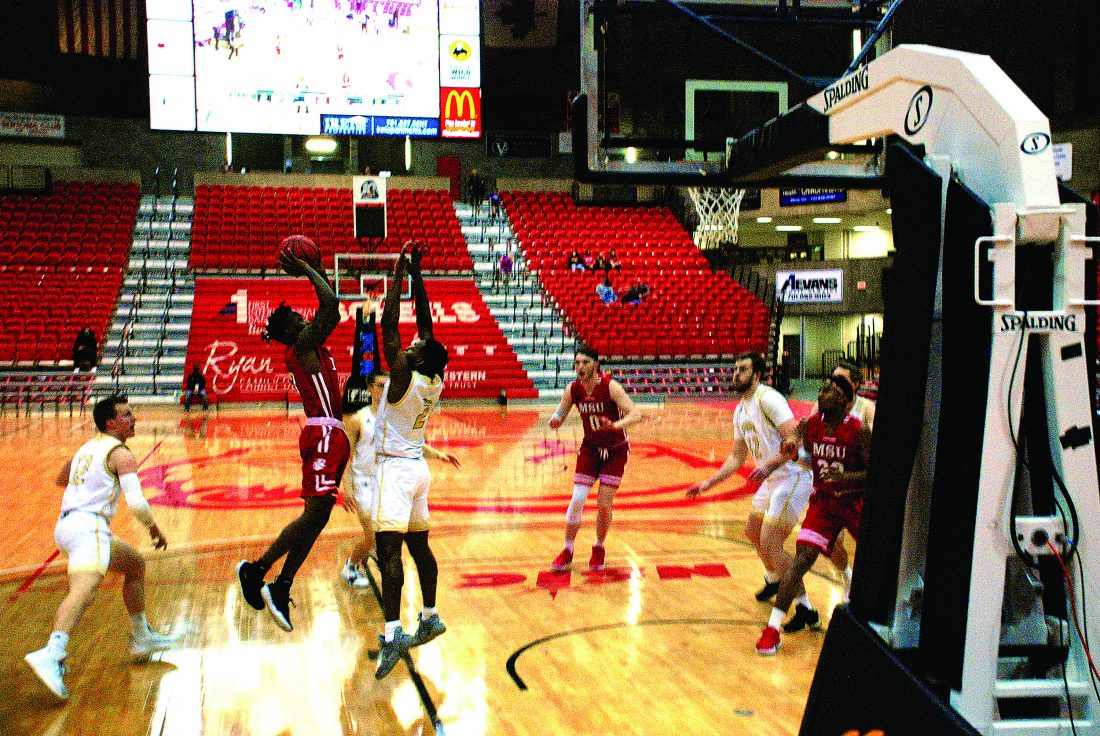 MINOT, N.D. – On Saturday and Sunday, the Minot State men's and women's basketball teams were both in action for the first time this winter.
Facing off against Southwest Minnesota State in the two-game set, the Beavers men's team earned a 66-61 victory at the Minot Dome, but then lost to the visiting Mustangs 67-65 in Sunday's contest.
In Saturday's matchup, MSU was led by junior guard Steven Ross Jr. who registered a team-high 15 points, and also contributed with six rebounds, four steals and an assist. Guards Cody Max and Cam'ron Dunfee also made their presence felt with 12 and 11 points, respectively, in the win.
In Sunday's contest, the Beavers trailed throughout the first half as opposing big man Jake Phipps proved to be a tough cover for MSU in the paint, and Mustangs guard Nick Dufault's hot outside shooting gave the Beavers problems defensively. By halftime, the Beavers found themselves trailing 38-29.
Minot State battled back in the second half, and managed to take the lead for the first time at 55-54 with 6:18 remaining in the game. From that point on, it was a hotly contested finish that featured several lead changes down the stretch.
Trailing 67-65 with 7.5 seconds to go, Minot State had possession of the ball and a final chance to either tie or take the lead. Max received the in-bounds pass and drove from about half court to the painted area where he released a contested runner in the lane. The shot was off the mark, and Southwest Minnesota State secured the rebound as time expired.
For the game, Dunfee led MSU in scoring with 14, and three other Beavers reached double-figures. Kody Dwyer and Ross Jr. each had 13, while Melvin Newbern totaled 12 in the loss.
Meanwhile, the Minot State women's team traveled to Marshall, Minnesota, where they were defeated by the Mustangs 74-62 on Saturday, and 73-58 on Sunday. Junior forward Amber Stevahn was MSU's leading scorer in both games, earning a game-high 22 points in the first ballgame, and then scoring 13 in Sunday's contest.
Up next for Minot State, the men's teams is scheduled to host the University of Minnesota Duluth for a pair of home games on Friday, Jan. 8, and Saturday, Jan. 9. While Friday's game is slated for a 6 p.m. start, Saturday's contest will begin at 2 p.m. As for the women's squad, they are scheduled to travel to UMD for a two-game set on Jan. 8 and 9. Friday's matchup is set for 6 p.m., and Saturday's game is scheduled for a 4 p.m. tip-off.
Related posts