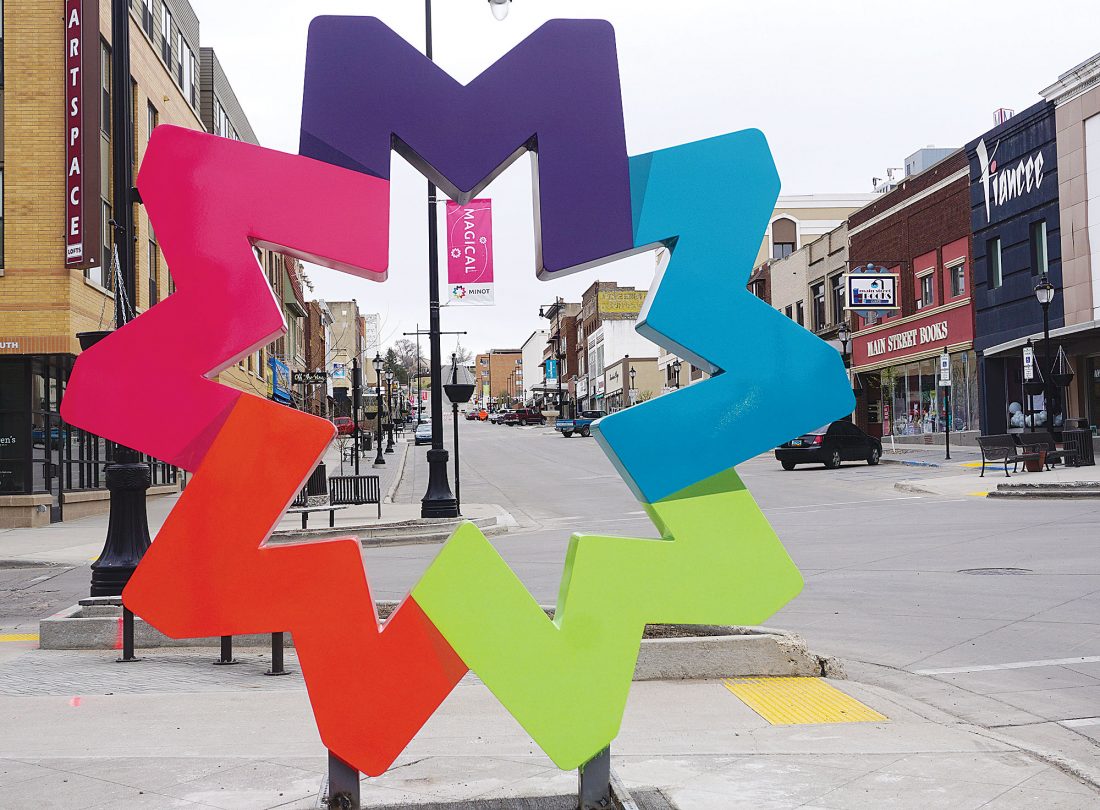 MINOT, N.D. – A monument featuring Minot's new One Brand logo now stands at the downtown intersection of Main Street and Central Avenue.
The $28,000 art piece was installed Thursday, near the Taube Art Museum, as part of a $300,000 MAGIC Fund grant project to develop the logo and brand campaign. The monument cost includes manufacturing and installation.
"It's going to be iconic for our community," said Stephanie Schoenrock, executive director for Visit Minot. "It's going to be there long term."
The monument joins two smaller metal logo pieces in the Scandinavian Heritage Park and Roosevelt Park Zoo.
Schoenrock called the art displays a signature piece of the One Brand campaign.
"It ties in the art but the real benefit is it's going to add some longevity to the campaign. People are taking selfies with them. They are posting them on social media and increasing the exposure, which was really an important part of the campaign," she said.
The downtown monument was created by Mann Signs of Bismarck after efforts to find a local company with manufacturing capability proved unfruitful due to the project's size and specifications, Schoenrock said. Another company, Indigo Signworks, produced the smaller logo signs.
The campaign also features banners, billboards, a downtown mural and a presence on Facebook. The chamber is making logo window clings available. Banners have been hung downtown and along Burdick, and plans are to add additional banners in the Oak Park area.
Leaders from Visit Minot, Minot Area Chamber EDC, the City of Minot, Minot Park District and Downtown Minot are partners in the branding. A citywide cohesive brand effort launched last summer after nearly two years of collaborative effort by One Brand partners.
Odney helped develop the One Brand marketing plan under a contract with the City of Minot. Economic development stakeholders had recommended a unified marketing strategy during meetings conducted through the National Disaster Resilience Program.
Related posts