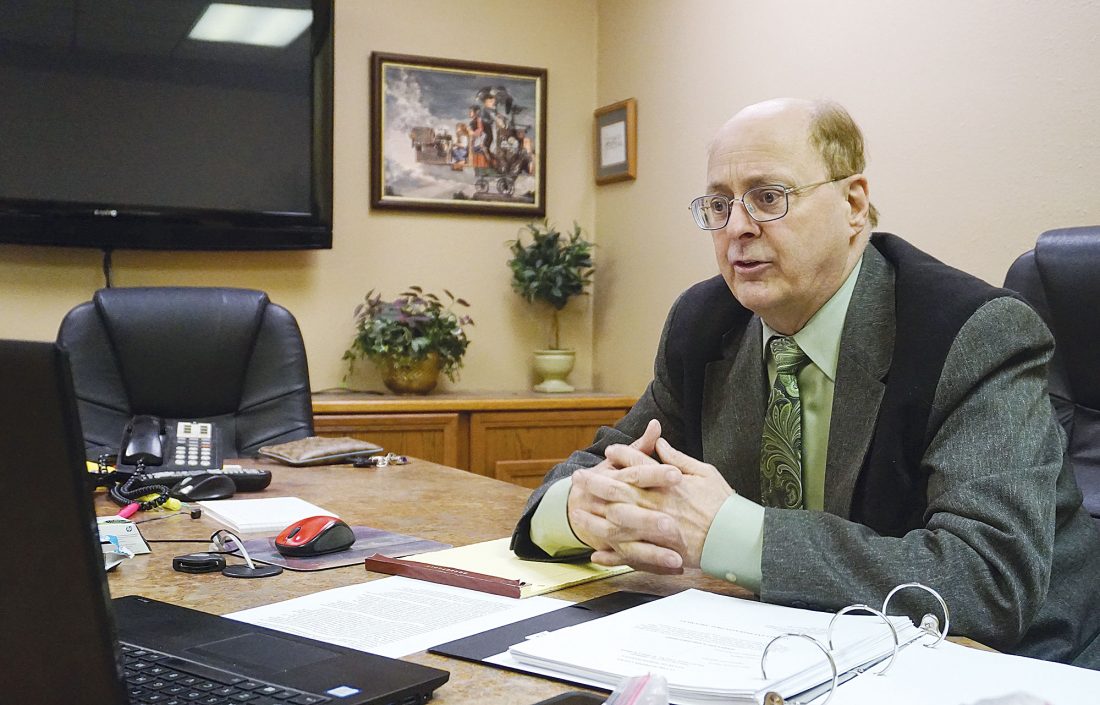 MINOT, N.D. – An executive order that temporarily closed hair salons last spring as a COVID-19 precaution was unconstitutional and absurd, according to arguments delivered by the attorney for a Minot senior living center and its cosmetologist before the North Dakota Supreme Court Monday.
Somerset Court and Kari Riggin, who operates a hair salon at Somerset as an independent contractor, are challenging Gov. Doug Burgum's March 27 executive order, which had been extended through April 30. Riggin was cited for violating the order April 14.
The State v. Riggin criminal case was appealed from North Central District Court in Ward County. The Somerset and Riggin v. Burgum and the State Health Department civil case was appealed from South Central District Court in Burleigh County.
Bismarck attorney Lynn Boughey, who represents both Somerset and Riggin, argued the governor has no statutory power to shut down a business or profession.
"There is a property interest and a constitutional right to perform your profession," he said. "She was doing so within all the other constraints of the order, but he literally shut down somebody's profession, and we think that's a violation of the constitution."
Boughey said Burgum overstepped authority granted in state law to execute or suspend laws during an emergency.
"He legislated, which is a separation of powers issue," Boughey said.
Boughey also argued the directive that shut down cosmetologists falls under the authority of state and local health officials, not the governor.
James Nicolai, deputy solicitor general in the North Dakota Attorney General's Office, representing the state in the Somerset case, said the governor issued the order after consulting health officials. He, and Ward County Assistant State's Attorney Ethan Lee in the Riggin case, argued the executive order falls within the law giving the governor the power to control ingress and egress in a disaster area.
"You can say that this comfortably fits within that provision because in an epidemic, basically, the entire state is the disaster area," Nicolai said.
Lee also stated preservation of life is an important function of government that underlies executive orders, while cosmetology services are nonessential.
There was discussion on the equal protection standard because of the permission for Somerset staff to perform hair care that Riggin, as a cosmetologist, was banned from performing, such as washing and styling hair. Only licensed cosmetologists can use chemicals, such as in coloring and perms. Lee noted Riggin was treated equal to other cosmetologists and barbers.
Riggin works solely with Somerset residents who pay directly for her services. Services were delivered in the in-house salon, which offered more safety than going into rooms to wash hair using shower facilities, Boughey said.
"This order created an absurd result," he said. "One reason why it should be invalidated is because it literally created a situation that made it more dangerous for the residents, by not allowing the work to be done in a salon by a cosmetologist."
Somerset is pursuing litigation despite the lifting of the executive order because it wants to head off the potential for the governor to issue a similar order in the future.
Riggin has made conditional payment on a $100 fine for violating the executive order. An infraction, the violation carries a maximum penalty of $1,000.
Related posts