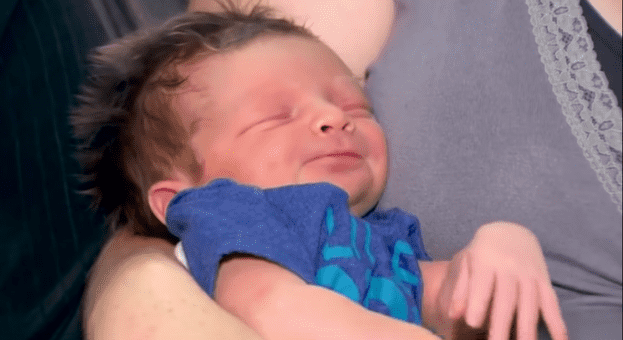 "I joke that I was like a cow giving birth in the field," the mother laughed and said. "Oh, we've got plenty of time," thought a soon-to-be mother from Vacaville as she began having contractions at home.
The mother named Emily Johnson had imagined the perfect hospital birth for herself and thought she still had time before they needed to get to the hospital, which was only five minutes away from their home in California. However, as Emily's contractions increased, it was clear that baby Thomas couldn't wait any longer to come out.
As Emily recalled the moments before her birth, she revealed that she and her husband, Michael Johnson, were eagerly waiting to welcome their little one.
"We had been wanting to get pregnant for about six months before we ended up getting pregnant," Emily told KCRA 3.
"I was really eager to be done," Emily added. "I was hoping he was going to come early, but we never really knew."
Not only did their little bundle of joy arrive a week early, but he also couldn't wait till the parents got to the hospital before coming out.
When Emily started having contractions, she felt them every 10 minutes or so for about three hours before they came more frequently.
"Then the contractions went from three minutes to two minutes to one minute in a matter of 20 to 30 minutes, and we are like, 'Oh, we got to get into the car we have to go,'" Emily said.
The couple soon got out of the house to get to the hospital, but Emily could only make it to her car before she realized the baby would come out at any moment.
"We got to the car and I just said, 'No, I can't get into this car,'" Emily said.
She then decided to lay sprawling out on her front lawn and give birth on the grass, right underneath a canopy of stars.
"I'm just like, 'I'm going to get on the grass. I'm going to be here. This is my spot.'" Emily recalled
Thankfully, Emily's mother Kristy Sparks was also at the scene and was able to help with the "surreal" birth.
Sitting on her hands and knees, Kristy saw the little one's head coming out. And by the time first responders arrived, the grandmother was holding her grandson in her arms.
"By the time they walked up to me, I had a baby in my arms crying," Kristy said. "It was unreal."
Although Emily is grateful to have baby Thomas in her arms now, she noted, "I never want to do that again."
The one thing that Emily's husband is happy about is having the entire birth captured on video by their doorbell camera.
"I was like, 'Oh, this is going to be on the camera,'" Michael said. "I'm going to watch this and we share this."
Having a birth she would never forget, Emily said, "I joke that I was like a cow giving birth in the field, because once I got to the hospital. I had grass clippings falling right off me and the nurses were wiping dirt off my knee and I'm like, 'Oh, I did give birth in the lawn.'" 
Related posts