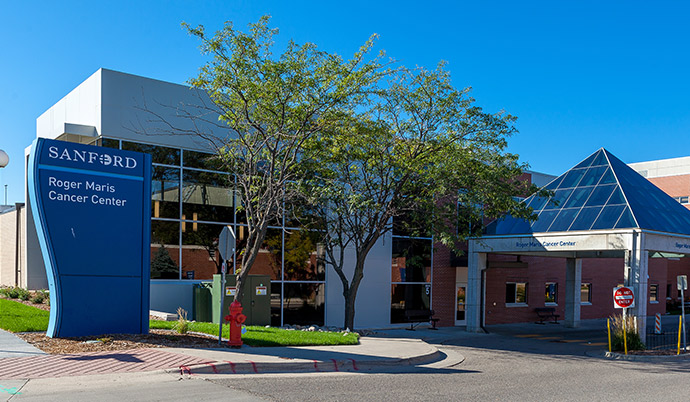 FARGO, N.D. — Sanford Health is adding events to the Roger Maris Celebrity Golf Tournament to raise money for enhanced cancer treatments including a bone-marrow transplant program that will launch later this year.
Sanford administrators say the bone-marrow transplant program at the Roger Maris Cancer Center will be the first in the Dakotas and will mean patients don't have to travel as far for the potentially lifesaving treatments.
The transplant program is one example of new services Sanford will be bringing to the cancer center as it strives to make it a national destination for cancer research, treatment, education and training.
To help accomplish that goal, Sanford is augmenting the Roger Maris Celebrity Golf Tournament with a weeklong slate of events.
The sports celebrities participating in this year's golf tournament will include Chad Greenway, a former Minnesota Vikings linebacker and native of Mount Vernon, S.D., and Matt Cullen, a Moorhead native and NHL hockey star who was on three Stanley Cup championship teams.
Inaugural Roger Maris All-Star Week fundraiser events start June 14, and new activities will include youth camps, a community event at Island Park and a RedHawks baseball game.
"Nearly everyone has had a family member or friend who has been in a battle with cancer," said Dr. Anu Gaba, a medical oncologist at Roger Maris Cancer Center. "Roger Maris All-Star Week will help raise money to give cancer patients state of the art cancer care and it will be right here in Fargo."
The bone-marrow transplant program is slated to begin in September and will involve a handful of patients whose stem cells will be removed. Following treatment, the cells will be restored.
"Bone-marrow transplant was sort of the last frontier that we knew we lacked," Gaba said.
A more complicated procedure involving donated bone-marrow stem cells is expected to be available early next year.
Offering the bone-marrow transplant treatments will benefit patients and their families. The treatments take from two to five months and have required patients from the area to travel three to 10 hours for care.
"So having a program here in Fargo will help our families tremendously," Gaba said. "It's a really exciting time."
Later next year, administrators expect to be able to offer cancer treatment by genetically modifying patients' cells using a technique called CAR-T immunotherapy.
By 2025, Sanford expects to treat 70 to 100 patients per year using the three treatment methods, and that number will grow with time, Gaba said.
The Roger Maris Celebrity Golf Tournament was established in 1991 as a community fundraiser, with some proceeds going to the cancer center named after the former professional baseball slugger who grew up in Fargo and died of cancer.
After Sanford builds a new heart and vascular services clinic beside Sanford Medical Center, the Roger Maris Cancer Center will expand into that space at the Broadway Medical Center in downtown Fargo.
Because of the disruptions from the COVID-19 pandemic, Sanford is uncertain of the timeline, but Bryan Nermoe, Sanford Fargo's chief executive, expects construction on the new heart center should start in two or three years.
All of the proceeds from the Roger Maris All-Star Week fundraiser will help to pay for education, research, treatments and training, among other things, at the Roger Maris Cancer Center, Nermoe said.
The list of events during Roger Maris All-Star Week includes:
Youth sports camps – June 14-18
Roger Maris Celebrity Golf Tournament – June 17
Island Park community event – June 17
RedHawks throwback game – June 18
Youth baseball tournament – June 18-20
The Island Park community event will feature a celebration of the arts, live entertainment and a wishing tree in honor of cancer survivors.
Related posts