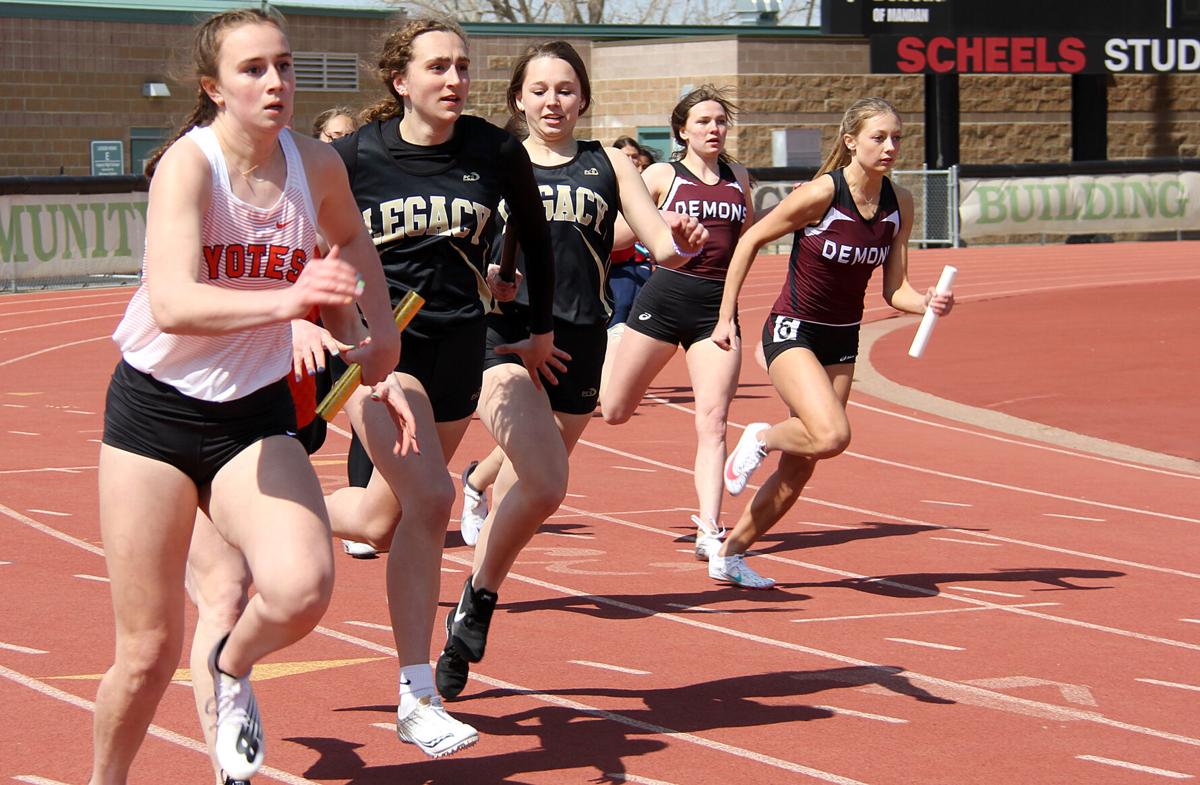 MINOT, N.D. – The Williston High School girls track and field team finished seventh at the Bismarck Public Schools Invite on April 9.
The Lady Coyotes had 54 points to finish the day.
Overall, Century finished first with 178.2 points followed by Bismarck High with 116.2 points. Mandan was third with 87 points, Minot was fourth with 85.2 points, Legacy was fifth with 84.2 points and Watford City was sixth with 64.2 points.
Dickinson was eighth with 25 points and St. Marys was last with 24 points.
Additionally, the team had several individuals place in the top 10 in different events.
Eleni Lovgren was the only Coyote to place first in an individual running event. She dominated the 3200 meter run finishing it in 11 minutes and 44.95 seconds.
Williston also placed first in the 4×800 relay. Sofia Watterud, Sierra Watterud, Lovgren and Demi Peterson ran the relay and finished it in 10 minutes and 44.85 seconds.
In the 400 meters, Kimberly Neumann finished in fifth place with a final time of 1 minute and 7.84 seconds; Emma Solberg finished in seventh place with a time of 1 minute and 8.23 seconds (her personal record so far); and Ava Marburger placed 10th with a time of 1 minute and 11.10 seconds.
In the 800 meters Marissa Branham, Peterson and Niah Shumway placed sixth, seventh and eighth, respectively. Branham finished the race in 2 minutes and 44.94 seconds, Peterson finished in 2 minutes and 45.51 seconds and Shumway finished in 2 minutes and 45.69 seconds.
In the 4×100 relay Williston finished sixth with a final time of 55.52 seconds. Taylor Rath, Kaelyn Sime, Gabrielle Marks and Kayla Kealoha ran the relay.
In the 4×200 Williston finished seventh with a time of 1 minute and 56.14 seconds. Kealoha, Neumann, Solberg and Marburger ran the relay.
Williston placed fourth in the 4×400 finishing it in 4 minutes and 31.44 seconds. Marburger, Neumann, Solberg and Lovgren ran the relay.
Zoe Dallas placed ninth in shot put throwing 33-11.00.
Both Williston track and field teams will be in Minot on April 17 for the Minot Round Robin Tourney, weather permitting.
Field events are expected to start at 11:30 a.m. and running events will follow at 12:30 p.m.
Again, this is weather permitting and could be rescheduled. All times and dates are accurate as of 11 a.m. on April 14.
Related posts