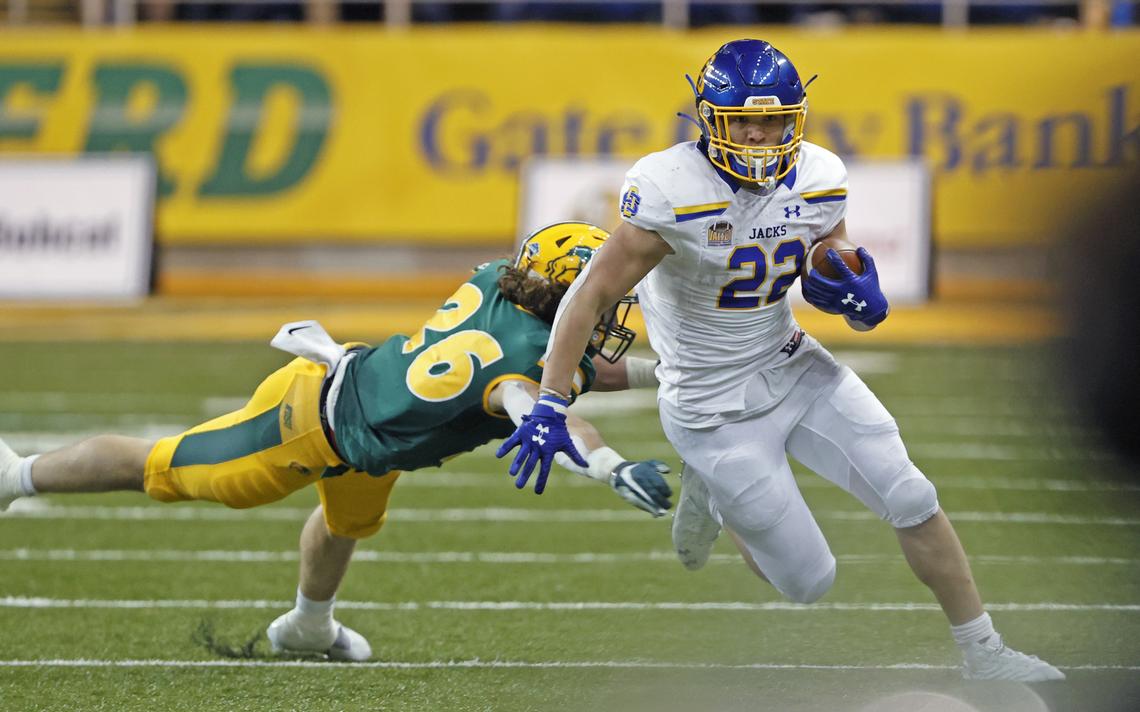 FARGO, N.D. — The Civil Defense warning sirens going off across Fargo on Saturday night after North Dakota State's football game weren't blaring for the normal reasons. This spring, it's been quarterback Zeb Noland that's had the Bison faithful wailing. This week, poor Zeb gets a break from the angst.
He was benched in favor of Cam Miller.
Let's talk about that Bison defense instead.
Didn't see that coming, did you?
Just when you think NDSU figured things out enough offensively to put itself at the front of Football Championship Subdivision national title talk for the umpteenth straight season, the most reliable aspect of the powerful Bison program for the past decade got shredded, diced, chopped and julienned.
The result was a 27-17 loss to the Jackrabbits, a score that shifted the power structure of the Missouri Valley Football Conference heading into the FCS playoffs. SDSU will now get homefield advantage in the postseason and if the Bison want a return trip to Frisco, Texas, for the championship game they will have to go through Brookings or Harrisonburg or Ogden or Huntsville to get there.
It wasn't that the Bison lost. SDSU is good, as usual. It remains the only team to beat NDSU more than once since the Bison's dynasty began in 2011.
It was how the Bison lost.
NDSU gave up 305 rushing yards and 454 total yards. Aside from a couple of kneel downs at the end of the game, SDSU scored on every possession in the second half. Combined with a quick-strike drive that resulted in a field goal at the end of the first half, the Jackrabbits scored on four straight possessions.
It's what the Bison usually do to the Jacks. And many other teams.
"We need to do a better job getting off the field, something we've prided ourselves on over the course of the years," Bison head coach Matt Entz said. "We're going to have to come up with some better answers because I'm sure whoever our next game is, if it's Albany next year or if we're fortunate enough to get in the playoffs, they are going to see some holes in the defense."
Entz spent time in the postgame Zoom press conference wondering if the Bison were going to be selected for the 16-team playoff field, but that's no worry. They will be. The mystery will be if NDSU can fix what ails their defense in time — while also piecing together a consistent offense.
The Bison gave up too many big plays, gave up too much on first and second downs, missed too many tackles and — in a consistent theme this spring — didn't force a turnover. The only time they had a real shot at one, linebacker Jasir Cox dropped a ball that SDSU quarterback Mark Gronowski threw right into his hands late in the first half. The Jackrabbits turned the break into three points for a 10-3 halftime lead.
"There are days when we tackle well, there are days that we don't. Today was a day when we really tackled poorly," Bison linebacker Jackson Hankey said. "We're going to get back to the practice field and do something different, make an emphasis of tackling. We just have to do better."
"We have to play better, that's the bottom line. We have to execute. We have to tackle the ball carrier better. We need to force takeaways. We need to do something to execute at a higher level to throw off other teams' offensives."
It was reminiscent of how NDSU has beaten up SDSU so many times over the years. All those times Easton Stick ran all over the Jackrabbits. Or Bruce Anderson. Or John Crockett.
Saturday, it was Gronowski (126 yards), Pierre Strong Jr. (95) and Isaiah Davis (84).
It was the most yards NDSU allowed rushing since Youngstown State put up 340 yards in 2008.
"Our offensive line, give them props. Not many people come out and rush the ball on NDSU for 300 yards," SDSU linebacker Logan Backhaus said. "This team is different. I feel like we're more like one team rather than just an offense and a defense."
Strong's 53-yard touchdown run in the third quarter and Gronowski's 55-yard dash on SDSU's game-clinching drive late in the fourth quarter accounted for 108 of the Jackrabbit rushing yards. Those are the explosive plays NDSU usually drops on the Jacks. Remember Adam Cofield's 71-yard TD run to win the 2019 game in Brookings?
"Most of the time we've played them, it's been close and one big play happens and in my career it's been on their side of the ball. They've had a big play and gone up," Backhaus said. "We served them their own medicine and beat them the way they usually beat us."
On Saturday, SDSU looked like the better team. NDSU has to hope a second meeting in the playoffs turns out like all the previous second meetings in the playoffs. It surely doesn't seem the Bison have the firepower to make that happen.
Related posts