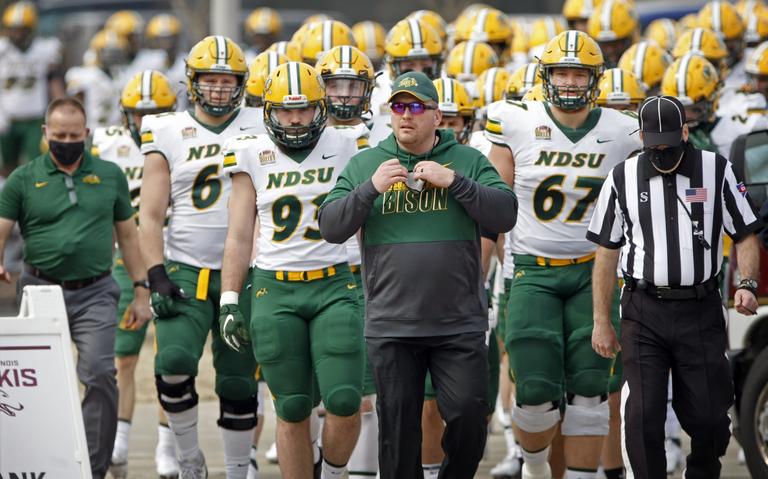 FARGO, N.D.— North Dakota State head football coach Matt Entz put out the warning this week that there will be more players in the transfer portal, both leaving NDSU and coming to the Bison program. Another departure surfaced on Tuesday morning; highly regarded true freshman defensive back Nasir Howell.
The plan was for Howell to enroll at NDSU early, which he did after his fall semester of high school at North Cobb in Kennesaw, Ga. His announcement leaves the Bison with another future opening in the defensive backfield.
He's the fourth Bison player this spring to enter the portal, while NDSU will welcome three FBS transfers next fall: running back TaMerik Williams from TCU, quarterback Quincy Patterson from Virginia Tech and tight end Gabe Lloyd from Wisconsin. Still, Entz said there is not an assistant coach on staff whose job it is to routinely check the portal.
"Now it's naïve of us, and we've talked about that for us to never think it's not going to affect us," he said. "We're going to have to utilize it to help our program. It's not fair to the Bison and not fair to our program."
He pointed to starting cornerback Josh Hayes, who left the team this week and officially entered the portal late Tuesday morning with the intention of playing his final season with an FBS school. Hayes, in a Twitter post, thanked the Bison program and said it has always been his goal to play at that highest level.
"You lose a senior and you replace him with a freshman, that doesn't seem like an even trade right now," Entz said. "So we will have to dive into it but I think what we've utilized is more connections rather than just reaching out there and heading down a rabbit's hole. Trying to utilize some connections, some resources that we have out there so that we get an understanding of who we're recruiting."
The point in that, Entz said, is when a team takes a transfer, it takes them with the intention of the player seeing the field right away.
"They're not coming here to sit," he said.
The transfer game will most likely pick up if the NCAA approves a one-time transfer rule without penalty on April 15.
"I don't think we've seen anything yet as far as the transfer portal," Entz said. "The NCAA comes out and says there's the one-time transfer? There are 1,900 kids in there right now. It's a scary deal. Every sport out there, men's basketball and football are the two high-profile sports and you're seeing it a lot right now. Who knows on April 15, depending what the NCAA says or the Football Oversight Committee recommends, it could ramp up even more."
Howell, in a post on his Twitter account, thanked NDSU for his time in Fargo.
"First, I would like to say this was not an easy decision," he wrote. "After talking it over with my family, I feel like the best decision for myself is to enter my name in the transfer portal with all of my eligibility remaining."
It's a decision that Northern Iowa head coach Mark Farley is getting more accustomed to, especially with a transfer portal app on a smartphone. He called it "amazing" the number of players in the portal as opposed to the probable number of scholarships available.
Those two factors don't match, he said.
"It's really getting disproportionate in my view," said Farley, whose team plays NDSU on Saturday at the UNI-Dome. "It's a challenge to be in but it's a part of college athletics right now. Basketball is going back and forth losing and gaining players. It's like free agency right now."
Related posts