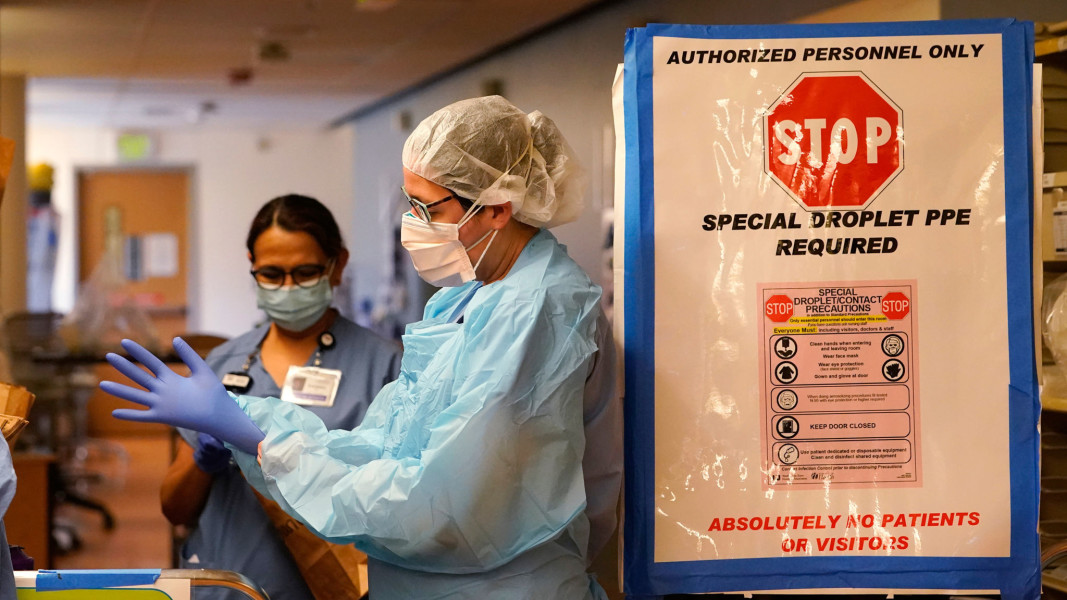 N.D. – More contagious coronavirus variants are becoming established in North Dakota, with the number of confirmed variant cases doubling this month.
The state lab has now identified 79 total cases of four variants — 50 of the one first identified in the United Kingdom, 28 of the two California variants and one of the South African variant, according to Kirby Kruger, director of the Health Department's Disease Control Division.
Those types of variants all are on the federal Centers for Disease Control and Prevention's list of "variants of concern" — a threat level in the middle of "variants of interest" and "variants of high consequence." There are three in the low category and none in the high.
The North Dakotan with the South African variant had traveled to that country, but the cases involving other types include some in-state transmission, according to Kruger.
"Even earlier on, we had fairly good data to show that there was transmission occurring within the state, where people who had been identified with variants had no travel history," he said during a public virus briefing on Tuesday. "The data is showing that these are established in the state."
The U.K. variant surfaced in North Dakota in mid-February, the California variants in mid-March.
Over the past month, total active cases of COVID-19 have nearly doubled in North Dakota, and they've nearly tripled in Burleigh-Morton counties. They stood at 1,155 statewide on Wednesday, up 36 from the previous day, and at 207 regionally, up 15.
Health officials have indicated myriad reasons for the spike, including pandemic fatigue, spring weather and public gatherings. An increase in variants is another likely reason, according to Kruger.
"We do know that the U.K. variant is about 50% more infectious than the wild type virus, and we also know that the California variants are more infectious — they're each about 20% more infectious," he said. "And so they have an advantage over the older viruses that have been circulating in terms of their infectiousness."
The Health Department on Wednesday reported 177 new COVID-19 cases, raising the pandemic total to 105,215, with 102,586 recoveries, 4,020 hospitalizations and 1,474 deaths. One new death was reported. Current hospitalizations increased by one, to 28. The state calculated a positivity rate of 3.54% from 7,041 tests completed Tuesday.
Kruger said it's hard to predict whether the recent spike in virus cases in North Dakota signifies another pandemic "wave," but that considering what's happening in other states such as Minnesota and Michigan — where infections and hospitalizations are soaring — it can't be ruled out.
"Our trend is not the right way in North Dakota," he said, adding that "I think it's just premature to think this is over within North Dakota."
Available vaccines appear to be effective "to some degree" against the variants, particularly in protecting against serious disease and hospitalization, according to Kruger.
More than one-third of North Dakota adults are now considered fully vaccinated against the coronavirus. More than 484,200 doses of COVID-19 vaccines have been distributed in the state, to about 263,300 people. The Moderna and Pfizer vaccines require two doses, weeks apart.
State health officials on Tuesday urged providers in the state to pause use of the one-dose Johnson & Johnson COVID-19 vaccine while federal regulators investigate reports of potentially dangerous clots in six vaccine recipients around the country, including one person who died.
J&J doses account for less than 5% of North Dakota's vaccination effort. Shelved doses and others that would have gone out to clinics this week are being replaced with Pfizer or Moderna doses, according to state Immunization Program Director Molly Howell.
Related posts