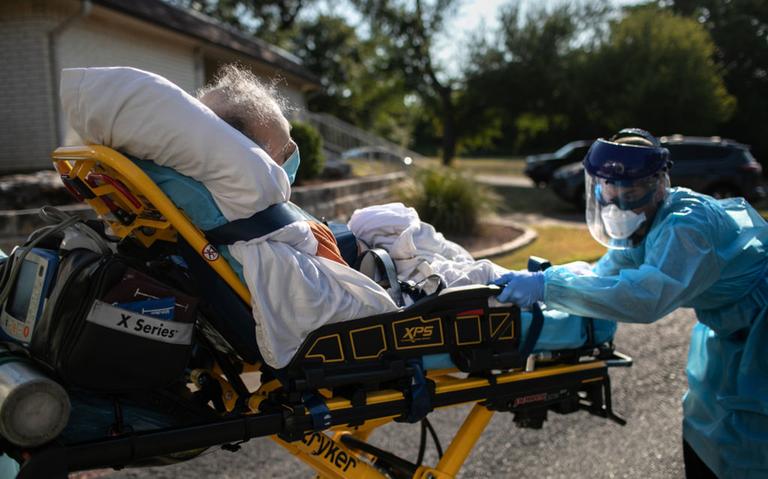 BISMARCK, N.D. — The number of active COVID-19 cases is continuing to rise in North Dakota, and the COVID-19 hospitalization rate for North Dakotans aged 16 to 49 has increased by 59% since March, according to the North Dakota Department of Health.
This significant spike is the highest month-to-month increase in hospitalizations for residents 16-49 throughout the COVID-19 pandemic so far, the Department of Health says. Within the last week, 83 residents were hospitalized due to COVID-19, according to the health department.
One of the people hospitalized due to the virus in April was less than 10 years old, according to the Department of Health.
"COVID-19 has proven to be serious and unpredictable," the Department of Health said in a statement.
The Department of Health released a statement urging residents to get vaccinated and to continue pandemic mitigation strategies as Gov. Doug Burgum lifted the state's COVID-19 emergency declaration beginning on Friday.
North Dakota terminating it's pandemic emergency order also means the termination of 19 pandemic-related executive orders issued in the past year. Burgum said he is rescinding the emergency declaration in part because the state is shifting its focus towards getting residents vaccinated.
"While the emergency declaration is ending on April 30, the virus is still present in our communities," said Interim State Health Officer Dirk Wilke in a statement. "We encourage North Dakotans to keep using preventative measures including physical distancing, wearing a mask when you can't distance, getting tested and most importantly getting vaccinated."
Following are the North Dakota Department of Health COVID-19 case rates, deaths, hospitalizations and vaccinations as of Friday, April 30. Because all data is preliminary, some numbers and totals may change from one day to the next.
Statewide case rates
NEW CASES: 175
TOTAL ACTIVE CASES: 1,104
TOTAL CASES: 107,473
TOTAL RECOVERED: 104,877
DAILY TEST POSITIVITY RATE: 4.18%
Cass County, which includes Fargo and West Fargo, reported 37 additional positive cases on Friday. Ward County, which includes Minot, reported 27 additional cases.
Hospitalizations, deaths
ACTIVE HOSPITALIZATIONS: 35
DEATHS, NEWLY REPORTED: 1
TOTAL DEATHS: 1,492
The Department of Health announced on Friday the death of a Cass County woman in her 70s.
Vaccinations
FIRST DOSE ADMINISTERED: 277,962 (47.4% of population)
COMPLETED SERIES (Two doses): 243,940 (41.6% of population)
A total of 543,451 shots have been administered to North Dakotans. The demand for COVID-19 vaccinations has plateaued in the month of April, and state officials are urging residents to get vaccinated to help the state achieve herd immunity. The Department of Health urges residents to seek more information at www.health.nd.gov/covidvaccinelocator.
Related posts