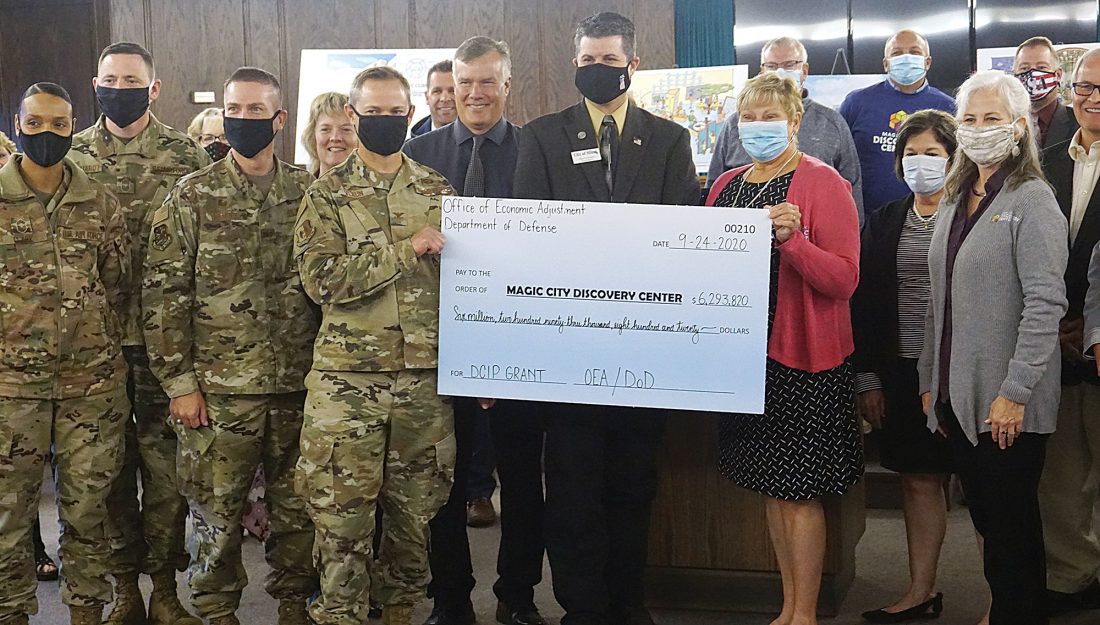 MINOT, N.D. – Partnerships have been key to being able to set a ceremonial groundbreaking for a children's museum early next month, according to the board of the Magic City Discovery Center and its supporters.
A gathering in Minot City Hall to celebrate a $6.3 million grant from the Defense Community Infrastructure Pilot Program was all about partnerships Thursday. Sen. John Hoeven last week announced the grant, which is instrumental in lifting the project over the final hurdle to reach the groundbreaking stage.
The money will allow the construction on North Hill of a three-story, 22,000-square-foot building with more than 12,000 square feet of exhibits. There will be 12 interactive galleries focusing on science, technology, engineering, art and math exhibits designed for open-ended, layered learning from birth to age 14. Exhibits will allow children to independently and collaboratively discover, create, invent and play. Construction costs, with exhibits, is estimated at nearly $14 million.
"Today is a celebration of what can happen when private individuals and companies, military, government and community partners work towards a goal to improve the quality of life of our children," said Karen Rasmusson, MCDC board president. "We would not be here to celebrate this moment if it wasn't, first, for our congressional delegation voting for the funding for the DCIP grant, and secondly for the support we received from the Minot Air Force Base in grant writing and obtaining any letters of recommendations to include in our grant submission."
"This is a big deal," said Col. Brian Vlaun, vice commander for the 5th Bomb Wing at MAFB. "We know that this facility will contribute to the quality of life and add educational opportunities for our Minot Air Force Base families, living both on and off base. We have more than 1,300 children in the kindergarten through fifth grade age groups alone. We're also grateful that this Magic City Discovery Center will offer a year-round, interactive and indoor activities for our families, which will help them feel at home here at Minot Air Force Base and in the community, and also inspire them with in this aerial flight exhibit as well as enrich them with the science behind the North Dakota way of life."
Col. Christopher Menuey, 91st Missile Wing commander, also spoke about cementing the relationship between the base and community and the opportunities created by the facility for military families looking for fun, educational activities.
In addition to the Department of Defense support, other partners include the Minot Park District, which is providing the land and helped the project obtain a $1 million Community Facilities grant through the City of Minot. The city also is the pass-through entity for the defense grant.
"Without having everything else in place prior to this coming along, it would have never happened," Minot Mayor Shaun Sipma said. "The partnership that has existed and grown within our community, and with our great men and women and their families at Minot Air Force Base, it is a giant leap forward for everyone, and it just shows the collaboration that continues to make Minot, Minot Air Force Base and all of the partners and all the people celebrate."
Parks Director Ron Merritt noted the North Dakota Department of Transportation also is a partner, having assisted in obtaining an easement needed to make the site work. Numerous donors contributed, including major donors Minot Area Community Foundation, Ackerman-Estvold, Scheels, Tollefsons and Engelstad Foundation.
"We are a stronger community when we can work together to build a project that will be here for many generations to come for our families and for our children in this community," Merritt said. "Projects like this simply can't happen without all of the partners and all of the groups in our community pulling together and making it happen."
The dream to open a children's museum came about in 2013, said MCDC Executive Director Wendy Keller. Volunteers opened an interim museum inside the Dakota Territory Air Museum. Feedback was so positive that the museum continued for three years beyond the first year, she said. The museum closed 2-¢ years ago while fundraising occurred. During that time, the board operated an educational outreach program called Discovery on the Go.
Although the ceremonial groundbreaking is planned for early October, full construction won't begin until 2021, with completion expected in late 2022.
Mark Lyman, past MCDC president, said museums of the size of the one proposed typically obtain 60-70% of operating income from admission fees. He said the discovery center will have fees similar to the zoo at about $7-$8 a person. There will be memberships for families or grandparents and discounts for military members.
Lyman said the board will need to continue to ask supporters for donations or to adopt certain exhibits. Support particularly will be needed for the first year of operation. He added the board is interested in establishing a foundation to assist with long-term finances.
Related posts