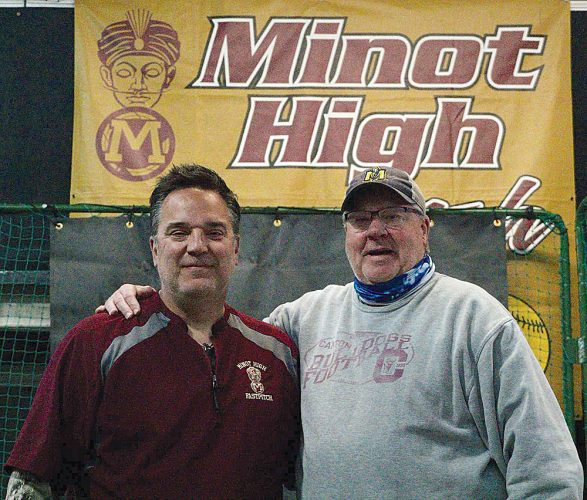 MINOT, N.D. – Many of those involved at the highest level of professional sports leagues often look for creative ways to stay involved in sports after the time comes for their retirement.
Former Major League shortstop Troy Tulowitzki, for example, took on a coaching role at the University of Texas after injuries forced him out of baseball in 2019. Former Dallas Cowboys quarterback Tony Romo has captivated the hearts of football fans across the country alongside Jim Nantz in the CBS booth providing color commentary for NFL games.
Minot High School is fortunate enough to have two former high-profile figures in the professional sports world helping out the next generation of athletes in the Magic City. Former Major League umpire Gary Cederstrom and former National Hockey League referee Thor Nelson have teamed up to help impart their wisdom onto not only the current softball players involved in the program at Minot High, but also for those not quite old enough for high school.
Cederstrom, a Minot native, and Nelson, born in southern California but moved to Minot at the age of four, both have strong ties to the Magic City and never lost their desires to return home after their time in MLB and the NHL was up. Nelson, in particular, never left Minot, even after he secured his job on the ice.
"The league asked me to move a few times, and then they just stopped because I wasn't moving," he recalled. "I've lived in Minot the majority of my life, and I never wanted to move anywhere else, I love this city. This is home, this is where my family is, my wife's family. This was always going to be our home."
After injuries sustained on the job forced him into an early retirement from the NHL, Nelson returned home and got involved with the local softball scene.
"I played fastpitch and I love the sport," he said. "I also coached a lot, I was always off in the summers so I coached baseball with my boys and I coached softball with my girls, and in 2014 we started this fastpitch program, not knowing if it would go real well. It's gone fantastic."
He is not an official member of Minot High's coaching staff, rather, he has served as a volunteer assistant for about six years.
"I would go to games and it was pretty quiet. It was just a little too somber for me," he said. "So I brought my PA system and I just started playing music in between innings and in between games. So that's where it all started, just trying to make it a better atmosphere."
Eventually his role with the team began to grow and he now lends a hand wherever he is needed, anywhere from the junior varsity squad to the varsity team to running the scoreboard during games. His four kids, wife and himself are all Magicians alumni, and he leapt at the chance to give back to his alma mater.
Nelson is now involved with three separate softball organizations in the Minot area, as he has since added Minot Girls Fastpitch and Minot Storm Fastpitch onto his plate. Minot Girls Fastpitch is a noncompetitive softball league that girls in the area can take part in to see if the sport is really for them. The Minot Storm is then another step up.
"If they enjoy that, the girls who want to play competitive ball will play in the Storm program, the competitive travel ball league," Nelson explained. "They only play on weekends, but they go to tournaments primarily. Last year our 18Us (18-year-olds) took first place in the top division, our 16Us lost in the semifinals and our 14Us lost in the semifinals. So not only is it fun to see them succeeding here, but we go play teams from Colorado, Nebraska, South Dakota, Wyoming and Montana, and they excel down there as well. So it's fun to see that as well."
Nelson was joined by Cederstrom, another Minot High alum, this year, who retired from a decorated Major League Baseball umpiring career following the 2019 season. Cederstrom knew he was going to return to his hometown anyway, and he had previously discussed the possibility of coaching softball with Nelson and his brother and current Minot head softball coach, Gerard Cederstrom.
Gary now works as an assistant JV coach, but due to the close nature of the program he often winds up helping out on the varsity team as well. He also works with the athletes in the Storm program, where he is able to give more personalized aid to each player in efforts to better prepare them for organized teams when they get older.
"That's the one advantage with coaching, having different practices and getting to know the girls, when you sit down and talk to them they know you and they take the feedback well, instead of thinking, 'he's not my coach,'" he said.
Nelson and Cederstrom are both having a blast helping the players better their craft, and both noted that their favorite part of being a coach is balancing having a good time and watching the girls' skills on the diamond improve with each passing season.
"Having fun with the kids, joking around and getting serious teaching them how to throw and how to catch," Cederstrom said of what he enjoys most.
"Seeing the young ladies as they progress," Nelson added. "When they come in and their skillset is not necessarily at a high school level, but watching them work as hard as they do and become more proficient as time goes and seeing them succeed. And to watch that, and to watch them enjoy the game, my hope is that they'll grow up in the programs and enjoy playing so much that they'll want to stay here and raise their kids to go through the programs."
Related posts