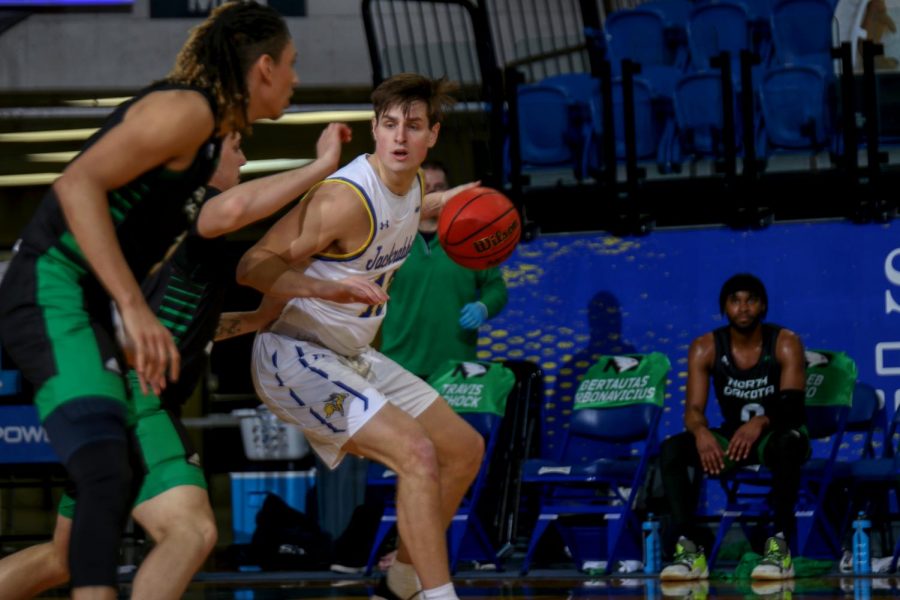 N.D. – Two strong games over the weekend propelled the SDSU men's basketball team to a 4-0 start in Summit League play.
An impressive first half of basketball pushed South Dakota State (10-3, 4-0) past the University of North Dakota (4-13,3-5) 92-73 Friday night at Frost Arena.
This was the Jacks first game in two weeks afte games with Omaha last week were canceled due to COVID-19 protocols. Any thoughts that the long layoff would slow the Jacks were erased after the game Friday.
"We had a really good week of practice," head coach Eric Henderson said. "It was disappointing not to play games, but our group was together for the first time healthy all season to start the week."
The Jackrabbits shot 10-of-15 points from 3-point range in the first half and finished 14-22 overall to outlast the Fighting Hawks. They led by as many as 24 Friday night.
Douglas Wilson started the game with eight points off of 4-4 shooting, but was a nonfactor the rest of the game with foul trouble. He picked up two quick fouls in the first minute of the second half and had to spend the majority of the rest of the game on the bench.
"You can't put yourself in those situations," Henderson said of last year's Summit League Player of the Year. "You're giving them the opportunity to call the foul, and that's what we've got to eliminate.
There were other players that stepped up in Wilson's absence. Noah Freidel had a big game being back in the starting lineup for the first time after disciplinary actions were taken. He finished with 24 points, shooting 6-9 on 3-pointers.
"We have multiple guys who can all get on the floor and play at a high level, and they've come in and have done everything they're supposed to do, and it's awesome to have," Freidel said when asked about the team's contributions.
UND started the second half with a 16-3 run to cut SDSU's lead to 11. Not long after, first-year Jackrabbit Luke Appel got the crowd going after making a layup while getting fouled. A slew of buckets after this would put the Fighting Hawks away.
Appel finished with one of his best games of the season after transferring from Kirkwood Community College this season. He provided a nice spark off of the bench, finishing with 15 points. He has improved since the season began and is always ready to play when his number is called.
"I knew it was going to be a challenge to carve out minutes with some of the best big men in the Summit League on our team," Appel said. "I just play my hardest and take what I get."
UND's Filip Rebraca led his team with 14 points, but was limited to five made field goals.
"I thought our guys did a good job of making it difficult for him," Henderson said of his team's defense. "I thought Luke did a good job defensively on him, and Doug when he was guarding him as well."
North Dakota had not been swept thus far when going against conference opponents. They've split each of their games, so the Jacks knew it was going to be a challenge to beat them twice in a row.
Night two of the back-to-back for both teams was a little closer than the first, but SDSU was able to close out the series, beating UND 85-74.
It was knotted up at 22 midway through the first half before the Jackrabbits would go on to finish the half with a five point lead.
A strong start in the second half is just what SDSU needed, and the Jacks got that almost immediately. A lob from Appel to Wilson pushed the Jacks to their biggest lead of the game at 18.
Caleb Nero of North Dakota tried to will his team back into the game with a 9-0 run on his own, cutting the Jackrabbit lead to nine with seven minutes left in the game. Not long after, Freidel and Alex Arians both put up 3-pointers to put the game out of reach.
The second time around, it was Freidel in foul trouble throughout the game, picking up his fourth foul with 15 minutes remaining in the game. He only finished with five points.
"It's not easy for a guy like Noah that has that scorer's mentality to not get as many touches as he's used to," Henderson said. "But he has so much confidence in his teammates that they're going to be able to make plays when he doesn't."
Wilson was more aggressive and had a stronger showing in Round 2, putting up 23 points and six rebounds.
Sophomore Baylor Scheierman scored two double-doubles in a row with 10 points and 10 rebounds on Friday night, followed by 14 points and 11 rebounds on Saturday night.
"We let him play his game and try to reward the guys when they do rebound," Henderson said of Scheierman postgame. "He's playing with so much confidence and freedom, and that's when he's at his best."
Looking forward to next week, the Jackrabbits travel to Denver to play the Pioneers at 8 p.m. on Friday and Saturday night.
Related posts