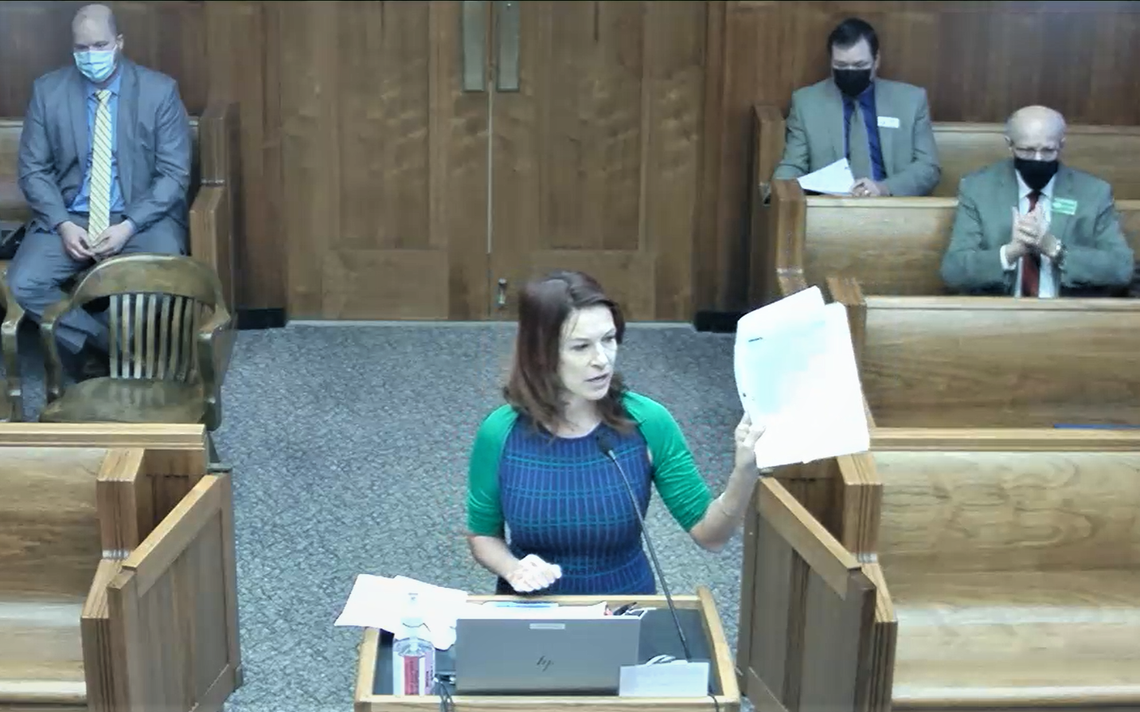 N.D. — Lawmakers in Bismarck this week raised concern with North Dakota University System leaders about their hesitancy to break away from the university system's capital projects list, potentially leaving new opportunities, like a University of North Dakota partnership with the U.S. Space Force, out to dry.
The "list" is a set of priority projects for the system that cover various campuses in the state. Those projects are then presented to the Legislature for potential funding. Some legislators worry that strict adherence to that list may leave new opportunities, like the Space Force project, without funding.
"My concern is that higher-ed may miss an opportunity because they're so tied into the list," Rep. Mike Nathe, R-Bismarck, said Thursday. "The top three priorities are two parking lots and a boiler. Well, there's some other opportunities that may be out there right now, and I'm concerned some of these schools may be pushing that down because it's not on their list."
In a previous biennium, legislators asked board leadership to begin to prioritize campus projects so lawmakers could have a better understanding of what the most pressing needs are across the university system. Board members and other higher education leaders started to build a list of campus projects before each biennium.
To form that list, the State Board of Higher Education members and system officials spend months collecting projects from the institutions and then ranking them based on various criteria, including health and safety issues, program needs and others, Board Chairman Nick Hacker said.
Planning is done months ahead of a legislative session, typically ending in June or July before budgets are due to the governor's office. That leaves six or more months for new, timely opportunities to come up.
During the discussion Monday, Rep. Bob Martinson, R-Bismarck, made reference to two higher education projects that had been part of the state's bonding bill: up to $27.5 million for Bismarck State's polytechnic work, and $4 million for UND to build up campus infrastructure for a potential partnership with the U.S. Space Force. Both projects were removed before crossover day by a 74-14 vote as legislators moved a smaller bonding bill to the Senate.
Hacker said he was never against the projects in the bonding bill, but he also said he didn't have all of the information that he'd need to make a judgment on the project.
It's a complicated issue, North Dakota University System Chancellor Mark Hagerott said. The State Board of Higher Education technically has control over all of the square footage on campuses and has to approve projects before universities can begin them; however, the Legislature gives funding to those projects and lawmakers may have their own ideas on what should or should not be funded.
"The state board has got an incredible amount of power and the Legislature looks very closely at what does it do (funding-wise)," he said.
UND has been looking for opportunities to grow its partnerships with space-related agencies, especially in research and engineering. One includes a potential space-oriented academic and research alliance with three other Midwest universities designed to entice the U.S. Space Command headquarters to potentially be at Offutt Air Force Base near Omaha, Neb.
The $4 million originally proposed in the bonding bill would have included money to help bolster UND's physical presence with dollars for equipment, renovation and a sensitive compartmental information facility.
UND President Andrew Armacost has said national security, whether related to research or educational programs, has always been of interest to the university. In recent months, that interest has included potential partnerships related to space security. He made a similar case to legislators on Monday, noting there are benefits for the state, too.
"But if there's a strong feeling that it didn't follow a good process and therefore is ineligible for funding, then we will have to seek other opportunities," Armacost told the Grand Forks Herald Wednesday.
When the board is working outside of its typical process – being presented a project, listening to the school's proposal and then either approving or denying the request – board members don't typically weigh in on a project, publicly or privately, Hacker said.
He said these types of projects typically come up every biennium. For example, during the last biennium legislators were presented the opportunity to match a $20 million donation for a new business school at UND. Although the board didn't have a chance to weigh in on the project formally, legislators voted to move forward with the matching dollars.
Hacker said higher-ed leaders still want to be open to hearing ideas that come up just before or during the legislative session, which means working with legislators to tackle the topics as they arise.
"If the Legislature sees something of greater value that they want to invest in (with) taxpayer money, then we're all ears," Hacker said. "We want to be good partners."
Nathe said the Legislature and the board need to find a way to address the projects that come up after the board has already finalized its list.
Opportunities like UND's project don't come around often, he pointed out.
"And if they do come, you have a short window to take advantage of it," Nathe said. "I think there needs to be some discussion about how to deal with those opportunities."
Related posts