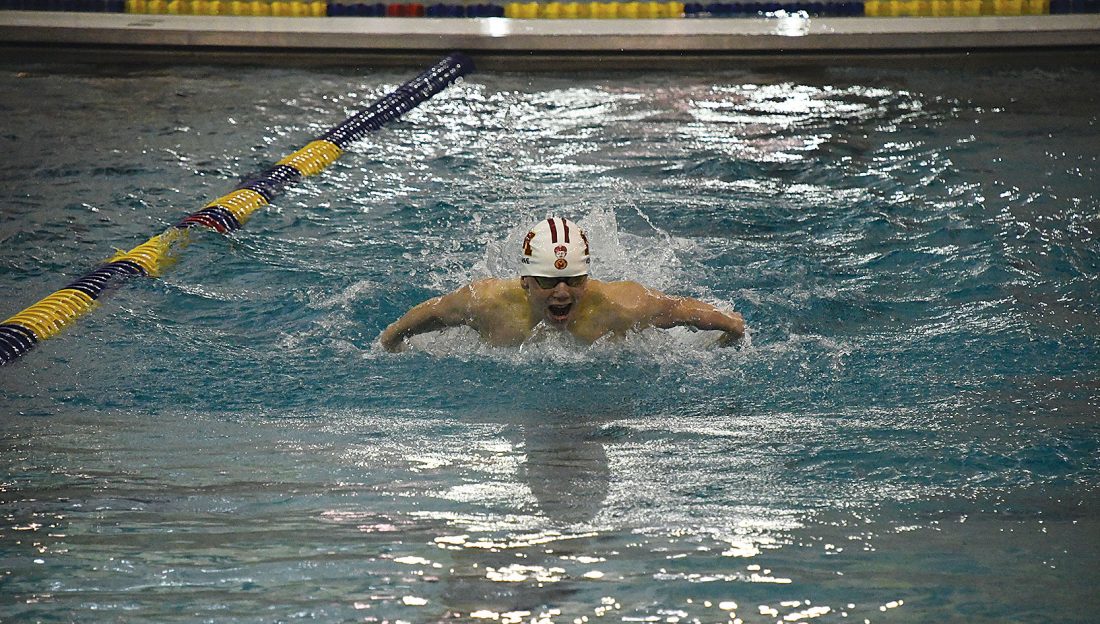 MINOT, N.D. – The New York Yankees are one of the most storied franchises in all of sports. Since 1923, the Yankees have accumulated a total of 27 World Series championships, the most of any professional team in North America during that span.
The Minot Magicians boys swim and dive team has had similar success at their level of competition, taking home 29 state titles since 1975, including their fourth straight championship in 2021. As for the Minot girls squad, they are not far behind having racked up 24 state crowns with the first one coming in 1978.
Boasting a remarkable 53 championships between the boys and girls teams over the past 40-plus years, what makes the Minot High swim and dive program such a rousing success?
In large part, such dominance at the high school varsity level has to do with the participation numbers of the Minot Swim Club; a grassroots organization which was formed in 1965. According to current administration coordinator Brenda Kast, the Minot Swim Club conducts swimming lessons for children ages five and up. There are also lessons available for children six and up who are interested in training for competitive swimming.
All told, Kast estimates about 700 boys and girls of various age groups participate with the Minot Swim Club in a given year. Kast, who has been involved with the program since 2006, states the organization's overall structure has not changed since the club's inception.
"We have done everything the same exact way for all these years, and it's been extremely successful," Kast tells the Minot Daily News. "It starts with great coaches, as well as swimmers who are interested and dedicated to the sport. Also, we are very fortunate to have such great community support from the parents who make everything happen."
Much like at the varsity high school level, the Minot Swim Club also competes in statewide tournaments. This year's USA Swimming State Championships took place earlier this month at two different locations. Swimmers 10 and under competed in Bismarck on March 13-14 while athletes 11 and older took part in the West Wargo tournament March 19-21.
Between the two meets, MSC produced 12 individual state champions, as well as eight relay champion teams. Among the eight relay winners, three of those teams set new state records. Jaxon Reinke, Alex King, Peyton Bartsch and Grant Schaeffer set new records in the 15-16- year-old 400-yard medley (3:42.27) and the 200-yard freestyle (1:30.21). Meanwhile, King, Reinke, Schaeffer and Ryan Hubbard set a new state standard in the 15-16 year-old 800-yard freestyle (7:26.25).
As Kast states, current Magi swimmers such as Reinke, King, Bartsch and Schaeffer are afforded the opportunity to stay sharp during the offseason thanks to the Minot Swim Club. "These kids just got finished competing at state not too long ago, and they are right back in the pool perfecting their craft with us," she adds.
In addition to having a high volume of talented swimming enthusiasts, the Minot Swim Club has fostered a culture of community involvement that spans generations. For example, current head coach McKenna Brown was once a swimmer for the club. Other long time MSC coaches include the likes of Ken Disher, Nancy Beck and Kathy Aspaas. Patrice Mitchell, who is still actively coaching, has been instructing swimmers for over 30 years.
Meanwhile, former MSC competitive swimmers Brad Stai, Phil Shirek and Trisha Schaefer all have children currently enrolled in the program. Kast says that the deep family roots of the program provides fertile ground to mold tomorrow's state champions.
"It's not even about competing against others, we try to instill in our swimmers that they are competing against themselves," the administrator continues. "This teaches the kids how to set goals, and it gives them confidence in all areas of life, so the success they enjoy at the varsity level is just a byproduct of that. 
Related posts