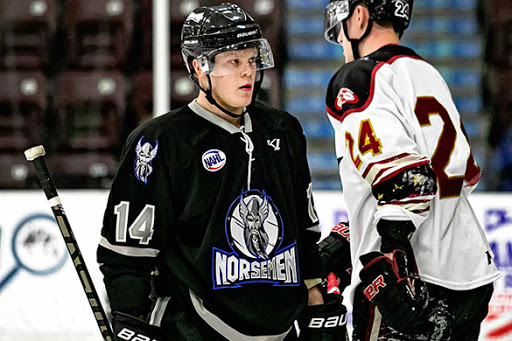 MINOT, N.D. – The St. Cloud Norsemen offense erupted in the first period as they defeated the Minot Minotauros 6-2 in the lone NAHL game on Sunday night in St. Cloud. Six different players scored in the win for the Norsemen.
The game was put out of reach early in the game as St. Cloud grabbed the early lead with Brett Chorske's 10th goal of the season before quickly adding to the advantage with Nik Hong's eighth of the campaign to make it 2-0 just 6:48 into the game After killing off a mid-period penalty, the Norsemen added a third goal from Ryan O'Neill. Shortly after, the Norsemen chased Minot's Keenan Rancier from the net with a fourth goal from Jack Reimann, which made it 4-0 after one period.
The Minotauros showed signs of life in the 2nd period as Cade Stibbe's deflected puck found the back of the net to make it a 4-1 game. A second Minot goal less than a minute later, this time from Jack Westlund, brought the Minotauros within two goals at 4-2 . Beyond the mid-way point of the frame, Cooper Gay scored his fifth of the season for the Norsemen before Logan Kittleson sniped the puck into the back of the net for the 6-2 lead, which would turn out to be the final score as neither team found the back of the net in the 3rd period.
Norsmen goalie Josh Langford made 12 saves in the win, while Rancier made 23 saves in the loss.
Related posts