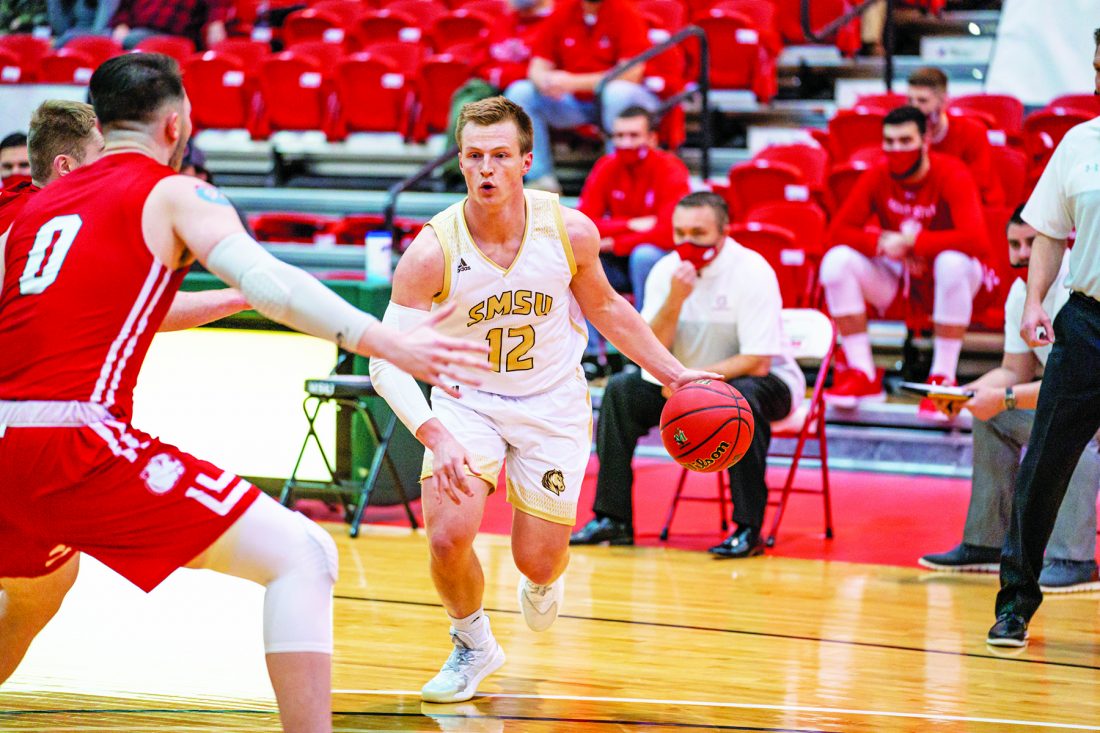 MINOT, N.D. – The Southwest Minnesota State men's basketball team jumped out to a big first half advantage, before having to rally in the final minutes of the game, to pick up a big 67-65 road victory over Minot State on Sunday afternoon at the MSU Dome.
The victory gave SMSU a split of its season-opening non-conference road trip to Minot. MISU rallied in the final minute on Saturday night to earn a 66-61 victory.
SMSU coach Brad Bigler said it felt a little surreal that they were finally able to play after seeing their season get delayed initially and added that there was a lot of learning done by every team in the Northern Sun Intercollegiate Conference in the first weekend of the season.
"Coming into this weekend, like everyone in the NSIC, it was the first time playing; there was a lot of learning, but we adjusted in the second half of Saturday's game and then today [Sunday]," Bigler said. "It felt a little surreal that we were even playing. It's a good reminder with this year that every game that we play we need to be thankful for it."
Jake Phipps scored a game-high 18 points (tying a career-high) on 8 of 11 shooting to pace the Mustangs, while he also grabbed a team-high eight rebounds. Nick Dufault, who hit a pair of free throws to win the game, added 17 points with three 3-pointers and was a perfect 6 for 6 from the foul line.
Dufault hit a pair of free throws with 36 seconds remaining to snap a 65-all tie and give the Mustangs the lead. MISU missed a 3-pointer on its next possession and Phipps came down with the rebound with 9.1 seconds remaining. Phipps missed both free throws, setting up the Beavers for a chance to tie or win the game. MISU's Max Cody drove in the lane in the final seconds, but solid defense by SMSU's Cliff McCray forced an errant shot and SMSU secured the victory.
Bigler said he was pleased with their overall defensive effort throughout the weekend and felt they also did a good job of cleaning up their mistakes on offense from Saturday's game to Sunday.
"It was good to see the defensive efforts. Outside of maybe the first five minutes of Saturday, we did a good job overall defensively and had each other's backs," Bigler said. "Offensively, the adjustments we made from one night to the next, we cleaned up things and our attention to detail was better on Sunday."
It was all SMSU for most of the opening half as the Mustangs scored the game's first six points and eventually built a 32-13 lead with just under seven minutes left in the half. SMSU would hold a 38-20 lead following a Sam Schwartz jumper at the 3:36 mark, but SMSU would see MISU rally with nine straight points to close the half and cut the deficit to 38-29 at halftime.
SMSU shot 59 percent in the first 20 minutes with five 3-pointers and held MISU to just 33 percent and one 3-pointer.
SMSU put together a solid opening three minutes to start the second half with Dufault drilling a 3-pointer to extend the Mustang advantage to 46-33 at the 17-minute mark. The offensive struggles would then take over for the Mustangs as the Beavers rallied with a 17-4 run over the next eight minutes to tie the game at 50 with nine minutes left in the contest.
The clubs would exchange the lead several times over the next few minutes before MISU would take a 59-56 cushion with five minutes on the clock. SMSU true freshman Issac Soumis countered with a field goal to cut the deficit to one point, before teammate Kaden Evans put SMSU back in front at 60-59 with a jumper at the 3:33 mark.
MISU would go back in front at 64-63 with 2:22, but on the ensuing SMSU possession, Dufault was fouled and the senior made both free throws to put the Mustangs back in the lead.
MISU would tie the game moments later with a free throw and the game would stay tied until Dufault was fouled in the final minute and hit the clutch free throws to win the game.
The Southwest Minnesota State men's basketball team held a one-point lead with less than a minute left in the game, but Minot State rallied to score the final six points to earn a 66-61 non-conference victory inside the MSU Dome on Saturday night in the season opener for both teams.
Nick Dufault paced SMSU with 15 points with three 3-pointers, while teammate Brian Dayman scored a career-high 11 points with eight rebounds.
The Mustangs finished the game shooting 49 percent (24 of 49) from the field, including 7 of 12 from 3-point range.
Minot State shot 44 percent (24 of 54) from the field and made 3 of 11 3-pointers. The Beavers held a 35-29 rebound advantage and posted a 16-9 scoring advantage in second chance points.
MISU shot a blistering 54 percent in the first half and limited SMSU to 39 percent shooting in building a 35-23 halftime advantage.
Cliff McCray had nine points to help pace the Mustangs, while Kaden Evans finished with seven points and six rebounds. Sam Schwartz added six points, four steals and three assists for SMSU.
SMSU closed the night making 6 of 13 from the free throw line, while MISU was 15 of 21.
The Beavers would push the lead to 41-29 early in the second half, but back-to-back 3-pointers by Evans and Dayman and another field goal by Evans, pulled SMSU to within 43-41.
MISU would continue to hold the lead and maintained a 60-54 advantage with 4:30 remaining, but SMSU rallied with seven straight points to pull in front. Weston Baker Magrath started the scoring run with a pair of field goals and was followed by a Dayman field goal, before Dufault connected on a 3-pointer to put SMSU in front at 61-60 with 2:37 remaining.
SMSU would hold have two chances over the next 90 seconds to expand the lead, but failed to do so, and MISU took advantage as Melvin Newbern scored with 52 seconds to put the Beavers back in front at 62-61. SMSU would commit turnovers on its next two possessions and MISU would make four of six free throws in the final 30 seconds to seal the win.
Related posts