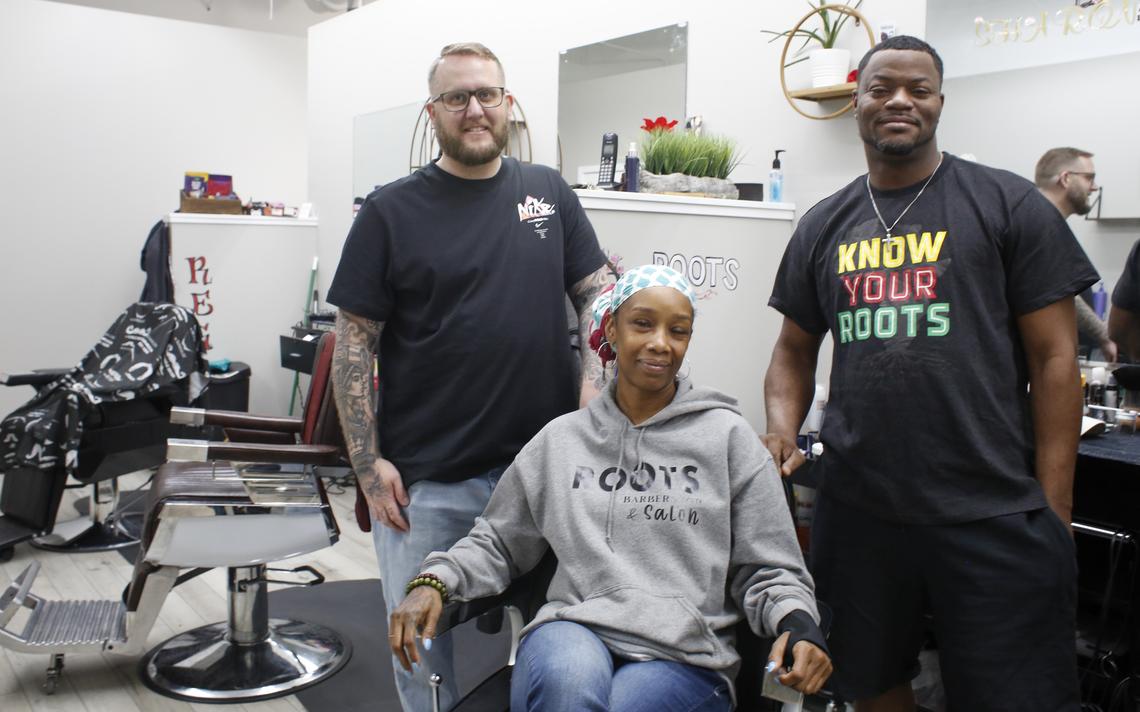 WEST FARGO, N.D. — Indira Kovaci enjoys watching people come and go from Roots Barbershop and Salon.
Kovaci owns and operates PrimRose Boutique and Allora Salon and Suites. She rents space next door at 115 9th St. E. to the barbershop and salon.
"They've brought a lot of joy and a lot of laughter. I've learned so much about everyone, and I feel like they bring a tightknit community feel to the salon. I really enjoy that. I enjoy seeing them interact with their clients and I enjoy seeing them interact with my clients. It's a very, very good relationship," Kovaci said.
She's more than a landlord. Kovaci gets her own hair done by Roots' co-owner Brenna Fisher. She's also a big fan of what Fisher refers to as a "headicure."
"I highly recommend those. I felt so relaxed I almost fell asleep. It's amazing," Kovaci said.
Creating community
Roots Barbershop & Hair Salon is owned by Fisher and former Skill Cutz co-workers Sharon Traylor and Reggie Wilcox.
The barbershop and hair salon got its start via a Roots Hair Show organized by Fisher and Traylor last February at the Courtyard by Marriott in Moorhead. The women were both working elsewhere at the time.
Traylor said they were overwhelmed at the success of the event that drew a crowd of over 350 people.
"We didn't even know COVID was going to happen. It's a blessing that didn't interrupt our event," she said.
When barbershops and salons were forced to close in March due to concerns about the spread of the coronavirus pandemic, the women had time to consider their next move. That's when they got the idea to start their own business.
Wilcox joined the women in opening Roots Barbershop & Salon in May at 1420 9th St. E. in West Fargo. In September, they moved the business to its current location.
Roots Barbershop & Salon specializes in haircuts, colors, perms, locs (the preferred term for dreadlocks) and braids.
"There isn't a type of hair we can't do," Traylor said. "We want you to feel any issue you have we can provide for you. It doesn't matter your hair, your age or your style or if you don't know what to do, we want you to know we can figure something out for you."
The owners all share similar values, Traylor said.
"Our shop is more about community than making money. We all have the same thought process," she said.
"Without the community you're nonexistent," Wilcox added. "We just have to figure out methods to become known in the community."
One way they've tried to do this is through regular spoken word nights at the barbershop and salon.
"People can come and read poetry. Some sing songs or play the guitar. Anything artistic. It's a very relaxed environment where you can wear whatever. There is music and candles and little bites to eat," Traylor said. "That's where the community part comes in. It has nothing to do with barbering."
Related posts