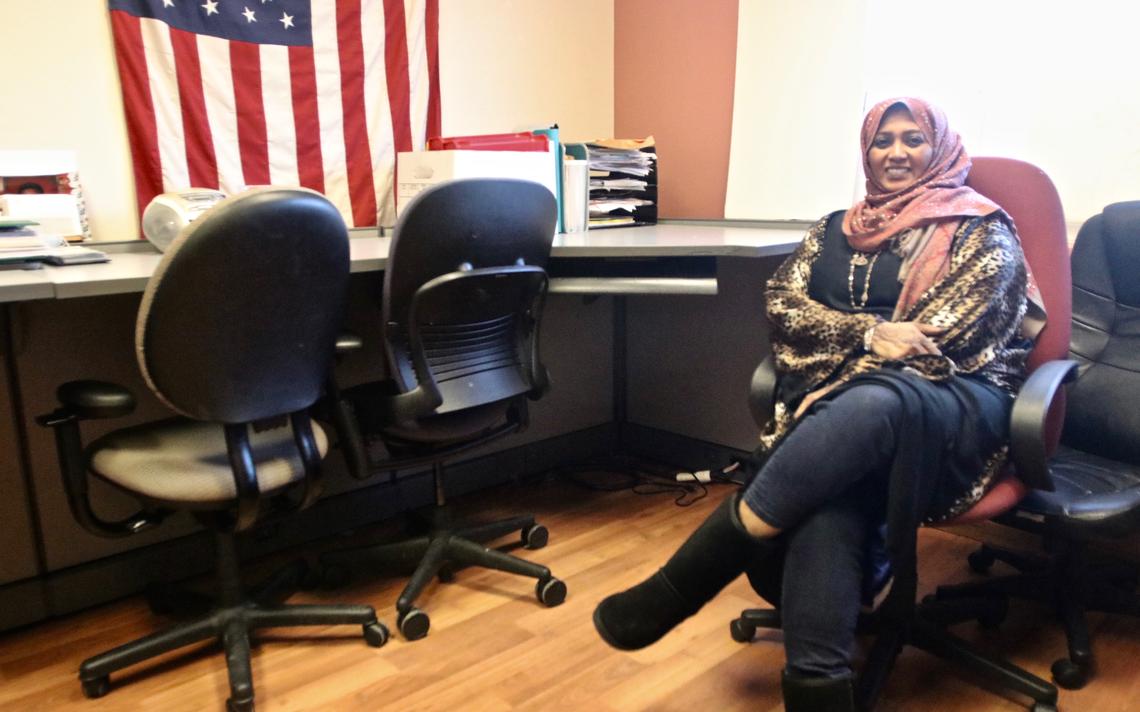 N.D. – The announcement that Lutheran Social Services of North Dakota is closing its doors has left many recent immigrants in the community feeling like they've lost a best friend.
While LSS had many programs, including translation services, job services, gambling addiction services, programs for children and seniors, the one that matters most to many new Americans is the refugee resettlement program.
"It affects us totally — the resettlement part. It is not the right time to close. We have four years where not a lot of refugees came. This is the time when they have hope to come, this is when we have a new (presidential) administration," said Cani Adan, program coordinator for the Afro American Development Association in Moorhead.
The news hit the executive director of the Immigrant Development Center, Fowzia Adde, like a bombshell, she said.
"I was a refugee myself," Adde said. "We want LSS to survive, so if at least the refugee resettlement can survive, it is better for us, better for the community and for the growth of the refugee community."
On Monday, Jan. 25, Gov. Doug Burgum announced that the North Dakota Department of Human Services will temporarily take over the resettlement program, which will come under the purview of the department's executive director, Chris Jones.
Aside from having the Department of Human Services administer the program, the state's options for a long-term solution are finding another nonprofit organization like LSS to manage refugee resettlement or declining to participate in administering the program, according to the governor's office.
While the state would prefer to have a third party administer the federally funded program, the alternative of letting the federal government resettle refugees in North Dakota would bring "far less input or control," Burgum said in a statement.
"The Department of Human Services is prepared to administer the program to ensure that refugee resettlement in North Dakota continues in a thoughtful, orderly and responsible manner at no additional cost to North Dakota taxpayers," Burgum said.
The governor's announcement came as good news for Adde.
"One possibility is to come together with the ESHARA Group," a conglomeration of seven new American nonprofit organizations, "to work with the Department of Human Services, since they're already here on the ground. That will take a little bit of strengthening and training and understanding, but also they can work with the staff who were working with LSS," Adde said, noting that ESHARA stands for Ethnic Self Help Alliance for Refugee Assistance.
"That will also allow them to bring family over and more refugees here," Adde said, adding that President Joe Biden's "administration will allow refugee resettlement in the way I am thinking."
LSS CEO Bob Otterson said he, too, was pleased with the governor's announcement.
"I've talked to multiple entities about resettlement, including people working at the federal level, people working with national groups and certainly some of our colleagues at the state level. This is good for North Dakota," Otterson said. "The goal is to make this as seamless as possible moving from Lutheran Social Services to the Department of Human Services."
LSS, founded in 1919, announced its closure on Jan. 15, surprising employees and the community, saying that its affordable housing programs in western North Dakota had drained its financial resources.
For new Americans, one of the most pressing questions prompted by the closure is what will happen to the many refugee families waiting to bring loved ones to the Fargo area?
Harka Rai, originally from Bhutan, works for a local window company, and was upset to hear of LSS closing. "It has done a lot, because when I was very new to America they helped us find everything," she said of LSS. "They did a really great job. I can't even explain because what they've done is they've done a lot of things for new Americans."
For years, she was separated from her husband until LSS helped bring him to the U.S., she said. They helped her find a job, cosigned for her first apartment, helped with language barriers and even found her furniture to begin her new life in Fargo.
"Life without a partner, especially in a new place, isn't easy. They did everything for my husband's process," Rai said.
Related posts