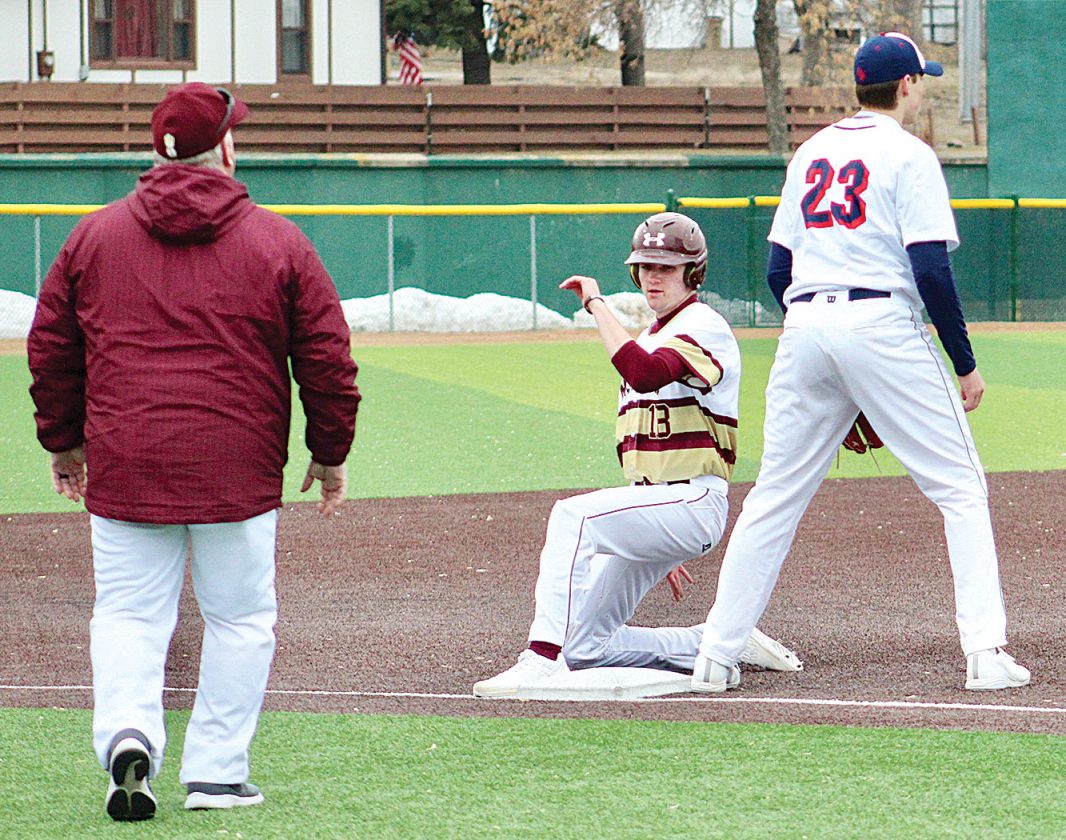 MINOT, N.D. – Century spent 79 minutes of Tuesday's West Region boys' soccer game at the MDU Resources Community Bowl trying to figure out Minot goalkeeper J.J. Dufner.
 It needed just seconds to sneak away with a come-from-behind 2-2 tie. Eric Niyonzima and Kenneth Brako scored 12 seconds apart late in the second half for the Patriots, who had attacked the Magicians all night with no success to that point.
 Niyonzima headed in a free kick by Chance Bowlinger with 13:37 to play and Brako launched a missile from 30 yards past Dufner with 13:25 left.
 "It happened very, very quickly didn't it," Minot coach Creighton Bachmeier said. "That's the second game in a row we've had a lead and given it up. We have to find out ways to close out games."
 Dufner finished the night with 10 saves, while Ben Cleary made just two for the Patriots, the first with 15 seconds left in the first half and Century already down 2-0.
 "For the second straight game, mental mistakes," Century coach Ryan Okerson said. "We had three good opportunities in the first 15 minutes. They got one that should have been saved that ended up going in. Short of us hitting the goalkeeper with every shot we could. … It wasn't our night."
 The Magicians rode first-half goals by Walter Markle and Ezra Hagerott to a 2-0 halftime lead.
 Dufner made six saves in the first half. Staked to a two-goal lead, the Magicians went into defense mode with just a few counterattacks thrown in.
Dufner made his first save one minute in when he deflected a long shot from Brako over the crossbar. It turned out to be one of the Patriots' best opportunities of the first half, despite Century earning 10 corner kicks.
 Neither of Minot's first-half goals came off what would be classified as grade-A opportunities. In fact, they were fortunate to score on each.
 Minot took the lead on Markle's goal at 9:40. Markle took the ball in the Century zone and dribbled past a defender before putting a bouncing shot on goal. The ball made its way under the grasp of Century keeper Ben Cleary.
 It didn't take the Magicians long to double that.
In the 14th minute, Ezra Hagerott redirected a free kick by Cameron Bolinske through traffic into the net for a 2-0 lead.
 Dufner kept his shutout intact with a save on a point-blank header by Bowlinger off a centering pass by Brako in the 51st minute.
 In the 58th minute, Brako set himself up for a blistering shot from 25 yards. Dufner stopped it and covered up.
 The Patriots kept the pressure on. Bowlinger put a shot over goal from 20 yards in the 60th minute.
 Then it was Century's time.
Bowlinger put a free kick out in front that Niyonzima flicked into the net. Seconds later, Brako, who sat the latter part of the first half and early in the second, blistered a shot that Dufner had no chance to stop.
 "It was about who might give us a spark," Okerson said. "Our communication wasn't where it should be tonight. For three-quarters of the game we were very, very quiet and that cost us two goals and almost a loss.
 "The fact we came back with two goals in 30 seconds was huge."
Related posts