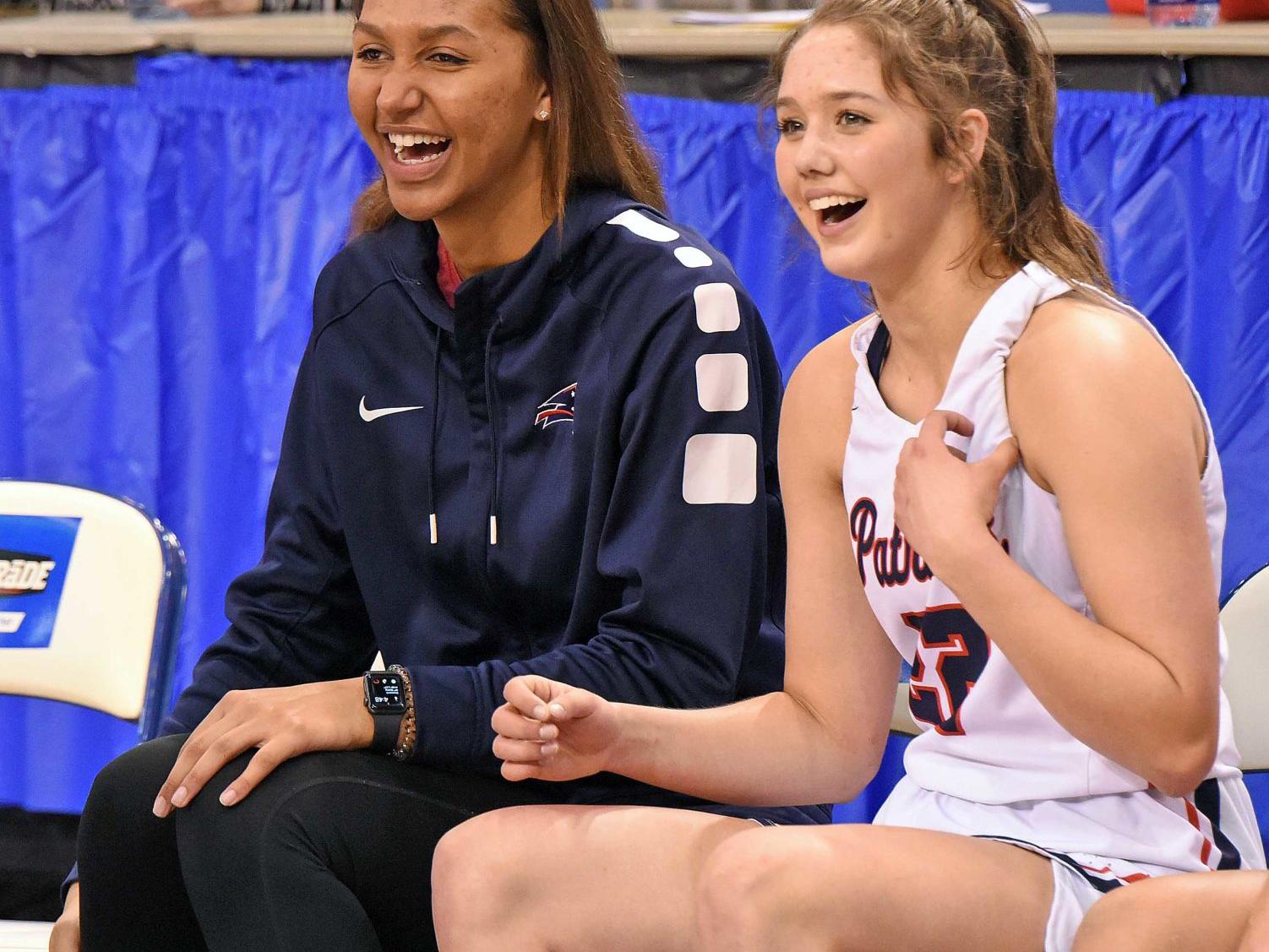 MINOT, N.D. – Just a sophomore, Alyssa Eckroth matched her jersey number Friday night for the Legacy Sabers.
The 6-foot sophomore came off the bench to pour in 22 points as the third-ranked Sabers topped Minot 91-73 in a West Region shootout at Legacy High.
"She can definitely play," Legacy coach Jim Petrik said of the 10th-grader Eckroth. "She's a gym rat. She's put in the time to have success."
Youth was on display all night. Of Minot's 73 points, all but six were scored by underclassmen.
Eckroth led five Legacy players in double figures. The Sabers scored 51 second-half points.
"I played JV last year so I've played with these girls a lot," Eckroth said. "I just loving playing with Ari (Berryhill), Jaiden (Baker) and all the girls. We have great team chemistry and I think we play really well together."
Both teams had 15 first-half turnovers. Legacy cut the number to three in the second half in its impressive offensive display.
"It was a little helter skelter in the first half. We got a little impatient, but I'd rather us play too fast then too slow," Petrik said. "In the second half, I thought we settled in better. I was really happy with how we moved the ball and ultimately that led to getting some good looks."
The Sabers shot out of the gates to start the second half. Up 39-35 at halftime, Legacy scored 10 of the first 12 points of the second half — two each by five different players — to build a 49-38 lead.
"Minot, they have a lot of really good players. We knew they could score, so we were able to keep the pressure on them with how we were playing," Eckroth said. "Defensively, we were able to get some stops against them when we needed it."
Breena Sand pumped in 12 of her 16 points in the first half.
"I was really happy to see her have a good game," Petrik said of Sand. "This can be a good confidence boost for her and that's great because she's a really special kid, too."
Baker and Berryhill, the Sabers' returning All-West Region duo, turned it up after halftime. Baker, headed to BSC to play basketball next season, had 11 of her 13 over the final 18 minutes. The NDSCS-bound Berryhill registered 10 of her 12 points over the final 18 minutes.
"They're big-time players," Petrik said. "They both do a lot of things really well."
Minot, which came in 2-0 after wins over Williston and St. Mary's, hung around in the first half, thanks to all their promising young players.
Legacy built a brief eight-point first-half lead on a hoop by Sand at 24-16, but the Majettes came right back with sophomore Maya Aguilar leading the way. Aguilar netted two free throws and Presley Bennett nailed a corner three and Minot was back within 36-35 right before halftime. Aguilar had 15 of her 21 points in the first half. The 5-8 sophomore had 15 points combined in the Majettes' first two games.
Mariah Evenson, a junior, added 12 points for Minot. Sophomore Taury Hight and freshman Avery Lunde added 10 each. The Majettes canned 10 3-pointers in the game. Minot was forced into 27 turnovers with Legacy's intense full-court pressure.
"They're going to give a lot of teams problems this season," Petrik said. "They're so well-coached and they can really shoot it. This is a good win for us, no question."
Related posts