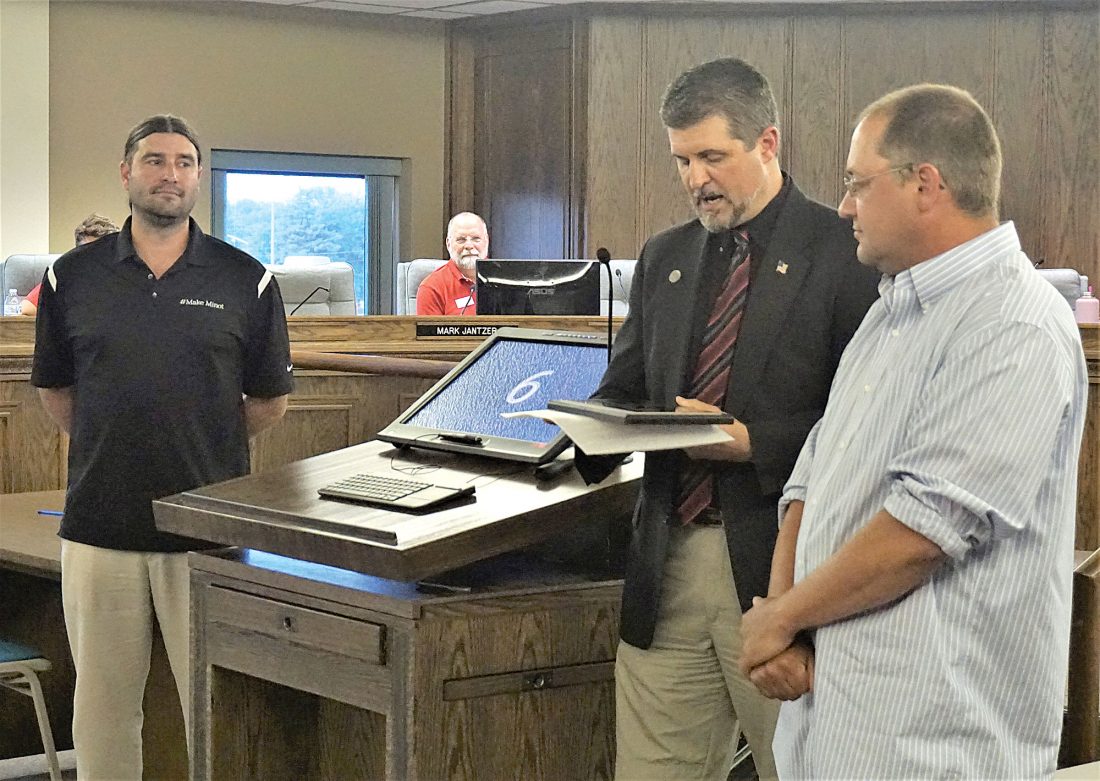 MINOT, N.D. – As they step away from service on the Minot City Council, Josh Wolsky and Shannon Straight say they will continue to be watching from the sidelines and advocating for Minot from new vantage points.
Completing three-year terms on June 23, Wolsky and Straight were part of the #MakeMinot movement that swept them onto the council in June 2017.
#MakeMinot successfully advocated for a smaller city council, and leaders Shaun Sipma, Straight and Wolsky were top vote-getters. Three others with previous council experience were elected to one-year terms. Those three – Mark Jantzer, Lisa Olson and Stephan Podrygula – won subsequent elections and continue to serve while Sipma since has been elected mayor.
One of the goals of #MakeMinot was to increase the number of election candidates for city council, and Wolsky said in that respect, it has been successful.
"From my perspective, and from the #MakeMinot perspective, I think we've seen in this election cycle that the system has improved. Citizens have choices, and the election process is working again, and that was the goal of #MakeMinot. I think a lot of people have assumed that #MakeMinot was about better council decisions, but it was about giving decisions to the citizens about who they put on the council," Wolsky said.
When it comes to advice to future council members, though, Straight and Wolsky say listening to the public is key.
"We have to be mindful of taking public input and then doing nothing with it – or the council members believing that we know exactly and the public is wrong," Straight said. "I took a lot of phone calls over four or five years, and people have strong feelings. It's important to weigh that in your decision making."
At the same time, he said, residents have responsibilities.
"It's all too easy to post something on social media or to criticize," Straight said. "We have to elevate that conversation in a manner where we can truly be better citizens, but you have to get off your phone. You have to get in the game."
Wolksy said the cultural trait that keeps North Dakotans from challenging others' positions works against good government.
"What I want to see from the council is, frankly, more debate, more willingness to disagree with each other and, again, doing this respectfully," he said. "We are so conflict averse that we end up accepting things that we disagree with, that we believe are absolutely wrong but we never say anything. So I want to see the council engaging and listening to the citizens because the citizens do speak to us. But what is said from the citizens does not always get translated up to the dais very effectively."
Wolsky said he watched the council closely for several years before running.
"I approached the job from the perspective of doing it the way I wanted to see somebody doing it when I was out there watching, and that meant asking questions, being engaged on issues," he said. "I think the public wants to see an engaged council. That's sometimes a little bit at odds with the role because I don't think the public always understands that it is more of a policy- and budget-setting role and some final approvals. We aren't the ones doing the work. So it's challenging to manage the expectations of the public with what the job actually is."
Property taxes increases in the 2018 and 2019 budgets were among the more difficult decisions for Straight and Wolsky.
"There was no doubt that we weren't going to make the budget work without having to feel some pain, but that doesn't make it any easier to vote for the budget and have to do that to people," Wolsky said. "It works almost directly against what we're trying to accomplish, which is increased prosperity and growth. When you raise the cost of government, it's hard to bring those things along with it."
There were disappointments associated with the abandonment of a downtown gathering space in the city's National Disaster Resilience Program. Wolsky also hopes the discussion hasn't closed on converting the Big M building into a city hall.
"We're going to have to address that building one way or another. We've proven for the last 20 years that the private sector cannot turn it around, and we have an opportunity with these federal dollars to take care of the glaring issues and then make it a viable building again," he said. "If that
doesn't happen, we're going to own it. We're going to abate the asbestos before we tear it down, and then we're going to have an empty lot sitting there and we're going to lose an iconic structure that is so representative of the opportunity and the prosperity that Minot has had in the past and that we are working for again."
Among decisions Straight and Wolsky feel good about are those providing outdoor seating for downtown businesses, re-opening the Anne Street Pedestrian Bridge and directing NDR money to habitat restoration along the Souris River.
"We've been advocating for not just flood protection but we can have an active river culture and pathways," Straight said.
Straight said there also needs to be recognition of all Minot is getting right. He's proud of the way Minot has shown support for both racial justice and for its police department while leading the state as the first to bring a Juneteenth celebration to the community.
"There are great things happening here. There are great people reinvesting in this community," he said.
Straight, who operates a concessions business, said he will be looking to adapt to the age of COVID-19, while Wolsky, whose background is in online information platforms, is expanding that focus as they both look ahead to contributing to Minot's future in new ways.
Straight is a University of North Dakota graduate who spent time in Alaska and Vermont as an AmeriCorps volunteer. He later worked with youth and adult education programs for a nonprofit in Alaska until returning to Minot in 2011. Wolsky earned an economics degree from the University of Delaware and lived in Charleston, South Carolina, for 10 years before moving back to Minot in 2008.
"We are classic examples of Minot residents who moved back home to their hometown and just wanted to try to make the place better and put our own time in and then see what comes next," Straight said.
What's next for Straight is continuing to work with Friends of the Souris River, downtown Minot and Visit Minot as well as exploring the work of groups building on the new awareness coming from the Juneteenth and related activities.
"I want to work with people that care about the community and are willing to put in their time and their energy and are trying to make this place better," Straight said. "It's going to be fun to be a part of it, and I'm energized and optimistic."
In addition to his activities with Friends of the Souris River, Wolsky said he wants to remain involved with the city's Renaissance Committee, which reviews proposed tax incentives for qualifying investments into the city's core district.
"I've gained a new perspective on how citizens can be more effective and better engaged to see that their government hears them," he said. "I'm going to go be an engaged citizen, as opposed to being the decision maker and the person who casts the votes. And we'll see how that goes for a while."
Related posts