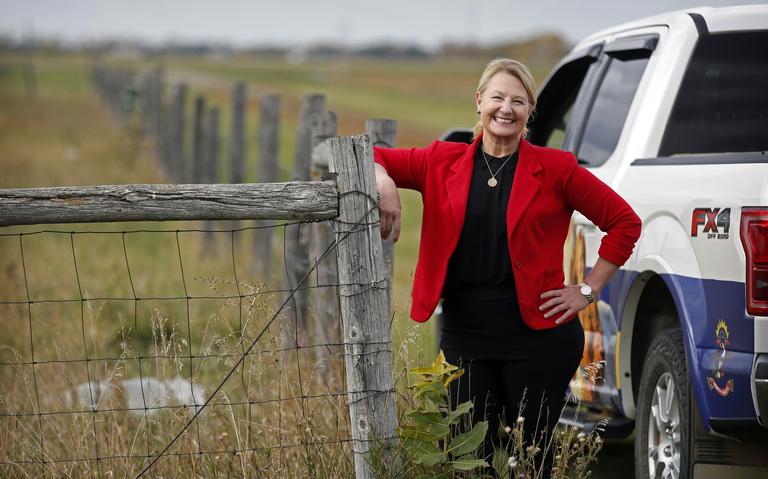 N.D. – Shelley Lenz, a western North Dakota veterinarian who recently lost a race to become the state's governor, announced on Monday, Feb. 1, her intentions to run for Democratic-NPL party chair this spring.
Lenz said she'll run as a team with one-time legislative candidate Cesar Alvarez, a citizen of the Mandan, Hidatsa, Arikara Nation who will seek the party's vice chair position.
Lenz, who splits time between Dickinson and Killdeer, aims to take the reins of a party that has struggled to contend with Republicans in recent years. The GOP holds every statewide office, all three congressional offices and 85% of the seats in the state Legislature.
"The one-party dominance in North Dakota is not serving all North Dakotans. It's time we get back to our roots and make sure that our government is working for all of us," Lenz said in a statement. "North Dakota has a long history of independence and self-reliance. We want to make sure that our government is focusing on the pertinent issues and working toward both home-grown and shared prosperity."
Current party chairwoman Kylie Oversen said she'll make an announcement soon on her political future, but she's glad Lenz and Alvarez are stepping into the arena.
Lenz and gubernatorial running mate Ben Vig lost to Republican Gov. Doug Burgum and Lt. Gov. Brent Sanford by a 40-point margin in November. It was the first political race for Lenz, who said she identifies more strongly with the nonpartisan league than the Democratic part of the party's name.
Alvarez, who was born and raised in New Town and holds a bachelor's degree from Harvard University, has been an advocate for Native American voting access. He lost a 2016 race for state representative to GOP candidates.
Party executive director Michael Taylor said the elections are tentatively scheduled for May 8, but only internal district leaders can vote.
Related posts