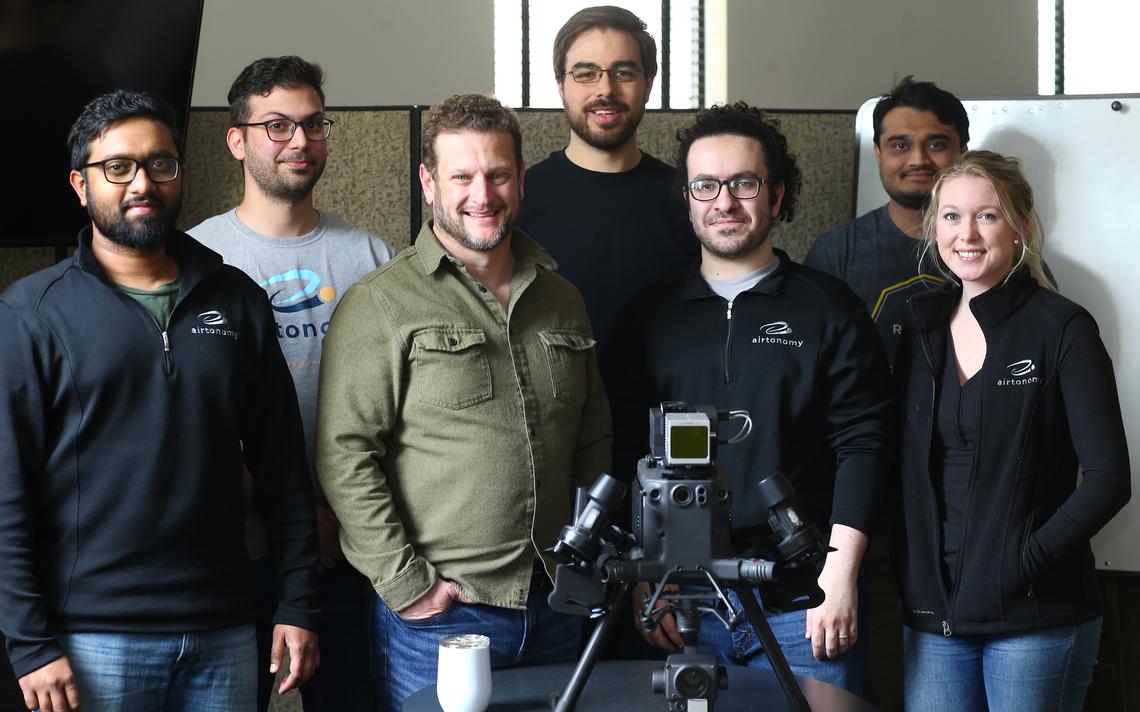 GRAND FORKS, N.D. – The software company is growing and looking to hire new employees — computer scientists and engineers — while at the same time looking to expand its footprint on the building's second floor. It's the most advanced tech company in the building, which the city will soon be upgrading, after the city and Jobs Development Authority agree to accept a $1.1 million federal grant for the refit.
"It feels like we're growing along the trajectory that you read that technology companies are supposed to," said Joshua Riedy, Airtonomy's CEO. "It's a bit of uncharted territory being in North Dakota, but it feels good."
That trajectory, Riedy said, is beginning to look more like a hockey stick, in terms of growth. The software developer works mostly with energy industry companies like Xcel Energy and Minnkota Power Cooperative, though it works with others that Riedy said he is "not at liberty to name."
Airtonomy is working to develop software for drones that can be used in a variety of energy industry applications, from inspecting power lines to data analysis, and all by pushing a button. The idea is to lower the barrier of entry to drone technology in the industry, by turning a drone into a machine that's easy to use.
"I expect to see drones in the back of every energy company's service vehicle, as just another tool to use," Riedy said.
But to do that, the company needs to expand. Riedy said he is looking to double his workforce to 30 people. It's one of the challenges companies like his face. He said he's not sure if the area's pool of candidates has been entirely "tapped out," but he has likely already hired as many software developers and computer scientists as the Red River Valley can produce. Now he is looking for workers elsewhere in the state, country and abroad to fill the positions.
Another challenge is working capital. Airtonomy has already raised more than $4 million, from a combination of sources, including private investors and the North Dakota Department of Commerce, but the challenge to secure additional funding remains. It's one of the reasons Riedy said tech start-ups gravitate to the coasts — that's where the money is.
But there is awareness in the national business community for venture capital. In April 2020, Airtonomy received a $100,000 grant from Microsoft, called TechSpark. The purpose of the grant is help fund tech start-ups away from the coasts. And now the North Dakota state government is looking to get involved.
Gov. Doug Burgum signed House Bill 1425 into law on April 8. The bill creates a program to use a portion of the Legacy Fund to allow qualified financial firms to invest in emerging companies in the state. Reidy called the bill a "sea change" for North Dakota.
"Now part of the Legacy Fund is directly attributed to helping fund startup companies, by acquiring equity," he said.
Meanwhile, Grand Forks' plans for the Herald building are beginning to coalesce into something more concrete. According to Todd Feland, city administrator, the work on refitting the building will likely be completed next year. When finished, the open spaces in the building should be able to accommodate up to 100 people.
And the people who staff those fledgling start-ups will be mentored in a few different ways. UND's Center for innovation will provide programming for those UAS and data analysis companies, tutoring for the workers, to help their companies grow. There will also be professional mentoring, from companies like UAS and technology giant Northrop Grumman, which will maintain a space in the building.
According to Feland, Grand Forks is significantly behind on developing the technology sector, but utilizing the tech accelerator will be a way to turn the dials up to levels resembling manufacturing in the region.
"If you were to look at where Grand Forks was a decade or two to three ago, we were pretty low on (manufacturing), so it demonstrates that when we put a lot of effort into it we can really move the needle," Feland said.
The accelerator will also host a different kind of training — one to help area workers improve "soft skills" like leadership, management and communication. The idea came about after the city surveyed local businesses, to see what improvements are needed when it comes to workforce development. The city is working with UND's graduate school to come up with a curriculum. Once up and running, the upskilling program, which will require a fee, will be available for workers in Grand Forks and beyond.
"The intent is not only for the city of Grand Forks, but for the entire region to allow their employees to participate," Feland said.
Related posts