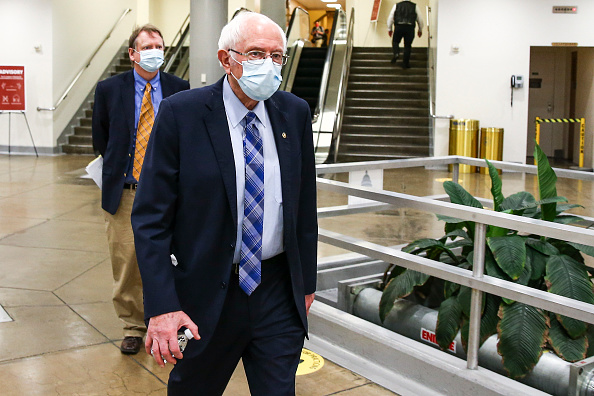 N.D. – A fourth stimulus relief check is gaining momentum in Congress while many people are still waiting on their third round of COVID relief. President Biden's America Rescue Plan started distributing $1,400 stimulus checks more than two weeks ago to those who have direct deposit accounts registered with the IRS.
Now, 64 Washington lawmakers want relief checks to be recurring, starting with a fourth stimulus while many are still waiting on paper checks from the government.
A group of 11 progressive senators, including Bernie Sanders (I-VT) and Elizabeth Warren (D-Mass.), earlier this month urged Biden to make stimulus payments and extended unemployment an ongoing thing during the next spending bill."We urge you to include recurring direct payments and automatic unemployment insurance extensions tied to economic conditions in your Build Back Better long-term economic plan," the senators wrote to the president. "This crisis is far from over, and families deserve certainty that they can put food on the table and keep a roof over their heads.
"Families should not be at the mercy of constantly-shifting legislative timelines and ad hoc solutions."
The other senators include Ron Wyden (D-Ore.), Alex Padilla (D-Calif.), Cory Booker (D-N.J.), Kirsten Gillibrand (D-N.Y.), Michael F. Bennet (D-Colo.), Sherrod Brown (D-Ohio), Edward Markey (D-Mass.), Richard Blumenthal (D-Conn.) and Tammy Baldwin (D-Wisc.).
The senators said that direct payments not only "help keep families out of poverty, but they act as economic stimulus by increasing spending and supporting jobs." The senators said that when the previous two $600 payments were quickly spent, "poverty rose" in America.
They added that there is widespread support of recurring payments from both economic experts and "65 percent of Americans" in one poll.
The senators urged the president be "bold" on his Build Back Better plan.
"As you have said, now is the time for boldness. As you prepare your Build Back Better plan for long-term economic recovery, know that we are ready to work with you in support of recurring direct checks and extended unemployment insurance benefits to support Americans who are still struggling during the pandemic," they wrote.
Related posts