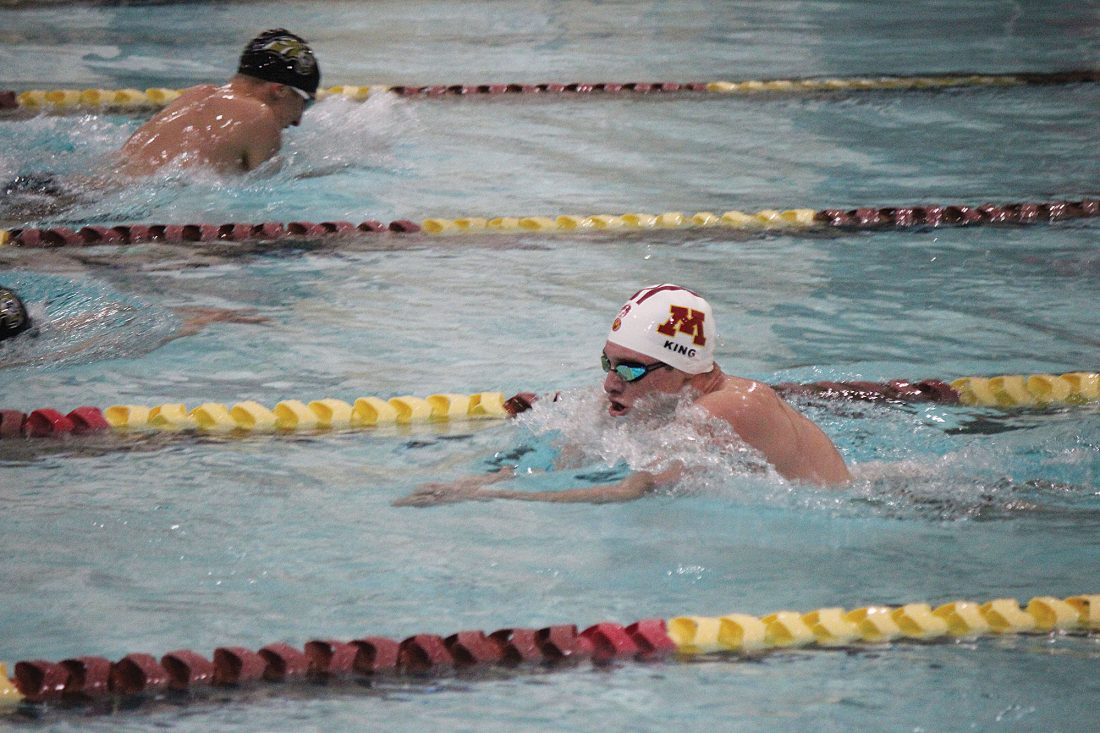 MINOT, N.D. – Minot High thoroughly the Bismarck Legacy swim and dive team last night, finishing with a score of 136.5 and Legacy finished with 43.5 points.
The opening meet against Legacy was celebrating seniors on the team with their parents.
Minot High swim and dive coach Jake Solper said in an email, "The competition was marked by some impressive early season performances by both swimmers and divers of the Minot High squad. Early indications point towards a team that is determined to perform at its highest level this season. Much training will be necessary to reach the team's goals. However, the competitive spirit by which the team is usually characterized appears to be strong. The Magicians now look towards the BHS/LHS Invitational this weekend on Saturday."
Minot High took the win in the 22 yard medley relay with a time of 1:44.48. The relay team consisted of Dominic Yoder, Logan Hill, Peyton Bartsch and Grant Schaeffer.
Levi VonBokern took the 200 yard freestyle event with a finishing time of 1:56.29, and the 100 yard freestyle, finishing in 52.86 seconds.
Alex King won the 200 yard individual medley event by about 10 seconds. His final time was 2:09.02. He also took first in the 100 yard butterfly in 56.12 seconds.
Jaron Coombs scored 184.05 points in the one-meter dive event.
In the 500 yard freestyle event, Logan Hill took first with a final time of 5:34.10.
The winning team for the 200 yard freestyle relay consisted of Alex King, Levi VonBokern, Jaxon Reinke and Grant Schaeffer. Together, they finished with 1:33.96 as a total time.
Dominic Yoder won the 100 yard backstroke in 54.53 seconds, which is about seven seconds faster than second place.
Griffin Osborn finished a little less than a second ahead of one of his teammates with a time of 1:10.08.
Finally, the 400 yard freestyle relay was taken by the team of Alex King, Levi Vonbokern, Josh Boen and Dominic Yoder, bringing in a time of 3:31.71.
Minot swimmers won every event last night, making the crowd proud. People in the stands were clapping during and after the heats for their children, siblings and friends.
As Solper mentioned, the next swim meet is scheduled for this upcoming Saturday against Bismarck High School, Legacy High School and others at the Bismarck Aquatic Center, beginning at 2 p.m.
Related posts